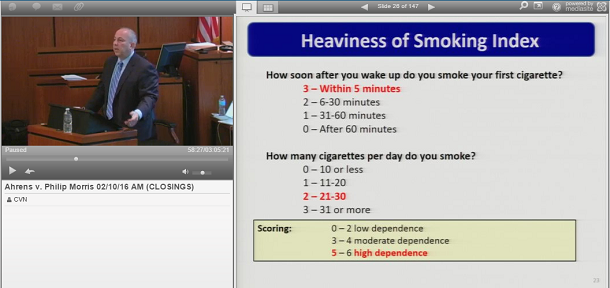 During closings of Ina Ahrens's trial against cigarette makers R.J. Reynolds and Philip Morris. Gary Paige tells jurors the Heaviness of Smoking Index shows Karl Ahrens was addicted to nicotine.
---
Updated 2/12/16, 2:04 p.m.:
St. Petersburg, FL—Jurors today awarded $9 million in compensatory damages to the widow and son of a Florida man after finding the nation's two largest tobacco companies responsible for his fatal lung cancer. Ahrens v. Philip Morris and R.J. Reynolds, 07-013535-CI-08.
Jurors found Karl Ahrens died of lung cancer caused by an addiction to cigarettes manufactured by defendants R.J. Reynolds and Philip Morris and a decades-long tobacco industry conspiracy to hide the dangers of smoking. The decision awards $7 million in compensatory damages to Ahrens' widow, Ina, and $2 million to his son, Bryan.
The verdict, which took jurors 12 hours to reach since beginning deliberations Thursday morning, also finds Reynolds and Philip Morris liable for potential punitives to be determined in the trial's second phase.
Ahrens was born in 1939 and began smoking at about 18 while serving in the Navy. He continued the habit for more than three decades, with cigarettes allegedly made by R.J. Reynolds and Philip Morris, before quitting about 1992. He died of cancer four years later, his widow, Ina Ahrens, claims, caused by nicotine addiction and a decades-long tobacco industry conspiracy to hide the dangers and addictiveness of cigarettes.
Friday's $9 million compensatory award delivers the lion's share of the amount sought by Ina Ahrens. On Wednesday, her attorney, Gordon & Doner's Gary Paige, requested $12.5M in compensatories, plus punitives, for what he claimed during closing arguments was a conspiracy to "put profits over human lives."
The Ahrens case is one of thousands of similar Florida lawsuits against the nation's tobacco companies. Those cases stem from Engle v. Liggett Group, a 1994 class action claim involving Florida smokers. A jury in that case found tobacco companies knowingly produced dangerous, addictive cigarettes and hid those dangers from the public. The Florida Supreme Court decertified the class on appeal, but its ruling allows individual plaintiffs to rely on the jury's conclusions in the original trial if they can prove the smokers at the center of their cases suffered from nicotine addiction and a smoking-related disease.
Whether nicotine addiction drove Ahrens to smoke served as a key point of dispute in the two-week trial. During Wednesday's closings, Gordon & Doner's Gary Paige reminded jurors of evidence Ahrens needed to smoke within five minutes of waking up each morning and argued evidence showed he had to smoke 20 or more cigarettes a day to get the nicotine his body craved.
Paige said this behavior, as well as two commonly accepted tests for diagnosing nicotine addiction, the Fagerstrom Test for Nicotine Dependence and the Heaviness of Smoking Index, showed Ahrens was an addicted smoker. "No matter how you cut it," Paige said, "he was someone who was (considered) highly addicted."
However, the defense argues Ahrens smoked by choice rather than because of addiction. During Wednesday's closings, Jones Day's Edward Carter, representing Reynolds, reminded jurors addiction expert Dr. Daphne Dorce did not consider Ahrens a nicotine addict after applying criteria under the Diagnostic and Statistical Manual for Mental Disorders, a commonly used test for diagnosing addiction to nicotine and other drugs.
Carter argued Ahrens' own behavior showed he was not a nicotine addict, claiming Ahrens could limit or refrain from smoking when circumstances called for it. Carter noted evidence showed Ahrens attended movies and theater events without needing to leave early to smoke, and had no problems refraining from cigarettes at work. "The bottom line was you saw smoking did not interfere with any of his social obligations and it didn't interfere with any of his work responsibilities," Carter said. "Doing what you want to do is not a disorder. It's a decision, and Mr. Ahrens had a choice and the ability to control that choice, and make a different decision if he wanted to."
The trial's second phase, on punitive damages, begins Friday afternoon.
---
Related Information
Ina Ahrens is represented by Gordon & Doner's Gary Paige and Searcy Denney's David Sales.
R.J. Reynolds is represented by Jones Day's Stephen Kaczynski, Edward Carter, and Jacqueline Pasek, and Hill Ward Henderson's Craig Mayfield.
Philip Morris is represented by Arnold & Porter's Keri Arnold.
Watch live and on-demand coverage of Ahrens v. Philip Morris and R.J. Reynolds.