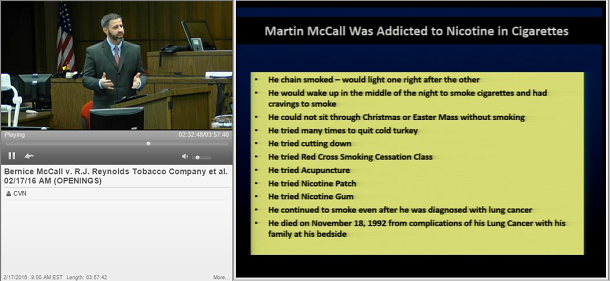 During opening statements Wednesday, Jordan Chaikin claims nicotine addiction fueled Martin McCall's 40-year smoking history. McCall died in 1992 after being diagnosed with lung cancer. His wife, Bernice, is suing Philip Morris for its alleged role in his death.
---
Fort Lauderdale, FL—Attorneys Wednesday debated what drove an alcoholism counselor to smoke for 40 years until he died, allegedly from cancer-related complications, as trial opened in his widow's suit against tobacco giant Philip Morris. McCall v. Philip Morris, 2007-CV-036888.
Martin McCall began smoking as a 12 year old in 1952 and continued the habit until his 1992 death. His widow, Bernice, claims Philip Morris, which made several brands of cigarettes McCall smoked, hid the dangers of smoking and helped cause her husband's nicotine addiction and death from complications related to his lung cancer treatment.

The suit is one of thousands of similar Florida cases against the nation's tobacco companies. They stem from Engle v. Liggett Group, a 1994 class action claim involving Florida smokers. A jury in that case found tobacco companies knowingly produced dangerous, addictive cigarettes and hid those dangers from the public. The Florida Supreme Court decertified the class on appeal, but its decision allows individual plaintiffs to rely on the jury's conclusions in the original trial if they can prove the smokers at the center of their cases suffered from nicotine addiction and a smoking-related disease.
Because Bernice McCall must prove her husband was addicted to nicotine, a key dispute in the case is the set of reasons her husband, an alcoholic who successfully stopped drinking in the 1970s and opened his own alcoholism treatment center, continued to smoke, even after being diagnosed with lung cancer.
Bernice McCall's legal team contend Philip Morris' participation in a conspiracy to confuse the public about the health effects of smoking, combined with the strength of nicotine addiction, thwarted her husband's efforts to quit cigarettes.
During Wednesday's openings, Jordan Chaikin, of The Chaikin Law Firm, told jurors job difficulties and family estrangement delivered clear messages to McCall on the damage alcohol was causing and provided him uncontroverted motivation to quit drinking. However, Chaikin said, tobacco industry messaging undercut public health warnings to McCall on the dangers of cigarettes and the benefits of quitting smoking. "When an addicted smoker is getting competing messages, one from the public health community and one from the tobacco companies, … they're going to believe the message that rationalizes their behavior," Chaikin said. "It's just natural. People will do that."
Chaikin described McCall as a chain smoker who went through up to two packs of cigarettes a day and was unable to quit, despite trying methods ranging from acupuncture to nicotine patches. "This is a textbook, classic case of addiction," Chaikin said.
However, the defense argues McCall smoked by choice and lacked the desire to quit cigarettes for most of his life. During Wednesday's openings, Shook Hardy's William Geraghty told jurors McCall not only overcame his alcoholism when sufficiently motivated, he became a certified alcohol addiction counselor. "He became an expert in what it means to be truly addicted," Geraghty said. By contrast, Geraghty told jurors "Mr. McCall smoked cigarettes because he enjoyed smoking cigarettes. Cigarette smoking relaxed him."
McCall, Geraghty said, "made the lifestyle choice to smoke cigarettes knowing… that that came with the potential for serious health risks."
Trial is expected to continue through next week.
Neither the parties' attorneys nor Philip Morris representatives could immediately be reached for comment.
---
Related Information
The Alvarez Law Firm's Alex Alvarez and The Chaikin Law Firm's Jordan Chaikin represent Bernice McCall.
Shook Hardy's William Geraghty and Boies Schiller's Andrew Brenner represent Philip Morris.
Watch McCall v. Philip Morris, live and on demand.
Not a subscriber?
Learn more about CVN's unrivaled tobacco litigation library.