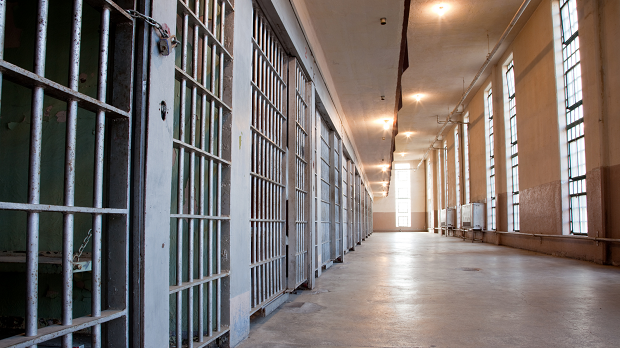 Stock image.
---
Marietta, GA—Medical negligence at a Georgia jail brewed a "perfect storm" that ultimately killed a 25-year-old man, an attorney for the man's family told jurors as trial opened Tuesday against the private healthcare company and its jailhouse doctor who treated him. Graham v. Hendrix, et al., 08-1-2819-34.
"The perfect storm that was created by error, and miscommunication, and failed policies, and failed monitoring that you will hear about was, all of it, each part of it, a piece that touched up against this young man and ultimately pushed him into death," The Austin Law Group's Laura Austin said Tuesday when describing treatment Justin Graham received at the Cobb County Adult Detention Center, weeks before he died from liver failure in 2006.

During his 19-day stay in the detention center following a DUI arrest, Graham was treated for jaundice and other symptoms of potential liver problems by Dr. Clarence Hendrix, a physician who saw the jail's inmates as part of Wellstar Health Systems Inc's. contract with the Cobb County Sheriff's Office.
However, Austin said Hendrix and Wellstar failed to give Graham the medical care he needed as his symptoms became more dire. On Tuesday, Austin walked jurors through a timeline of Graham's stay at the jail, which included delays in relaying bloodwork results to Hendrix and Graham's release from the center's infirmary into the general population, despite worsening jaundice and rising bilirubin counts.
Hendrix eventually ordered Graham transferred to a hospital where he died a month later. However, Austin said the combination of Hendrix's improper care and lax reporting protocol while Graham was in jail left him in such a poor condition that the hospital's staff could not save him.
Austin told jurors expert testimony would establish Hendrix's negligence, while the center's own medical records would prove its treatment helped cause Graham's death. "[They] show a standard of conduct within this jail infirmary of carelessness," Austin said. "In a case like this, no one is going to lose their license, nobody's going to jail, but there has to be accountability."
In addition to Wellstar and Hendrix, the suit also names David Howell, a Wellstar administrator responsible for the company's healthcare contract with the Cobb County Sheriff's Office.
However, the defense argues Hendrix's treatment met appropriate standards of care for his symptoms, and Graham ultimately would have died regardless of the treatment he received.
During Tuesday's openings, Downey & Cleveland's W. Curtis Anderson told jurors Graham, who was a chronic, heavy drinker for years, had underreported his drinking to jailhouse medical staff during processing and appeared to be suffering from alcohol withdrawal. Anderson said experts would testify Hendrix's treatment, which included ordering intravenous fluids and following up with regular bloodwork and medication, met standard medical protocol under the circumstances. "Dr. Hendrix does not have the benefit of hindsight of all of the history, or foresight of what they figure out and what they ultimately determine in the hospital that this man had," Anderson said, noting biopsies performed at the hospital after Graham gave a more accurate accounting of his drinking history showed he suffered from late-stage cirrhosis.
Anderson maintained Hendrix closely tracked Graham's condition throughout his time in the jail. "This was not a gentleman, this was not an individual, this was not a system, who forgot about anybody," Anderson said. "This was a gentleman who was trying to care for his patient just like he would care for anyone else, and he did his best to provide him the care that he thought he needed."
Anderson added Graham's cirrhosis was terminal regardless of Hendrix's care. "That separate and distinct illness alone, according to… plaintiff's own expert, was sufficient to result in this man not making it and dying, even with absolute perfect care," Anderson said. "And there was nothing Dr. Hendrix could do to reverse that or fix it."
The nine-year-old suit has followed a winding road that includes two trips to the Georgia Court of Appeals before reaching trial. In 2016, the appellate court reversed an order of summary judgment in favor of Wellstar on the suit's professional negligence claims. Four years earlier, the court of appeals upheld the dismissal of claims against Cobb County and Sheriff Neil Warren.
Trial in the case is expected to run into next week.
Wellstar Health Systems, a private, not-for-profit company, is Georgia's largest healthcare conglomerate, spanning 11 hospitals, 225 medical centers, and about 20,000 employees, according to its website.
CVN will deliver updated coverage of the trial via its news page and will provide gavel-to-gavel video as soon as possible after the verdict.
Email Arlin Crisco at acrisco@cvn.com.
Related Information
The plaintiffs are represented by The Austin Law Group's Laura Austin.
The defendants are represented by Downey & Cleveland's W. Curtis Anderson.
CVN is recording the trial and will provide gavel-to-gavel video as soon as possible after the verdict.
Not a subscriber?
Learn how you can watch blockbuster trials, in Georgia and across the country.