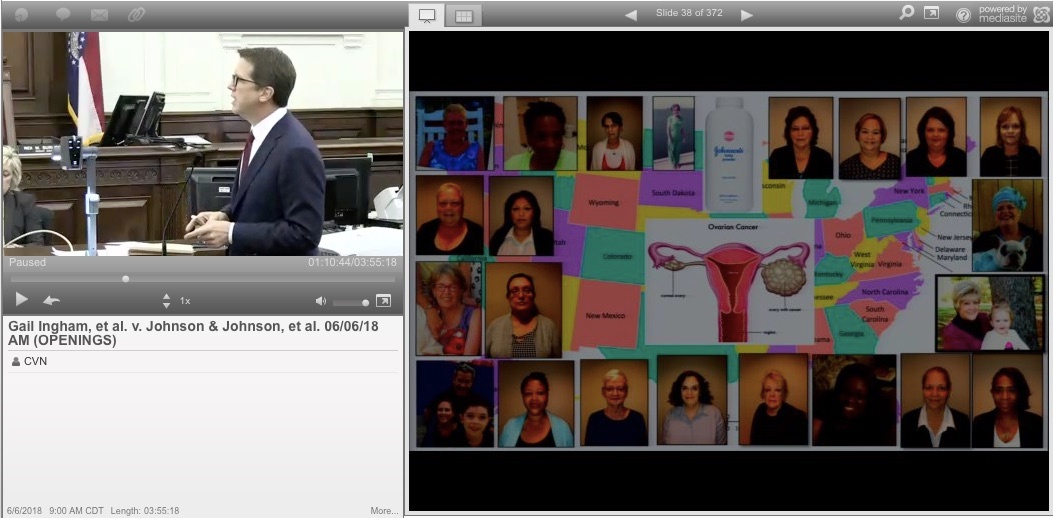 CVN screenshot of plaintiff attorney Mark Lanier delivering his opening statement in 2018
Jefferson City, MO - A Missouri appeals court on Tuesday reduced a jury award of $4.7 billion to 22 women who claimed Johnson & Johnson's baby powder caused their ovarian cancer to $2.1 billion, while still slamming the company for "significant reprehensibility" in its conduct.
The reduced award remains the largest verdict by far from lawsuits over asbestos allegedly present in popular cosmetic talc products like Baby Powder and Shower to Shower. A St. Louis jury initially returned the massive verdict in 2018 at a trial filmed and webcast exclusively by Courtroom View Network.
With the case back in the news, CVN is offering a free "Trial in 20 Minutes" video summary (click here to watch) showcasing some key highlights from the lengthy trial. Unlimited, on-demand "gavel-to-gavel" video of the trial - along with dozens of other talc cases, is available with a subscription to CVN's online video trial library.
The appeals court found that not all plaintiffs were Missouri residents, and thus were ineligible to pursue damages in the state's courts.
However the court upheld the underlying findings of the jury in agreeing that Johnson & Johnson knew its cosmetic talc products posed a cancer risk but withheld that information from the public - allegations the company strenuously denies. Numerous juries have also returned defense verdicts in favor of Johnson & Johnson in talc cases.
At the trial jurors heard testimony and saw evidence supposedly proving Johnson & Johnson's internal testing showed its cosmetic talc products contained asbestos - a finding the appeals court supported.
"A reasonable inference from all this evidence is that, motivated by profits, Defendants disregarded the safety of consumers despite their knowledge the talc in their Products caused ovarian cancer," the court wrote.
A Johnson & Johnson spokesperson said the company would appeal the ruling to the Missouri Supreme Court and reiterated arguments made at trial that the company's cosmetic talc products never contained asbestos.
The company maintains any asbestos found in its talc products is the result of faulty testing methods, including FDA tests that led to a voluntary recall of a batch of baby powder in late 2019.
Lead plaintiff attorney Mark Lanier, of the Texas-based Lanier Law Firm, noted in a statement that in May Johnson & Johnson decided to stop selling talcum-based baby powder.
"Since the verdict, J&J has finally quit selling this asbestos-laced talc product in the U.S. and Canada," Lanier said. "We are gratified that the court found the evidence presented at trial fully supported each one of the jury's findings, demonstrating the strength and credibility of the overwhelming scientific evidence proving the presence of asbestos and its life-threatening dangers."
Johnson & Johnson still faces thousands of talc-related lawsuits throughout the United States. Numerous trial dates were scheduled for earlier this year but were all vacated due to the COVID-19 crisis with no new trial dates currently scheduled.
Related: Here's a case-by-case breakdown of all the cosmetic talc trials in CVN's online video library
E-mail David Siegel at dsiegel@cvn.com