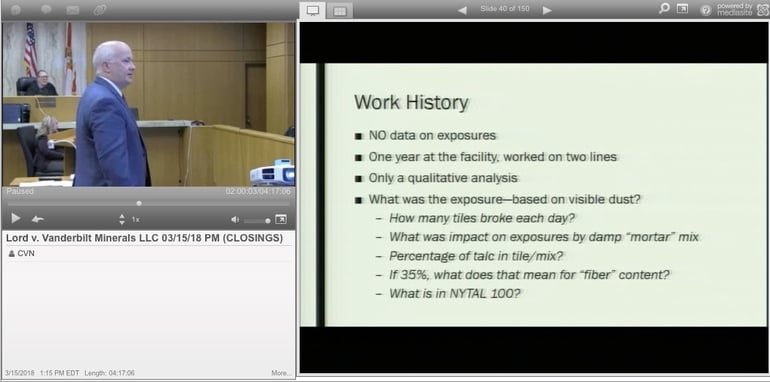 CVN screenshot of defense attorney Thomas Radcliffe delivering his closing argument
Bartow, FL - Vanderbilt Minerals LLC reached a settlement during jury deliberations on March 16th in Florida state court with a former tile worker who sought $11.5 million for developing mesothelioma after inhaling asbestos allegedly contained in the company's industrial talc products.
The parties announced the confidential settlement during the Polk County jury's first day of deliberations in a trial that began on February 22. Robert Lord, who worked with talc products for Florida Tile Company in the 1970's, accused Vanderbilt of withholding knowledge from workers about the cancer risks of the asbestos supposedly present in their talc, which is often used in ceramic products.
Vanderbilt argued that Lord's mesothelioma could have been caused by his decades of smoking cigarettes or from asbestos in Bendix automotive brakes he occasionally changed as a hobby. The company also maintained that the type of asbestos present in Lord's tissue isn't found in the talc they source for their products, and that no convincing scientific evidence exists proving exposure to talc causes mesothelioma.
The full trial was webcast gavel-to-gavel by Courtroom View Network. Attorneys for both sides declined to comment on the terms of the settlement.
Lord and his wife Lola were represented by Scott Frost, a California-based attorney with Waters Kraus & Paul. During his closing argument, Frost told jurors that Vanderbilt's talc products largely came from one mine, which Frost argued had been proven to contain asbestos.
"It's all got the same stuff in it," Frost said. "You can call it whatever you want, but it's all the same."
He acknowledged the other potential sources of asbestos exposure raised by Vanderbilt but suggested any allocation of responsibility to Bendix or Florida Tile Company, which Vanderbilt said didn't provide adequate worksite safety training to its employees, be minimal.
"If you think that a few brake jobs on weekends is enough to cause this disease, than allocate some responsibility," Frost said.
Vanderbilt was represented by Thomas Radcliffe, an attorney with DeHay & Elliston LLP based in Baltimore. Radcliffe told jurors that workers in talc mines who were exposed to vastly more of the mineral than Lord didn't develop mesothelioma, and that the plaintiffs never put a geologist or a mineralogist on the stand.
"The evidence in this case is lacking," Radcliffe said in his closing argument.
The Lords' lawsuit is an "industrial talc" case, which is distinct from the "cosmetic talc" cases that generated headlines after a number of huge plaintiff verdicts in lawsuits alleging that exposure to products like baby powder caused mesothelioma for plaintiffs who inhaled it and ovarian cancer in plaintiffs who used it on their genitals. Industrial talc cases involve exposure to talc present in various compounds used in ceramics, chemical coatings, paper and plastics.
A cosmetic talc mesothelioma trial involving Johnson & Johnson's Baby Powder is currently underway in New Jersey and is also being webcast live by CVN.
The Florida trial was also a rematch for Waters Kraus & Paul and DeHay & Elliston after the two firms recently squared off in an asbestos trial in Arizona state court that ended in a defense verdict. That trial was also webcast and recorded by CVN.
Frost told CVN he expected to see more and more talc mesothelioma cases across the country.
"For many years companies have denied their products contained asbestos, when in fact they did, exposing the hard working people like Mr. Lord to asbestos with no warning," he said.
The trial took place before Polk County Circuit Court Judge Michael Raiden, and the full proceedings are available to CVN subscribers, along with many other talc and asbestos trials from throughout the country that are part of CVN's one-of-a-kind online video archive.

The case is captioned Robert Lord and Lola T. Lord v. Florida Southern College, et al., docket number 2017CA000783000000.

E-mail David Siegel at dsiegel@cvn.com