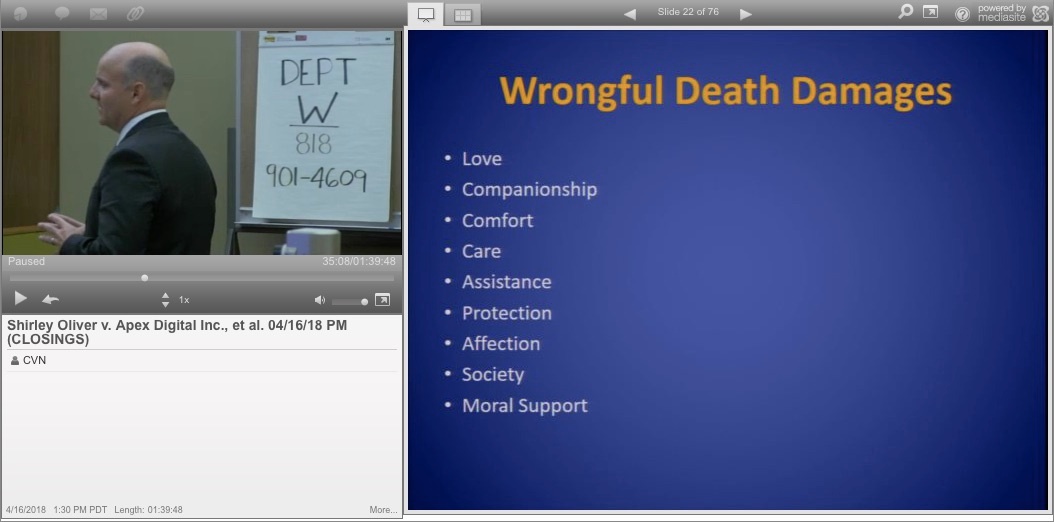 CVN screenshot of plaintiff attorney Lars Johnson delivering his closing argument
Van Nuys - A California state court jury found hotel operator Oakwood Worldwide responsible on Tuesday for distributing a defective television set that caused a fatal fire in a woman's apartment, awarding the woman's mother $3 million.
The Los Angeles County jury determined that Lauren Humphrey died in 2012 in a fire started by the television set provided by Oakwood in the temporary corporate housing complex where she lived. Humphrey's mother, Shirley Oliver, then filed a products liability lawsuit in 2013.
Oakwood argued the cause of the fire could not be determined, but that it was not started by the Apex Digital Model AT240BS television set in Humphrey's unit.
The jury assigned Humphrey, who was intoxicated at the time of the fire according to medical reports and had a history of substance abuse, 20 percent responsibility for the accident, reducing Oliver's actual damages to $2.4 million.
That amount surpasses Oakwood's highest pre-trial settlement offer of $100k, according to Oliver's attorney Lars Johnson of Grassini Wrinkle & Johnson. Johnson asked the jury to award $5 million during his closing argument, according to Courtroom View Network's webcast of the trial.
An attorney for Oakwood did not respond to a request for comment.
Johnson told CVN that this case tests the boundaries of California's strict products liability laws. Oakwood argued it is not a product distributor and cannot be liable under strict products liability, a question the judge said had to be answered by the jury.
"This case establishes an important precedent that big landlords like Oakwood will be held to the same standards as other product distributors if it chooses to lease products in connection with its apartments," Johnson said. "The case involves a broad application of California's strict products liability law to multi-unit residential landlords who supply products with furnished units."
Johnson said the verdict is also notable because Oliver is 79-years-old and did not depend on Humphrey for financial support, leaving Johnson to focus on her emotional loss in asking the jury to determine past and future damages.
Johnson also noted that Van Nuys presents a challenging jurisdiction for plaintiffs.
"Van Nuys is generally a tough venue for personal injury cases," he said.
Both sides presented numerous fire accident reconstruction experts, and Johnson said testimony from an electrical engineer he called to the stand convinced jurors that electrical arcing occurred inside the television consistent with a localized fire.
Johnson also cited testimony from a Los Angeles Fire Department arson investigator who stated the fire began at the same part of a shelf where the television was located, a conclusion the defense disputed.
Oliver's lawsuit originally included the television's manufacturer, Apex Digital Inc., along with Time Warner Cable and Motorola Mobility, which provided the television's cable box, however only Oakland remained as a defendant when the case went to trial. Click here to read a copy of the complaint.
The six-day trial took place before Judge Paul Bacigalupo, and was recorded gavel-to-gavel by CVN.
In addition to Johnson, Oliver is also represented by Lawrence Grassini.
Oakwood is represented by Paul Elkort of Maranga Morgenstern.
The case is captioned Shirley Oliver v. Apex Digital Inc., et al., case number BC516791 in Los Angeles County Superior Court.
Email David Siegel at dsiegel@cvn.com