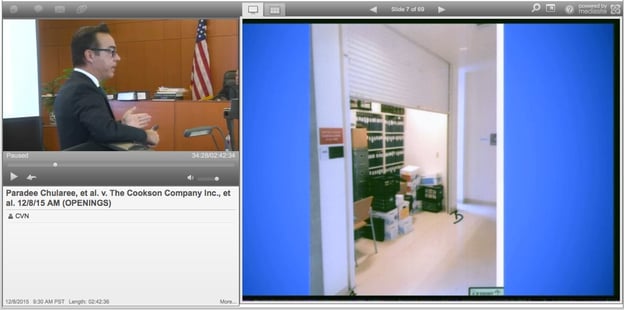 Plaintiff attorney Arash Homampour shows jurors an image of the rolling door that he claims caused his client permanent brain damage when it fell on her head. (Click here to see video from the trial.)
Santa Monica — A University of California, Los Angeles employee who allegedly suffered a traumatic brain injury after being struck by a falling garage-style fire door should be paid millions of dollars by the door's seller and manufacturer, her attorney told jurors at a product liability trial that began Tuesday in California state court.
Plaintiff Paradee Chularee, who worked as a UCLA student affairs officer, was left "100 percent totally disabled" after the 10x10 foot rolling door fell on her head in a campus building in 2011 and caused bleeding in her brain, according to Arash Homampour of The Homampour Law Firm. Homampour told jurors that UCLA originally selected a safer chain-operated door during the building's construction, but that subcontractor McKendry Door Sales Inc. installed a more dangerous version that had to be manually pushed and pulled to open and close.
In addition to installing the wrong door, Homampour told jurors that McKendry didn't provide UCLA with adequate warnings about the risks of standing directly underneath the door and failed to provide an extension hook to help employees pull it closed. As a result, Homampour argued that Chularee sustained a serious brain injury and will require around-the-clock nursing care for the rest of her life.
"The evidence is going to show all of this could have been prevented had McKendry put in the right door, had put in a chain operated door," Homampour said, according to a Courtroom View Network webcast of the trial.
Homampour told the jury that Chularee's medical expenses could reach $8 million, and that she has lost at least $1 million in past and future earnings. An appeals court order in the case states that Chularee's attorneys anticipate an award of "$30 million in special and general damages."
McKendry and the door's manufacturer, Cookson Company, claim that UCLA is responsible for the selection of the door, that it was not defectively designed, and that Chularee is exaggerating the impact of her supposed injury.
Chularee worked in a building housing UCLA's engineering department, and the space behind the fire door was originally intended to serve as an emergency response room to store materials needed to clean up spills of any dangerous chemicals. However by 2011 the space was used to store student files, and Chularee frequently needed to open and close it, often enlisting the help of taller students.
In March of 2011, Chularee attempted to pull the door closed by herself while standing on a chair, and it hit her on the head, Homampour argued. While she didn't show any initial symptoms beyond a headache, her husband rushed her to the emergency room three days later, after she began speaking in gibberish and acting incoherently. Doctors said she had a stroke, and Homampour argued that permanent brain damage can be seen on her MRI scans.
Although Chularee can speak and was deposed in the case, Homampour claims her memory is severely impaired, she cannot be left alone, is prone to seizures, and that she suffered a "total loss of executive function."
Homampour used part of his opening statement in an attempt to head off arguments from the defense that Chularee is faking her injuries. He argued the defense would highlight deposition testimony in which Chularee denied receiving treatment and medication for post traumatic stress disorder prior to the accident despite having been under a therapist's care for years before the door fell on her head.
"That's a function of her brain injury," Homampour said, telling jurors that damage to Chularee's frontal lobe means she can't adequately judge the consequences of her actions.
Representing McKendry and Cookson, Chris Faenza of Yoka & Smith LLP told jurors the type of door that struck Chularee had been sold to tens of thousands of customers over the course of 30 years, and that no other claims similar to her's had ever been filed. He argued it would be impossible for the door to fall with enough force to cause a brain injury at the height Chularee claims she was standing on the chair.
He also argued that UCLA bore responsibility for allowing employees to store files behind the door instead of using it for a rarely-accessed emergency response room as originally designed.
"It was UCLA's and UCLA's decision alone to have its untrained employees use this door on a daily basis," Faenza said.
Faenza claimed that when a chain-operated door was initially proposed, UCLA raised concerns about the potential hazard it could pose to students in the hallway as well as its aesthetic impact, telling jurors that the school didn't want its sleek new engineering building to "look like a Pep Boys or a Sears Auto."
Any changes to the proposed design for the building had to be approved by UCLA, Faenza claimed, telling jurors that McKendry simply sold the school the type of door they requested.
"If any change is made of any substance, it's UCLA's decision," Faenza said.
Homampour had argued that UCLA's construction contract absolves it of all liability if McKendry installs a defective door.
Faenza told jurors that Chularee has given multiple inconsistent statements leading up to the trial. He claimed she initially said she fell off the chair but later altered her retelling of the accident to say she did not. Chularee's husband even contacted the hospital to request her medical records be altered to reflect that she didn't fall, according to Faenza, who also pointed to her deposition testimony related to her medical condition prior to the accident.
Since Chularee was the only witness to the accident, the trial will largely hinge on expert witness testimony, and both parties attempted pre-emptive strikes on the credibility of the other side's experts during their opening statements. Homampour argued the defense would rely on testimony from a neuropsychologist who is not board certified, and Faenza claimed the plaintiff hired a civil engineer who specializes in slip and fall cases and isn't familiar with industry standards for fire door manufacturers.
The trial before Judge Gerald Rosenberg is expected to take two weeks to complete and is being webcast and recorded gavel-to-gavel by CVN.
The case is Paradee Chularee, et al. v. Cookson Company, et al., case number SC113062 in the Superior Court of California for Los Angeles County.
E-mail David Siegel at dsiegel@cvn.com.