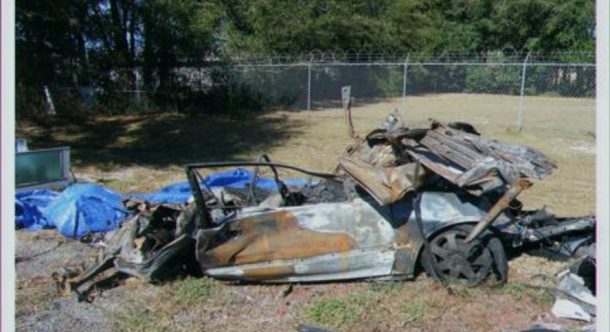 An image of the Maldonados' car after the wreck that killed Deborah and Eliezer Maldonado, Jr. The image was shown during openings at trial against Theorphilus Clark, Wayne T. Fellows Inc. and Peoplease Corp., accused of responsibility for the crash.
---
Ocala, FL—Attorneys debated who caused the late night, 2012 truck crash that killed a Florida woman and her 12-year-old son, as trial opened Wednesday against the trucker and companies that hired him. Maldonado v. Wayne T. Fellows, et al., 2013CA001308.
"Every person in the trucking industry—whether it be the truck driver or the trucking company—must know the rules and regulations, and must follow the rules and regulations. And when they don't, bad things can happen," Marianne Howanitz told jurors in openings against truck driver Theorphilus Clark, trucking company Wayne T. Fellows Inc., and trucking human resources firm, Peoplease Corporation.

Deborah E. Maldonado, 35, and her son, Eliezer Maldonado, Jr., 12, were killed when a tractor-trailer driven by Clark hit the Maldonados' car as it sat stranded late at night in the middle of the road on I-75. The car had been disabled minutes earlier when it was struck by another car driven by Lanessa Riobe, who fled the scene.
Riobe, whose blood alcohol level was over the legal limit when she was caught, ultimately pleaded guilty to two counts of DUI manslaughter and is serving 10 years in prison.
But Deborah Maldonado's husband, Elizer Maldonado Sr., who, along with the couple's daughter, Andeliz Maldonado, had left the disabled car before the second crash, claims Clark's negligence killed his wife and son.
During Wednesday's openings, Maldonado's attorney, Marianne Howanitz, told jurors that, while Riobe hit the Maldonados' car, Clark caused the fatal crash. "Yes, [Riobe] caused the disabling of that car," Howanitz said. "But, she didn't kill them."
Howanitz said evidence would show Clark, who had a history of sleep apnea, was fatigued at the time he was driving, and he failed to apply his brakes, despite seeing another car's flashing lights attempting to warn approaching traffic of the Maldonados' stranded vehicle. Clark, she said, had "35 seconds from time he first saw those lights until the time of the impact happened to do something. Something. The evidence will show he didn't do anything."
Howanitz told jurors witnesses would describe the engine of the truck revving when it collided with the car, carrying it more than 1,000 feet down the highway before the vehicle came to a stop and caught fire. "The only way it could have done that [is if it] was on cruise control. He didn't even tap the brakes," Howanitz said. "If he would've taken his foot off the brakes the truck would've come to a stop way before going another quarter mile down the road."
Howanitz said Clark's history of inaccurate trucking logs, should have served as a red flag to Wayne Fellows before the wreck. "Every single log book entry was not correct. Either it was wrong on the start time or end time, or the activity. And because his employer, Wayne T. Fellows, dispatched him, they knew what he was doing," Howanitz said. "And if they had just looked at the logs, they would have known there's a problem here."
But the defense argues Clark was well-rested at the time of the accident and the wreck was unavoidable given the darkness. During his opening statement Wednesday, Clark's attorney, Rissman Barrett's Richard Womble, told jurors Clark had slept the day before the crash and was alert enough to have noticed both Riobe's erratic driving and downshift while traveling through a weigh station minutes before his collision. "The plaintiff's theory is that he miraculously fell asleep after. . . going through the weigh station and all the gears he had to go through," Womble said. "There's no connection [to sleep issues]."
Womble showed jurors photos of what he said were similar nighttime road conditions Clark would have seen on the evening of the crash, including a recreation of the lights of the car attempting to warn of problems ahead, while darkness seemed to obscure a stranded car in the middle of the road. "We have the luxury of knowing there's a vehicle in the middle lane," Womble said, telling jurors Clark had four seconds to react. "Mr. Clark didn't."
Womble told jurors Riobe was the person responsible for the Maldonados' deaths, reminding jurors of her guilty plea to manslaughter charges. "If Ms. Riobe had not been intoxicated. If Ms. Riobe had not negligently caused the impact with the Maldonados, Mrs. Maldonado and her son would be alive today," he said.
Cole, Scott & Kissane's James Sparkman, representing Wayne T. Fellows, agreed Riobe was responsible for the crash and contended Fellows followed appropriate procedures to ensure Clark had enough time to sleep before trips. "Mr. Clark was on a three-day-a-week schedule," Sparkman said, adding that Clark had more than a day off before beginning the trip in which the crash occurred. "All you need is 10 hous [of] rest in between, so he had plenty of time to rest."
Peoplease's attorney, Alvarez Winthrop Thompson & Storey's Griffith Winthrop, told jurors Peoplease merely served as the employee leasing agent for Clark's work with Wayne T. Fellows. While he maintained Clark was not negligent, he argued Peoplease lacked sufficient control over Clark's driving or training in any event to render it responsible. "My client is an employee leasing company that supplies employment benefits and workers' compensation and does not have anything to do with the day-to-day operation of Mr. Fellows' company," Winthrop said. "Mr. Fellows will tell you that. He might just get indignant about it, if somebody were to suggest that my client, Peoplease can actually step in down there and start controlling his business."
But Howanitz told jurors Peoplease's service contract with Wayne T. Fellows was a far-reaching agreement that allowed Peoplease to hire, fire, and discipline employees like Clark, and which maintained Clark remained an employee of Peoplease while working for the Fellows trucking firm. "When Mr. Clark was finally hired by Peoplease and assigned to Wayne T. Fellows, he was issued a Peoplease employee handbook," Howanitz said. "He was never given a Wayne T. Fellows employee handbook."
The trial is expected to last three weeks. CVN is webcasting the trial live, gavel-to-gavel.
Email Arlin Crisco at acrisco@cvn.com.
Related Information
Eliezer Maldonado is represented by Marianne Howanitz and The Ramsdell Law Firm's Dan Ramsdell.
Wayne T. Fellows Inc. is represented by Cole Scott Kissane's James Sparkman.
Theorphilus Clark is represented by Rissman, Barrett, Hurt, Donahue, McClain & Mangan's Richard Womble.
Peoplease Corporation is represented by Alvarez Winthrop Thompson & Storey's Griffith Winthrop.
Watch the trial live and on demand.
Not a subscriber?
Learn how you can see the best attorneys in action, in Florida and across the country.