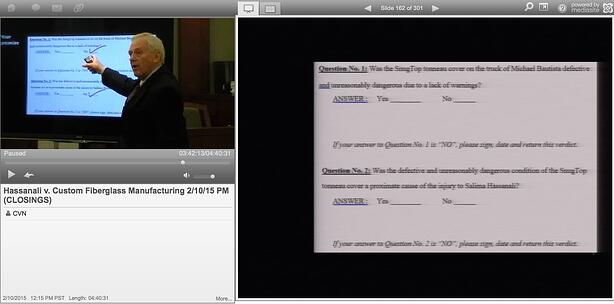 Defense attorney Ric Gass, representing Custom Fiberglass, tells jurors how they should fill out the verdict form during his closing arguments. Click here to see video from the trial. Click here for a copy of the complaint.
Las Vegas - A Nevada state court jury on Wednesday said a pickup truck flatbed cover that blew off in the wind and severely injured a physician in a hospital parking lot was not defectively designed, after being asked to award $44 million in damages following a five-week trial.
The eight-member jury deliberated for less than five hours before voting 6-2 that the cover's manufacturer, Custom Fiberglass Manufacturing Co. and installer Valley Camper Sales were not liable for plaintiff Salima Hassanali's injuries.
Hassanali was partially paralyzed after a 100-pound SnugTop-brand tonneau cover flew off a nearby pickup truck in a gust of wind and struck her in the back and neck in the parking lot of Valley Hospital Medical Center in 2008. She required extensive rehabilitative treatment and sued the defendants in 2010, claiming they knew the cover's latches could fail in windy conditions but did not take steps to adequately warn consumers of the risk.
Attorneys for the defendants didn't dispute the severity of Hassanali's initial injuries, but argued they were caused by a freak accident that was impossible to predict, and that the event was an isolated incident. They cited the fact Hassanali's case was the only claim ever filed over an injury from a windblown SnugTop cover, and that the latches failed because of damage to the pickup truck's flatbed from its owner using it to transport an all-terrain vehicle.
During his closing rebuttal to defense arguments that Hassanali's injuries were the result of an unusual, one-time accident, plaintiff's attorney Bryan Lewis of Lewis & Associates made an explosive comparison between the September 11th terrorist attacks and the injury risk posed by blowing SnugTop covers.
Lewis said that even though no further airplane hijackings have occurred since 2001, the event still prompted the addition of more secure cockpit doors to all airplanes. He said that Fiberglass Manufacturing knew of 18 incidents in which SnugTop covers blew off in the wind going as far back as 1996, and that the risk of even one injury should have prompted them to warn consumers.
"One time is too much," Lewis argued.
Brian Cahill of Milwaukee-based Gass Weber Mullins LLC, who represented Custom Fiberglass, told CVN that while Hassanali's injuries affected her life gravely, they were not the fault of his client.
"We're grateful to the jury for being able to take the time and real effort to separate out the emotion from fact," Cahill said. "We still today have great empathy for the plaintiff in this case."
Cahill said a post-trial judgment offer was not accepted, and that his team would be making a motion for the awarding of attorney's fees but declined to give an estimate on the potential amount.
Attorneys for the plaintiff did not immediately respond to a request for comment from CVN late Wednesday evening.
The trial dragged on for five weeks, because in addition to hearing arguments about the design of the SnugTop cover, jurors had to consider extensive testimony on the alleged impact Hassanali's injuries had on her medical career and how much she had physically recovered since 2008.
Hassanali claimed that weakness in her right arm following spinal fusion surgery and other lingering effects of the accident prevented her from specializing in cardiology. She said she is limited to working as a general internist, which her attorneys argued deprives her of millions of dollars in potential future income.
However the defendants maintained the extent of Hassanali's recovery was "miraculous" and that her poor academic record made her an uncompetitive candidate for a cardiology fellowship as opposed to any physical limitations, an argument first made by Cahill during his opening argument in January.
Cahill said despite the complex nature of the arguments jurors had to consider about both the design of the SnugTop cover and Hassanali's injuries, the facts of the case supported his client's position.
"The truth ultimately is persuasive," Cahill said. "Our jury system works."
Hassanali is represented by Todd Moody, Christian Orme and Kumen Taylor of Hutchison & Steffen, and by Bryan Lewis of Lewis & Associates.
Custom Fiberglass is represented by J. Ric Gass, Brian Cahill and John Franke of Gass Weber Mullins LLC, and by Steven Jaffe, Monte Hall, Michael Shannon and Jeremy Welland of Hall Jaffe & Clayton LLP,
Valley Camper Sales is represented by Jack Angaran of Georgeson Angaran CHTD.
The case is Salima Hassanali v. Custom Fiberglass Manufacturing Co., et al., case number A-10-611774-C, in the Eighth District Court of Nevada in Clark County.
David Siegel can be reached at dsiegel@cvn.com.

Related:
Click here to check out more product liability trials in CVN's one-of-a-kind video archive.