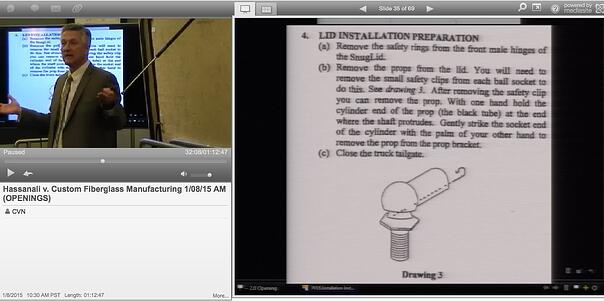 Plaintiff's attorney Kumen Taylor shows the jury a brochure for Snugtop truck bed covers during his opening statement. The large object obscuring the bench is the actual cover that struck Salima Hassanali.
Las Vegas, NV - A Nevada state court jury heard opening statements Wednesday and Thursday in a high-stakes product liability suit worth possibly more than $15 million brought by a physician who suffered disabling spinal injuries after being struck by a cover for a pickup truck's flatbed that was blown off by wind.
With the large 100-pound cover propped up in the well of the courtroom as a background, Kumen Taylor of Hutchison & Steffen, representing plaintiff Salima Hassanali, told jurors that the evidence will show defendants Custom Fiberglass Manufacturing Co. and Valley Camper Sales failed to warn buyers of the dangers posed by the Snugtop cover's allegedly unstable latching mechanism.
Taylor told the jury that Hassanali nearly died in 2008, when she was struck in the back and neck and partially paralyzed by the cover on a nearby Toyota Tundra pickup truck while exiting her car in the parking lot of Valley Hospital Medical Center. Taylor argued the cover's manufacturer and installer knew the risks posed by the latches even when the cover is properly placed on a truck but didn't take adequate steps to inform consumers.
Custom Fiberglass first learned of their pickup truck covers blowing off in 1996, and over the next 12 years, Taylor told jurors the manufacturer learned of at least 18 wind incidents. Despite that knowledge, Taylor said the manufacturer didn't inspect any of the actual vehicles or interview any of the owners who installed them. By the time of Hassanali's accident, Taylor said Custom Fiberglass should have known the covers posed a risk and warned buyers.
"This was no act of God," said Taylor, according to a Courtroom View Network webcast of the proceedings. "It was not a one-off."
Taylor said the bulk of the trial would focus on damages, since the complex nature of Hassanali's neurological injuries, her future high earning potential as a physician, and the extent to which she has recovered from her injuries, are all in dispute.
Hassanali claims that after undergoing extensive spinal fusion surgery, she suffers from weakness on the right side of her body that will prevent her from becoming a cardiologist as planned. Instead she is looking for part-time work as an internist, and as a result Taylor told the jury that economic damages alone could exceed $15 million.
Damages for pain and suffering could drive the verdict even higher. While Taylor didn't ask the jury during openings for a specific amount, he said the total compensation for Hassanali's traumatic experience both immediately after the accident and during her lengthy recovery will be substantial.
"The bandage needs to be large enough to cover the wound," Taylor said in a closing line that drew objections from defense attorneys.
Representing the defendants, Ric Gass of Milwaukee-based Gass Weber Mullins LLC told jurors during his opening statement that problems with the Snugtop cover's latches weren't as widespread as Taylor suggested. He said that given the roughly 250,000 SnugTop covers being used on vehicles, if the latches were as dangerous as Taylor described, then the manufacturer should be facing many lawsuits similar to Hassalimi's.
Instead, Gass said Hassalimi's claim is the only one brought against SnugTop over a windblown cover causing an injury of any kind.
"There will be no Nevada police telling you everyday they pick up another Snugtop lid along the highway," Gass told the jury.
Gass argued the latches became loose as a result of damage to the Toyota truck's flatbed from its owner, Michael Bautista, using the truck to transport his ATV and not due to a defective design.
Bautista reached a settlement with Hassanali in a separate case after his insurer paid out a $50,000 maximum, according to court records.
Speaking to Hassanali's injuries, Brian Cahill told the jury that while she hasn't completely recovered, Hassanali has regained nearly full mobility and suffers from the effects of Crohn's Disease, which Cahill said are unrelated to the accident.
"Everybody here recognizes that Dr. Hassanali had a severe, tragic, dramatic, life changing injury," Cahill said. "But she also received really superior medical treatment, and she had an astonishing recovery."
Cahill told the jury that Hassanali's inability to pursue cardiology was due to her poor academic record and not any lingering effects of her injuries. He specifically mentioned that she failed gross anatomy after being denied admission to a number of medical schools, and that applicants with those records rarely receive competitive cardiology fellowships.
While repeatedly expressing sympathy for Hassanali and respect for her skills as an internist, Cahill said the evidence didn't support the claims about her losses as a result of the accident.
"This is a very emotional situation. There's no way around that," Cahill told the jury. "It also means though that we have to deal with that and present it to you and say some things are right and some things are wrong."
Witness testimony, which will feature a phalanx of experts from both sides, begins Friday. The trial before Judge Douglas Herndon is expected to last six weeks.
Attorneys for the parties declined to comment on the case.
Hassanali is represented by Todd Moody, Christian Orme and Kumen Taylor of Hutchison & Steffen, and by Bryan Lewis of Lewis & Associates.
The defendants are represented by Ric Gass, Brian Cahill and John Franke of Gass Weber Mullins LLC, by Steven Jaffe, Monte Hall, Michael Shannon and Jeremy Welland of Hall Jaffe & Clayton LLP, and by Jack Angaran of Georgeson Angaran CHTD.
The case is Salima Hassanali v. Custom Fiberglass Manufacturing Co., et al., case number A-10-611774-C, in the Eighth District Court of Nevada in Clark County.