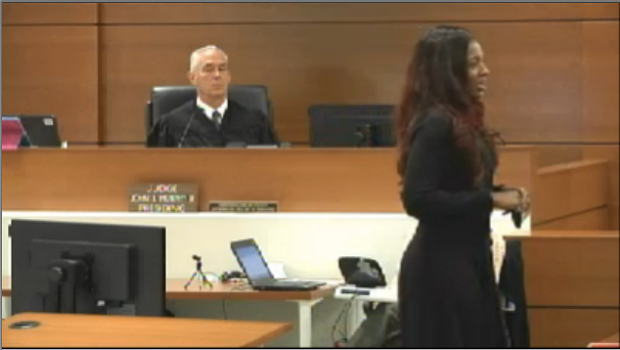 Lakiesha Cannon delivers her opening statement in Santoro v. R.J. Reynolds, et al.
---
Fort Lauderdale, FL—A woman's hopeless addiction to cigarettes was driven by tobacco deceit that led to her fatal lung cancer, an attorney for the woman's widower said during Tuesday's openings of a rare Florida state court trial against three of the nation's four largest cigarette makers. Santoro v. R.J. Reynolds, et al., 2008-CV-025807(19).
"She loved her family. She loved her husband. But she could not stop smoking," Lakiesha Cannon said of Grace Santoro, 66, who died from lung cancer-related complications in December 1998, after nearly fifty years of smoking. Her husband, Charles Santoro, claims tobacco giants Philip Morris, R.J. Reynolds, and Liggett are responsible for his wife's death by hiding the dangers of smoking through most of the 20th century and hooking Grace Santoro on their cigarettes, which ultimately caused her cancer.
Cannon walked jurors through the tobacco companies' decades-long participation in an alleged marketing scheme to cast doubt on the scientific evidence of smoking's dangers as they marketed a product they knew was addictive. She said Grace Santoro was caught in that scheme, which drove her to smoke throughout her life.
The Santoro case is one of thousands of Engle progeny cases in Florida, which stem from a 2006 Florida Supreme Court decision decertifying Engle v. Liggett Group Inc., a class-action tobacco suit originally filed in 1994. Although the state's supreme court ruled that so-called Engle-progeny cases must be tried individually, it found plaintiffs could rely on certain jury findings in the original case, including the determination that tobacco companies had placed a dangerous, addictive product on the market and had conspired to hide the dangers of smoking.
However, while Philip Morris and Reynolds, the nation's two largest tobacco companies, are common defendants at Engle trials, Liggett appears relatively rarely. The company, the fourth largest cigarette manufacturer in the U.S. has settled most of the pending Engle litigation against it. Liggett last appeared in front of CVN cameras for an Engle trial in 2015, a defense win in Shulman v. R.J. Reynolds.
While Santoro's attorneys argued addiction and tobacco industry lies caused Grace Santoro's cancer, the defense contended she chose to smoke and continue the habit, despite knowing the risks. During Tuesday's opening statements, Joseph Fasi, representing Philip Morris, told jurors Grace Santoro resisted efforts from her husband, an "avid nonsmoker" to get her to quit cigarettes. "You'll hear Mr. Santoro tell you she knew, she knew it was not good for her to be smoking," Fasi said. "He will tell you she wanted to smoke, and he will tell you there was nothing he could do to talk her out of smoking."
Jason Keehfus, representing Philip Morris out of Atlanta's King & Spalding office, agreed, and added Santoro's suit was time-barred because Santoro couldn't prove Grace had cancer before the November 21, 1996 cutoff date for Engle class membership. Keehfus told jurors medical records would show Grace Santoro reported no symptoms of lung cancer until well after the cutoff date. "You have Mrs. Santoro's own words, given years before [her husband's] lawsuit was ever filed," Keehfus said. "She is a source of information in this case."
Explaining that she did not wish to repeat the issues raised by the other defense attorneys, Liggett's attorney, Kelly Anne Luther, of Kasowitz, Benson, Torres & Friedman, declined to give an opening statement.
Trial in the case is expected to last through next week.
Email Arlin Crisco at acrisco@cvn.com.
Related information:
Charles Santoro is represented by Lakiesha Cannon and Koch Parafinczuk, Wolf & Susen's Austin Carr.
R.J. Reynolds is represented by King & Spalding's Jason Keehfus.
Philip Morris is represented by Gass Weber Mullins' Joseph Fasi and Shook Hardy Bacon's Peter Henk.
Liggett is represented by Kelly Anne Luther, of Kasowitz, Benson, Torres & Friedman
Watch the trial live and on demand.
Not a subscriber?