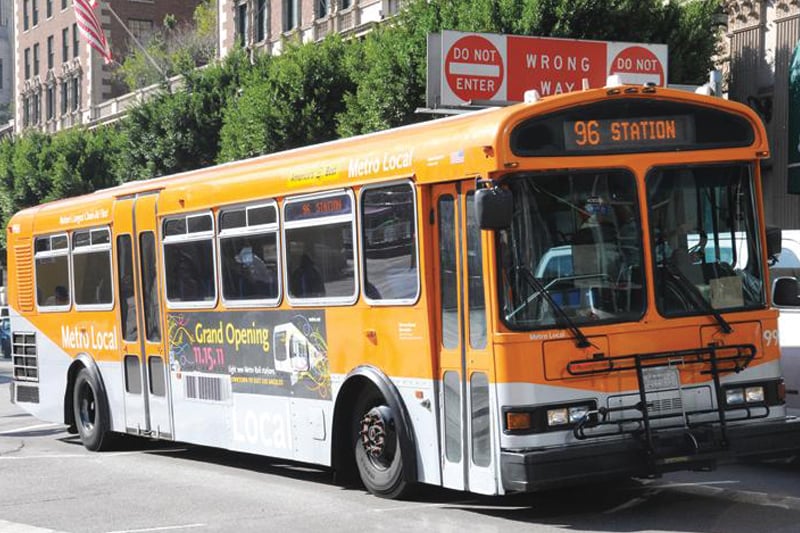 Stock image of an LA Metro bus
Los Angeles, CA - A wrongful death lawsuit stemming from a fatal collision between a Metro bus and a 13-year-old girl on her bicycle heads to trial this week in California state court, and the proceedings will be webcast gavel-to-gavel by Courtroom View Network.
Barry and Rose Smith sued the bus driver, transportation services contractor MV Transportation Inc., the City of Redondo and the California Department of Transportation after the death of their daughter Ciara Smith in 2017. However only the driver, Francine Murphy, and MV Transportation Inc. remain as defendants in the trial getting underway before Los Angeles County Superior Court Judge Stephen Czuleger.
The Smith's lawsuit blames the accident on Murphy's supposed negligence while operating the bus, but the defense argues there was no reasonable way for her to avoid colliding with Ciara's bike after it entered the intersection at Pacific Coast Highway and Knobb Hill Avenue.
Murphy has not faced any criminal charges resulting from the collision.
The full proceedings from the start of opening statements forward will be webcast live and on-demand by CVN.
The Smiths are represented by prominent California plaintiff attorneys Garo Mardirossian and Lawrence Marks of Mardirossian Akaragian LLP. Mardirossian is a past president of the Consumer Attorneys Association of Los Angeles, and was also recognized as Trial Attorney of the Year by the same organization - one of the most prestigious awards in the California plaintiff attorney community.
Subscribers to the CVN Video Library can see gavel-to-gavel coverage of Mardirossian in trial in 2016 in an unsafe road conditions case that resulted in a $35 million verdict.
Subscribers can also watch Mardirossian argue the very trial in the United States involving alleged sudden acceleration of Toyota Vehicles.
The defendants are represented by David S. Poole of Poole Shaffery & Koegle LLP, who has received the coveted "Super Lawyer" designation by Key Professional Media, Inc. as featured in Los Angeles Magazine from 2007 through 2020.
The case is captioned Barry Smith, etc., et al. v. State of California, et al, case number BC680763, in the Superior Court of California in Los Angeles County.
E-mail David Siegel at dsiegel@cvn.com