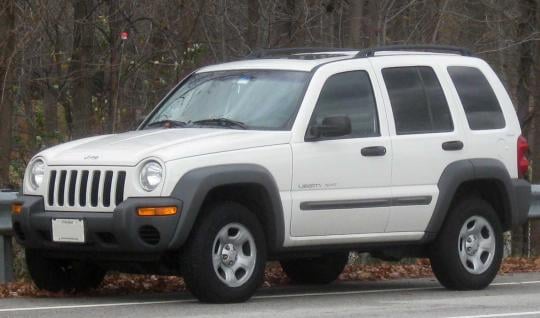 Stock photo of a 2004 Jeep Liberty
Hamilton, OH - An Ohio state court jury will hear opening statements next week in a lawsuit claiming a supposedly defective gas tank in a Jeep Liberty SUV caused a 58-year-old woman's death, in just the second such case to go to trial nationwide.
The family of Deanna Gilreath sued Fiat Chrysler after her 2004 Jeep was rear-ended by a Ford F-350 truck owned by a concrete company, supposedly causing the Jeep's rear-mounted fuel tank to leak and explode, leaving Gilreath to burn to death while trapped in the vehicle. The lawsuit claims FCA knew a rear-mounted gas tank posed greater risks to passengers in the event of a collision than a tank near the middle of the vehicle. It also alleges a defective seatback failed to hold up in the crash.
The issue of rear-mounted gas tanks in Jeep SUV's burst into the headlines in 2015, when a Georgia jury awarded $150 million (later reduced to $40 million) to the family of a child who burned to death following a rear-end collision in the first such case to go to trial. The same firm that represented the plaintiffs in that case, Butler Wooten & Peak LLP, represents the Gilreath family.
Courtroom View Network recorded and webcast the 2015 case, and will similarly webcast and record the pending Ohio trial.
The Ohio lawsuit alleges FCA knew as far back as 1998 that rear-mounted gas tanks posed an explosion risk, citing results from computerized crash tests. By 2008 the company moved the gas tank on all subsequent Jeep models to the front of the rear axle, and in 2013 the National Highway Traffic Safety Administration asked Chrysler to recall 2.7 million SUV's (including the 2002-2007 Jeep Liberty) due to the risk of rear impact explosions.
FCA argues that no gas tank is explosion-proof, and that the massive impact of a heavy truck slamming into a much smaller vehicle could have caused the explosion regardless of the tank's placement. The company also maintains the seatback in question complied with existing federal safety standards.
The trial is scheduled to take approximately four weeks to complete.
The case is captioned Daniel B. Gilreath, Administrator of the Estate of Deanna L. Gilreath, Deceased v. FCA US LLC, Trial State Concrete Inc. and Tracy Wayne Moore, case number 2018-07-1483 in the Court of Common Pleas in Butler County, Ohio.
E-mail David Siegel at dsiegel@cvn.com