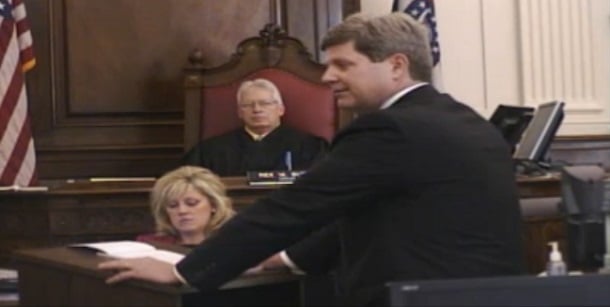 Allen Smith delivers the opening statement for Gloria Ristesund, who claims Johnson & Johnson's baby powder caused her ovarian cancer.
---
St. Louis—Attorneys debated Tuesday whether the talc in Johnson & Johnson's baby powder caused a woman's cancer, and whether the company acted responsibly in light of research on talc's potential effects, as trial opened against the conglomerate and its talc supplier. Ristesund v. Johnson & Johnson, 1422-CC09012-01.
Gloria Ristesund, 62, was diagnosed with ovarian cancer in 2011 and underwent a hysterectomy after decades of using Johnson's Baby Powder in her genital area. She claims her cancer was caused by talcum powder in the product, which she says Imerys Talc America supplied and J&J sold, despite knowing of a link between talc and ovarian cancer.
J&J "put a corporate philosophy of profit over the safety of their customers for nearly the entire exposure period of Ms. Ristesund to Johnson & Johnson baby powder," Ristesund's attorney, the Smith Law Firm's Allen Smith told jurors Tuesday.
Smith said Johnson & Johnson knew of epidemiological studies connecting talcum powder use and ovarian cancer for decades but continued to sell baby powder with talc, rather than offer cornstarch-based powder exclusively, as other manufacturers had done.
Internal documents, Smith contended, would show J&J implemented a "defense strategy" to prevent government regulation of talc and ignored government entreaties to remove talc from its baby powder or warn its customers. "They used language like 'A battle we cannot afford to lose,'" Smith said, telling jurors the company spearheaded a talc-interested task force charged with preventing the mineral's regulation.
Smith claimed J&J also ignored its own talc supplier, Imerys, which began including warnings in 2006 about genital talc use and ovarian cancer in its shipments to J&J representatives. "Despite [those warnings], Johnson & Johnson, to this day the evidence will show, has not warned the consuming public," Smith said.
But J&J contends studies linking ovarian cancer are inconclusive and undermined by the weight of research. "We're here because Ms. Ristesund claims that baby powder, a product that's been on the market and used for 125 years by our mothers, our grandmothers, and all our babies, caused [her] ovarian cancer," Butler Snow's Christy Jones told jurors Tuesday. "Nobody knows what causes ovarian cancer."
Jones criticized the epidemiological studies Smith cited, and she highlighted competing research over the decades that found no link between talc use and cancer. While she acknowledged the International Agency for Research on Cancer, or IARC, classified talc as "possibly carcinogenic" in 2006, she noted "That classification includes things like coffee [and] pickled vegetables. Things that don't carry any warning and have not been shown to cause [cancer]."
Jones claimed IARC's classification prompted the Imerys warning in 2006, but J&J, which she said closely monitored studies on talc throughout the decades, ultimately concluded the strongest scientific research shows no link between talc and cancer. "Johnson & Johnson did not warn," Jones said, "because it did not believe then, or now, that talc used in the genital area cause[s] ovarian cancer."
Talc miner Imerys, also named in Ristesund's suit, adds that medical evidence will prove plaintiff's cancer was not caused by talc. On Tuesday, Gordon Rees' Nancy Erfle told jurors Ristesund carried several known risk factors for the cancer, including her age and weight, while medical testimony would show Ristesund's ovaries showed no signs of the powder. "Talc wasn't actually in her [ovarian] tissue," Erfle said.
"We've got someone who will come in [to testify] who treats women, day-in and day-out," Erfle said. "And you won't hear a doctor like that for the plaintiff."
This is the second state court suit to go to trial over cancer allegedly caused by J&J's baby powder. In February, jurors hit J&J with a $72 million verdict over the fatal ovarian cancer of a Missouri woman who had used the company's baby powder for more than 35 years. The jury in that case cleared Imerys of liability.
About a thousand similar cases are pending in Missouri alone, with a growing number filed throughout the country.
Trial is expected to last about two weeks.
Neither the companies' representatives nor the parties' attorneys could immediately be reached for comment.
Email Arlin Crisco at acrisco@cvn.com.
---
Related Information
Watch gavel-to-gavel video coverage of the trial, live and on demand.
Not a subscriber?
Learn how you can watch this trial and blockbuster trials across the country.