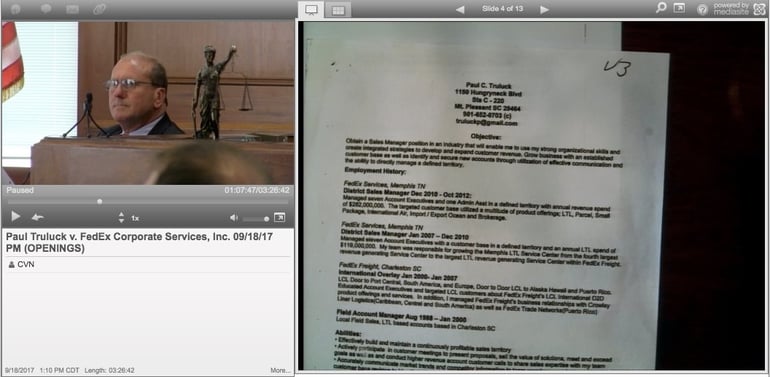 CVN screenshot of plaintiff Paul Truluck testifying on Monday
Memphis - A Tennessee state court jury heard opening arguments on Monday in a wrongful termination lawsuit filed by a former FedEx sales manager who claims the company fired him as retaliation for reporting alleged falsification of records showing missed pickup times.
Plaintiff Paul Truluck accuses FedEx of firing him after 12 years with the company for alerting management that dispatchers were modifying pickup times if a FedEx driver was late and then blaming the missed pickup on the customer. FedEx maintains Truluck was fired for falsifying other records in order to inflate his own perceived sales numbers.

During his opening statement, Truluck's attorney Dan Norwood of Norwood & Atchley described his client as a loyal FedEx employee and a "true believer" in the company. He said that although Tennessee is an "at will" employment state, FedEx's decision to terminate him violated a Tennessee law that protects whistleblowers from workplace retaliation.

Norwood told jurors that in the summer of 2011, Truluck became aware of the supposedly falsified pickup times and was concerned the company was attempting to avoid providing refunds to customers.

"He's very concerned, because he believes in this company and its product," Norwood said, according to a Courtroom View Network webcast of the proceedings.

The allegedly falsified records so concerned Truluck that he approached a FedEx vice president in a church they both attended, and the vice president subsequently asked him to deliver a presentation about his concerns to other FedEx managers.

Norwood told jurors that this upset Truluck's direct supervisor, who now faced scrutiny from his superiors. The events caused an immediate deterioration in Truluck's relationship with his supervisor, and he was ultimately terminated approximately one year later for "unacceptable conduct and leadership failure."

"Mr. Truluck should have been a hero," Norwood said.

Carl Morrison, an in-house attorney for FedEx, told jurors during his opening statement that the dispute over pickup times had nothing to do with Truluck's termination. He accused Truluck of falsifying records himself to make it look like his team exceeded its sales goals.

"Falsification at FedEx is a big deal," Morrison said.

He described how Truluck allegedly altered records to show new sales revenue without his sales team getting credit for meeting specific goals by removing the goal amounts from the system. This supposedly resulted in members of Truluck's sales team not receiving proper credit for their work.

"We're going to show it's his own people who are mad at him," Morrison said.

In addition to the alleged record falsification, Morrison claimed that multiple employees lodged complaints about Truluck's performance as a manager, accusing him of being overly critical and unwilling to help employees meet their goals.

Morrison also told jurors that FedEx never denied refunds to any of the customers whose pickup records Truluck claims were altered. He did acknowledge that there were discrepancies in the pickup records, but that the company moved to quickly correct them and actually gave Truluck a bonus for alerting others about the issue.

Despite falsification of sales records being an offense that warrants immediate termination, Morrison told jurors that Truluck received a warning letter, but that multiple employees continued to accuse Truluck of asking them to improperly alter sales goals.

"At this point they have no choice but to terminate him," Morrison said.

The trial is taking place before Judge Jerry Stokes in Shelby County Circuit Court. CVN will provide a gavel-to-gavel webcast of the trial, which is expected to take between 1-2 weeks to complete.

The case is Paul Truluck v.FedEx Corporate Services Inc., case number CT-001846-13.

E-mail David Siegel at dsiegel@cvn.com