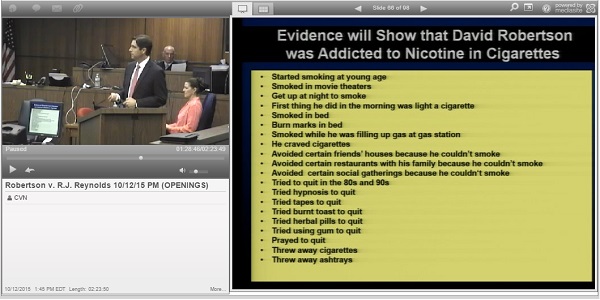 Peter Spillis delivers his opening statement, webcast by CVN, in Irene Robertson's suit claiming R.J. Reynolds marketing and deception led to her husband's cancer. Watch the trial.
---
Fort Lauderdale, FL—As trial opened this week over the lung cancer of a Florida plasterer who smoked for more than 50 years, opposing attorneys debated the cause of the disease and its link to R.J. Reynolds cigarettes. Robertson v. R.J. Reynolds, 07-CV-36442.
David Robertson began smoking at 12, when he was paid in tobacco for farm work. He continued the habit for the rest of his life, smoking Reynolds-brand Camel cigarettes for decades. He ultimately contracted lung cancer in 1996 and died in 1997, at 68. His widow, Irene, claims Reynolds' concealment of smoking's dangers powered the nicotine addiction that caused her husband's cancer.
However, during opening statements Tuesday, King & Spalding's Randall Bassett, representing Reynolds, contended asbestos exposure, not smoking, may have caused Robertson's cancer. Bassett noted Reynolds worked as a plasterer for years, and plaster often contained asbestos, a cancer-causing chemical, when Robertson worked with the product. "When Mr. Robertson was mixing that plaster, he was applying the plaster and at times sanding the plaster, those were all times asbestos exposure occurred," Bassett said. "Plaintiff's own experts will agree with that."
Irene Robertson's suit is among thousands of thousands of similar suits in Florida, and stems from Engle v. Liggett Group, a 1994 class action suit against the nation's tobacco companies. Although a jury in that case found in favor of the plaintiffs, the Florida Supreme Court ultimately decertified the case on appeal, forcing former class members to try their suits individually. To be entitled to the jury's findings in the original case, individual, so-called "Engle progeny" plaintiffs such as Robertson must prove nicotine addiction caused a specific smoking-related illness.
On Tuesday, Bassett told jurors Irene Robertson's suit did not meet Engle progeny criteria because David suffered from adenosquamous carcinoma, a rare cancer not covered by the Engle class action.
Although Bassett acknowledged that both adenocarcinoma and squamous cell carcinoma fall within the diseases that qualify for Engle class membership, he claimed the adenosquamous carcinoma described in Robertson's medical records is a separate disease. "(The Florida Supreme Court in Engle) specifically identified four types of lung cancer (for Engle class membership), Bassett said. "Nowhere on the list are you going to find adenosquamous carcinoma. And what you'll hear from the experts is that adenosquamous carcinoma is classified as its own form of lung cancer."
But in Monday's openings, Irene Robertson's attorney, Kelley Uustal's Peter Spillis, argued David Robertson's cancer was actually made of two Engle-qualifying cancer cells—adenocarcinoma and squamous cell carcinoma. "You'll (often) see different types of cells within the same tumor, and that's one of the cases here," Spillis said. "The evidence will be clear to you that (David Robertson) had not one, but two different kinds of these Engle qualifying lung cancer cells."
Spillis told jurors Robertson's cancer was the result of Reynolds' role in a 50-plus-year conspiracy to confuse and deceive the public about the dangers and addictiveness of smoking. Robertson, Spillis claimed Monday, was a victim of a deceptive marketing strategy that left him so addicted to cigarettes he was unable to quit smoking, despite multiple attempts involving everything from hypnosis to eating burnt toast as a way to stave off nicotine cravings. "Sometimes addicted people are successful (in their attempts to quit) and they kick it, but many times they aren't," Spillis said. "You're going to see that (David Robertson) tried. And, he wasn't successful."
However, Reynolds claims that Robertson chose to smoke despite knowing its dangers. On Tuesday, Bassett told jurors there was no evidence tobacco advertising swayed Robertson's decision to start smoking, and he received repeated warnings from family members throughout his life about the hazards of cigarettes. According to Bassett, Robertson responded "You've got to die with something," when he was told about about his sister's death and its possible link to her smoking in 1951.
"There's not going to be any evidence in this episode or later episodes, that Mr. Robertson responded with 'I don't believe that. I don't think that's right,'"" Bassett said.
"He understood the information he received about the dangers of smoking, but continued to smoke."
Neither the parties' attorneys nor Reynolds representatives could be reached for comment.
Trial in the case is expected to last about two weeks.
Email Arlin Crisco at acrisco@cvn.com.
---
Related Information
Kelley Uustal's Peter Spillis represents Irene Robertson. King & Spalding's Randall Bassett represents R.J. Reynolds.
Watch gavel-to-gavel coverage of the trial.
Not a subscriber?