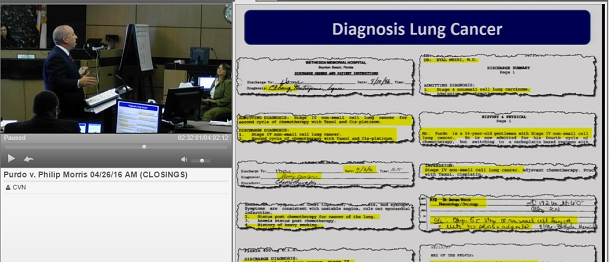 Gary Paige delivers closings arguments at trial against R.J. Reynolds and Philip Morris for the cancer death of Tom Purdo. Jurors awarded Purdo's family more than $33 million, including $12.5 million in punitives.
---
West Palm Beach, FL—Jurors this week awarded $33.5 million to the family of a Florida attorney after finding the nation's two largest tobacco companies responsible for his cancer death. Purdo v. R.J, Reynolds, et al., 2007-CA-024173.
The award includes $21 million in compensatory damages divided equally between Thomas Purdo's widow, Linda Enochs, and his two children, as well as $12.5 million in punitives imposed equally against Philip Morris and R.J. Reynolds.
Purdo started smoking when he was about 13 and smoked up to three packs a day until he quit at age 36. Doctors diagnosed him with cancer about 15 years later. He died in 1997 at age 52.
Enochs claims a decades-long tobacco industry scheme to hide the dangers of cigarettes fueled her husband's nicotine addiction and caused his fatal lung cancer.
The case is one of thousands of similar Florida lawsuits against the nation's tobacco companies. They stem from Engle v. Liggett Group, a 1994 class action claim involving Florida smokers. A jury in that case found tobacco companies knowingly produced dangerous, addictive cigarettes and hid those dangers from the public. The Florida Supreme Court decertified the class on appeal, but its decision allows individual plaintiffs to rely on the jury's conclusions in the original trial if they can prove the smokers at the center of their cases suffered from nicotine addiction that caused a smoking-related disease.
This week's award capped a two-week, two-part trial focusing largely on both the link between tobacco marketing and Purdo's cancer as well as whether the tobacco companies' recent conduct mitigated against punitive damages.
Did Smoking Cause Purdo's Cancer?
Whether Purdo suffered from lung cancer caused by smoking served as a central point of dispute during the trial's first phase.
The defense contended evidence did not show Purdo's cancer started in his lungs. During Tuesday's closings, King & Spalding's Jeffrey Furr, representing Reynolds, argued Purdo's cancer diagnosis came 15 years after he quit smoking, when he had about the same chance of developing lung cancer as a person who had never smoked.
Furr argued the spread of Purdo's disease did not mimic the spread of cancer that typically begins in the lungs, and Enochs offered no biopsy records to support her claim that the mass seen on a CT scan in Purdo's lung was was cancerous. "The fact that there's a CT scan doesn't get them over this hurdle [of proof]," Furr said. "You need pathologic confirmation that that's cancer. They don't have it. They can't meet their burden of proof."
But Enochs' attorney, Gordon & Doner's Gary Paige, argued numerous records, including Purdo's death certificate, proved Purdo's cancer began in his lungs. "All the medical records from every single doctor who saw him at three different hospitals 20 years before a lawsuit was filed; the doctors who had the films; the doctors who had the tissue; the doctors who didn't care about the tobacco companies, or Linda, or her children; every one of them found that this man had lung cancer," Paige said. "And it wasn't even a question in anybody's mind until several months ago."
Paige, who requested $25 million in compensatories for the family, argued Purdo's lung cancer was the end result of a smoking habit that began because of a multi-faceted tobacco industry strategy to hide the dangers of cigarettes, which included allegedly false marketing of "light" and filtered cigarettes. "What chance did Tom Purdo have?" Paige asked. "When did he have any chance? When he was 15? When he was 20? When they were telling him that filters and lights were safer? When were they going to be fair with him?"
But Furr argued Purdo knew smoking was dangerous and there was nothing to show he had been swayed by tobacco industry deception. "The first question is, what statement did plaintiffs prove to you that Mr. Purdo relied on?" Furr asked. "The answer is none. There's been no statement submitted to you," he answered, noting Purdo's wife acknowledged her husband never expressed doubts concerning the dangers of smoking.
Jurors took less than five hours Tuesday to conclude Purdo died from lung cancer driven by nicotine addiction and furthered by tobacco industry deception.
The Punitive Phase: Do Recent Restrictions Make Up for Past Conduct?
With compensatory liability decided on Tuesday, the one-day punitive phase focused largely on whether sweeping changes to tobacco regulation and the way defendants marketed their products over the last 20 years mitigated against the harm they may have caused before then.
During Wednesday afternoon's closings, Shook Hardy's Bruce Tepikian, representing Philip Morris, detailed a master settlement agreement that paid billions of dollars to states on tobacco-related claims, and he outlined broad tobacco marketing restrictions and federal regulation of the industry. "If the conduct that harmed Mr. Purdo has been remedied, is there a reason for more punishment, and is there a reason for deterrence?" Tepikian asked. "Things are different for Philip Morris. Things are different for tobacco companies now. It's a completely different environment that they're operating in."
The Alvarez Law Firm's Alex Alvarez, representing Enochs, countered that those changes provided no benefit to Purdo's wife and children. "[Regulation and changes are] too little, too late for this family," Alvarez said, reiterating Paige's earlier request for $25 million in punitives. "And you're here to decide the punishment for what they caused to this family. So it's a little bit too little, too late for them."
Jurors deliberated less than half an hour before returning with their punitive verdict.
The $33 million award is the largest verdict in 11 CVN-covered Engle trials so far this year.
Neither the parties' attorneys nor tobacco company representatives were immediately available for comment.
Email Arlin Crisco at acrisco@cvn.com.
Related Information
Linda Enochs is represented by The Alvarez Law Firm's Alex Alvarez and Gordon & Doner's Gary Paige.
R.J. Reynolds is represented by King & Spalding's Jeffrey Furr.
Philip Morris is represented by Shook Hardy Bacon's Bruce Tepikian.
Watch Purdo v. R.J. Reynolds, et al. on demand.
Not a subscriber?
Learn more about CVN's unrivaled tobacco litigation library.