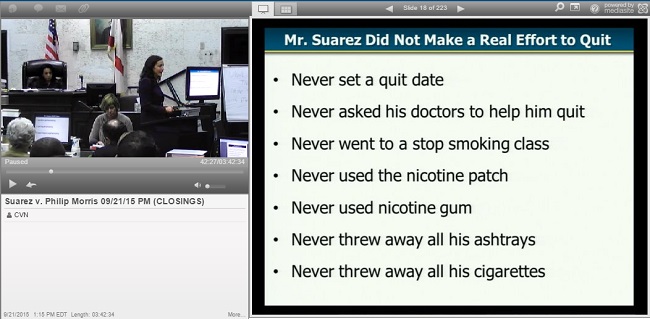 Hildy Sastre delivers closing arguments in Alicia Suarez's suit against Philip Morris and R.J. Reynolds for the lung cancer death of Suarez's husband. Jurors found in favor of the tobacco companies Tuesday.
---
Miami—The nation's two largest tobacco companies prevailed Tuesday in a suit over the lung cancer death of a Cuban-born furniture upholsterer who smoked for more than three decades. Alicia Suarez v. Philip Morris, 2009-79584-CA-01.
Jurors rejected Alicia Suarez's claim that her husband Pio Suarez's fatal lung cancer stemmed from an addiction to nicotine in cigarettes made by R.J. Reynolds and Philip Morris. Alicia Suarez had sought up to $50 million in compensatory damages, plus unspecified punitives, for herself and the couple's three children, contending the tobacco companies' decades-long conspiracy to conceal smoking's dangers rendered them responsible for her husband's death.
Pio Suarez had smoked for 10 years when he emigrated from Cuba in the 1960s and opened an upholstery business. While living in the U.S., he smoked cigarettes made by R.J. Reynolds and Philip Morris until he was diagnosed with lung cancer in 1994. He died from the disease in 1996.
The Suarez suit is among thousands of Florida cases claiming the nation's tobacco companies manufactured a dangerous product and deceived the public. The cases arise from a 2006 Florida Supreme Court decision decertifying Engle v. Liggett Group Inc., a class action suit originally filed in 1994. The state's supreme court ruling requires each Engle plaintiff establish class membership individually, by proving nicotine addiction that caused a smoking-related disease. Once plaintiffs prove class membership, they can rely on certain jury findings in the original verdict, including the determination that tobacco companies sold a dangerous, addictive product and conspired to hide the dangers of cigarettes.
Jurors this week needed five hours to reach their verdict, which answered no to the preliminary question on the causal link between addiction and Suarez's cancer.
The connection between Suarez's alleged addiction to defendants' cigarettes and his lung cancer stood as a central point in the two-week trial. During closing arguments Monday, The Ferraro Law Firm's Juan Bauta, representing Suarez, acknowledged evidence that Suarez became addicted to nicotine in Cuba while smoking cigarettes not made by the defendants. However, Bauta argued expert testimony established Suarez's addiction grew from mild to severe during the 30-plus years Suarez lived in the U.S. smoking Reynolds and Philip Morris products. "The seeds (of addiction) are planted in Cuba, but where are they watered and nourished, and where do they flourish? Here," Bauta said.
"He starts in Cuba, but then it explodes here."
The defense countered Suarez's addiction never increased during his years in the U.S. In Monday's closings, Shook Hardy's Hildy Sastre, representing Philip Morris, told jurors there was no evidence Suarez wanted to quit smoking before he developed lung cancer. "Mr. Suarez never said 'I want to quit (smoking).' Those words are missing from this trial," Sastre said. "'I can't quit.' He never said that."
Neither the parties' attorneys nor tobacco company representatives could be reached for comment.
Email Arlin Crisco at acrisco@cvn.com.
---
Related Information:
Alicia Suarez is represented by Juan Bauta and Janpaul Portal of the Ferraro Law Firm. R.J. Reynolds is represented by Benjamine Reid of Carlton Fields. Philip Morris is represented by of Gonzalez Saggio and Hildy Sastre, of Shook Hardy.
Watch gavel-to-gavel coverage of the trial on demand.
Not a subscriber?