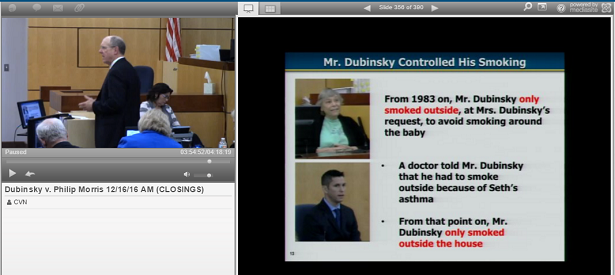 Frank Kelly delivers his closing arguments at trial against R.J. Reynolds and Kelly's client, Philip Morris, over respiratory disease suffered by Paul Dubinsky, a smoker for more than 35 years.
---
Viera, FL—Philip Morris and R.J. Reynolds prevailed Friday at trial in a suit brought by the widow of a Florida smoker, after jurors found the smoker did not meet a class action suit's requirements. Dubinsky v. Philip Morris, 2014-CA-026783.
The 18th Circuit Court jury needed about three hours to conclude Paul Dubinsky was not a member of the state's "Engle" class of plaintiffs, smokers who suffered from nicotine addiction and a smoking-related disease entitled to bring suit against Philip Morris and R.J. Reynolds.
Paul Dubinsky, 70, died in 2006, 11 years after doctors diagnosed him with chronic obstructive pulmonary disease, or COPD. Dubinsky, who had his first cigarette at 15, smoked up to nearly three packs of cigarettes a day for more than 35 years. His widow, Abagail Dubinsky, claims Philip Morris and R.J. Reynolds, makers of the Marlboros and Tarytons Dubinsky smoked, caused her husband's death by hiding the dangers and addictiveness of their cigarettes.
The Dubinsky case is one of thousands of Engle progeny cases in Florida, which stem from a 2006 Florida Supreme Court decision decertifying Engle v. Liggett Group Inc., a class-action tobacco suit originally filed in 1994. Although the state's supreme court ruled so-called Engle-progeny cases must be tried individually, it found plaintiffs could rely on certain jury findings in the original case, including the determination that tobacco companies had placed a dangerous, addictive product on the market and had conspired to hide the dangers of smoking. However, individual Engle-progeny plaintiffs must prove a variety of elements to establish class membership, including nicotine addiction and a causal link between that addiction and specific health problems such as respiratory disease.
A key to the 10-day trial was whether nicotine addiction or choice drove Dubinsky's three-plus decades of smoking. During Friday's closing arguments, Shamp, Speed, Jordan & Woodward's Laura Shamp walked jurors through Dubinsky's smoking history, including what she said were numerous attempts to quit smoking in the twelve years before he was diagnosed with COPD and successfully gave up cigarettes. Shamp also reminded jurors psychologist Amy Copeland, the director of the smoking research laboratory at Louisiana State University, concluded Dubinsky was addicted to nicotine under The Diagnostic and Statistical Manual of Mental Disorder, 5th Edition, or DSM V. "Dr. Copeland testified that he smoked because of his addiction. Not for some other reason," Shamp told jurors. "Not because of relaxation [or] stress. He smoked because of his addiction."
But the defense contended Dubinsky chose to smoke. During Friday's closings, Shook Hardy's Frank Kelly, representing Philip Morris, told jurors evidence showed Dubinsky smoked as a way to relieve stress, not because his body craved nicotine. Kelly reminded jurors psychiatrist Dr. Daphne Dorce, a director at Behavioral Health of the Palm Beaches, an addiction treatment center, concluded Dubinsky was not addicted to nicotine. He noted her finding was based, in part, on Dubinsky's ability to limit the areas in which he smoked and the fact that he quit smoking in 1995, in what Kelly characterized as his first serious attempt to stop. "He controlled his smoking," Kelly said.
Email Arlin Crisco at acrisco@cvn.com.
Related information:
Abigail Dubinsky is represented by Laura Shamp, of Atlanta's Shamp, Speed, Jordan & Woodward.
Philip Morris is represented by Shook Hardy's Frank Kelly, from the firm's San Francisco office.
R.J. Reynolds is represented by King & Spalding's Jason Keehfus, from the firm's Atlanta office.