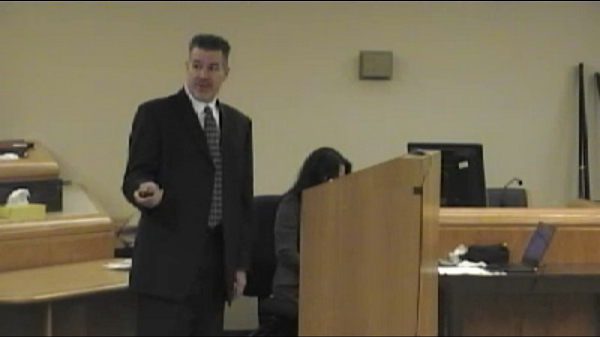 Thomas Aubin addresses jurors during opening statements in Crowe v. Cleveland Clinic. Aubin represents the clinic and two surgeons accused by former pilot Daniel Crowe of medical malpractice that Crowe claims damaged the nerves in his left hand and ended his flying career. Click here to watch footage of the trial.
---
Ft. Lauderdale, FL—Attorneys sparred over the root cause of nerve damage that grounded a former pilot, as well as that pilot's credibility, as trial opened in his suit against the medical professionals that performed laparoscopic surgery on him . Crowe v. Cleveland Clinic Florida, et al., CACE1120220.
Daniel Crowe, a former American Airlines pilot, claims that his body position during his April 2010 colon surgery at The Cleveland Clinic Florida caused long-term nerve damage to his left hand that has ended his flying career. He is suing the clinic, as well as his surgeon, Dr. Steven Wexner, and his anesthesiologist, Dr. Jeffrey Jacobs, for $6.5 million in economic damages, plus unspecified damages for pain and suffering.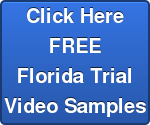 In opening statements Tuesday, Searcy Denney's John Shipley III, representing Crowe, told jurors that, although Wexner was the doctor primarily responsible for overseeing Crowe's body positioning prior to surgery, he left that task to another physician inexperienced with such a responsibility. "Dr. Wexner is the captain of the ship. He's in charge," Shipley said. "When Dan Crowe was positioned, Dr. Wexner wasn't there."
Shipley claimed experts would testify that Crowe likely suffered a brachial plexus injury that permanently damaged the nerves in his arm and hand because of his body's position during the surgery. Shipley also told jurors that Crowe was never warned of the possibility of such nerve damage. "Nobody ever told Dan that he could wake up from this surgery with some kind of injury to his nervous system at a remote location from where the surgery was done."
However, the defense argued that experts from both sides would testify that the defendants followed proper positioning protocol. "Every single one of the practice advisories that are recognized by the experts in this case as it relates to patient positioning, the singular issue in this case, was done by the doctors and the nurses at The Cleveland Clinic hospital. There's no dispute," Stearns Weaver's Thomas Aubin, who represents the defendants, told jurors. "Everything that the folks, even that the plaintiffs have hired, to say that we should have done, was done."
Aubin also called Crowe's credibility into question, noting that Crowe failed to tell Wexner and Jacobs prior to the colon surgery of nerve damage Crowe sustained in a 2003 car accident. Aubin then told jurors that post-surgery medical records failed to back up Crowe's claims that he complained of nerve pain in both hands while he was recuperating. Aubin said that 32 medical professionals attended Crowe following the surgery "yet not one of them charted or mentioned anything in the medical records about (Crowe's) allegedly debilitating complaints."
Shipley took issue with the defense. "One of the themes of the defense is that Dan (doesn't) really want to fly," Shipley said. "The defense is trying to raise doubts about Dan Crowe's credibility. (Crowe) will be right there looking you right in the eye telling you what happened. You judge it. That's part of your job."
The parties' attorneys could not be immediately reached for comment.
Trial is expected to last two to three weeks. CVN will record selected portions of the trial.
---
Related information: Attorneys in the case include Searcy Denney's John Shipley III and Darryl Lewis, representing the plaintiff, and Stearns Weaver's Thomas Aubin and Matthew Podolnick, rerpesenting the defendants.
Watch video of the trial here.
Not a subscriber?
Learn how you can watch CVN Florida's unparalleled coverage of the state's key trials.