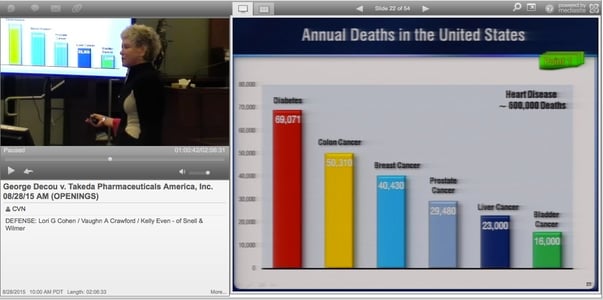 Takeda defense attorney Lori Cohen shows jurors a chart contrasting the number of deaths caused each year by diabetes versus bladder cancer. Click here to see video from the trial.
Las Vegas — An attorney for Japanese drug manufacturer Takeda Pharmaceutical Co Ltd. told a Nevada state court jury on Friday that the best-selling diabetes drug Actos is safe and effective, in a lawsuit claiming the medication causes bladder cancer that could leave the company on the hook for $2 billion in damages.
Takeda attorney Lori Cohen of Greenberg Traurig LLP told jurors during her opening statement that two men who sued the company after taking Actos, 77-year-old George Decou and Maurice Iorio, who died in 2013 at 74, developed bladder cancer from smoking tobacco, which is a well-known risk factor for the disease. She also argued that medical studies have failed to show a link between taking Actos and cancer.
Cohen highlighted the results of a recent study performed by Kaiser Permanente and the University of Pennsylvania that found no statistically significant link between taking pioglitazone, as Actos is known generically, and developing bladder cancer. She said Actos had a proven track record of successfully helping patients with type-2 diabetes, a disease she said kills far more people every year than bladder cancer.
"When this case is over, our team will stand before you all, based on the science and medicine, hard facts, the evidence and the proof, and ask you for a full defense verdict on behalf of our client and for this tremendous drug Actos that has really brought so much good to the world and is so safe and effective," Cohen said, according to a Courtroom View Network webcast of the trial. (Click here to see video from the trial.)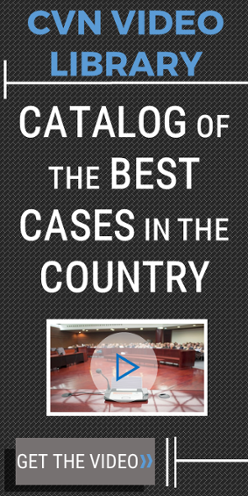 Actos was launched in 1999 and jointly marketed with Eli Lilly & Co., and it quickly become one of Takeda's top-selling drugs, generating $4.5 billion in revenue in 2011 alone. Regulators in France and Germany yanked Actos from the market in 2011, the same year that the U.S. Food & Drug Administration issued a warning that the drug could cause an increased risk of bladder cancer while still allowing it to be sold in the United States.
Attorneys for the plaintiffs had argued to the jury the day before Cohen's opening statement that Takeda knew about the possible cancer risk associated with Actos as far back as 1993, when the drug was still being tested on lab rats. They claimed the drug company wanted to keep that information secret in order to maximize profits before their exclusive patent on pioglitazone expired in 2012, going so far as to destroy hard drives and shred internal documents despite an Actos-related litigation hold issued in 2002.
As part of his instructions to the jury, Judge Jerry Wiese said that the court had determined Takeda intentionally destroyed these materials to scuttle potential Actos lawsuits, and that jurors should assume any Actos-related information destroyed by Takeda contained information prejudicial to the company's position.
Takeda's document destruction played a central role in a bellwether Actos trial last year in federal court that ended with a massive $9 billion verdict against the company. U.S. District Judge Rebecca Doherty ultimately cut the award to $36 million, but also excoriated Takeda for intentionally destroying the materials.
While plaintiffs' attorney Robert Eglet began his opening statement with a lengthy history of Takeda's document destruction, Cohen only touched on the issue briefly more than two hours into her opening. She told jurors that evidence presented at trial would prove that the materials Takeda destroyed did not contain prejudicial information.
"That's what I'm going to say about that issue," Cohen said. "I hope you see that there is another side to it."
Eglet said in a statement that Takeda's conduct warrants a multi-billion dollar punitive damages verdict.
"Without substantial punitive damages there is nothing to deter a company of this size from engaging in the same unconscionable, deadly practices again," he said
Nine other Actos lawsuits have gone to trial before this current case. Juries ruled against Takeda five times, although two of those verdicts were later thrown out by judges. Two of Takeda's victories occurred in Las Vegas, including a trial where the same plaintiff attorneys in the current case unsuccessfully sought a multi-billion dollar verdict.
The trial is being closely watched due to the impact a large plaintiffs' verdict could have on a potential $2.4 billion settlement that would resolve thousands of Actos lawsuits consolidated in multidistrict litigation pending in Louisiana federal court. 95 percent of Actos plaintiffs need to opt in for the deal to take effect, but to date only 75 percent have signed on. A large verdict in the current case could encourage more holdouts to take their cases to trial.
CVN is recording and webcasting the full trial gavel-to-gavel, after also recording the two prior Actos cases in Las Vegas and the first bellwether Actos suit to go to trial anywhere in the country in 2013. A California appellate court in July reinstated a $6.5 million verdict in that case after a lower court judge granted Takeda's request for a new trial.
The plaintiffs in the current case are represented by Eglet Prince and Kemp and by Jones & Coulthard.
Takeda is represented by Greenberg Traurig LLP and by Snell & Wilmer.
The case is George Decou, et al. v. Takeda Pharmaceuticals America Inc., et al., case number A-13-683446-C in Nevada's Eighth Judicial District Court in Clark County.
E-mail David Siegel at dsiegel@cvn.com