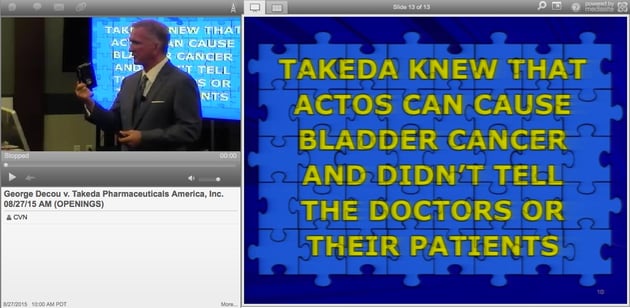 Plaintiffs' attorney Robert Eglet shows jurors the type of hard drives he claimed Takeda destroyed because they contained evidence that the widely-prescribed diabetes medication Actos causes bladder cancer. Click here to see video from the trial.
Las Vegas
—
Japanese drug manufacturer Takeda Pharmaceuticals Co. Ltd. should pay $2 billion in damages after intentionally destroying hard drives containing evidence that their blockbuster diabetes medication Actos caused bladder cancer, according to an attorney representing two men who took the drug in a closely-watched suit that went to trial on Thursday in Nevada state court.
Plaintiffs' attorney Robert Eglet began his opening statement in the high-stakes case by telling jurors that Takeda destroyed incriminating evidence despite a litigation hold issued in 2002 requiring them to preserve materials related to the alleged cancer risks of Actos, which was one of the company's top-selling drugs. He said Actos caused bladder cancer in his clients George Decou and Maurice Iorio, but told jurors that "pieces of the puzzle" necessary to prove that claim were missing because of Takeda's cover-up.
"Takeda has prevented you from knowing the whole truth about the diabetes drug Actos that they produce, and that it can cause bladder cancer," Eglet told jurors, according to a Courtroom View Network webcast of the proceedings. (Click here to see video from the trial.)
The trial's outcome could play a key role in determining whether or not a $2.4 billion proposed settlement between Takeda and plaintiffs in nearly 8,000 similar lawsuits survives. 95 percent of Actos plaintiffs need to accept the settlement's terms, which offer an average payout of $250,000, before the deal would kick in. To date only 75 percent have signed on, and a large award in the current trial could persuade holdout plaintiffs to take their claims to a jury instead of settling.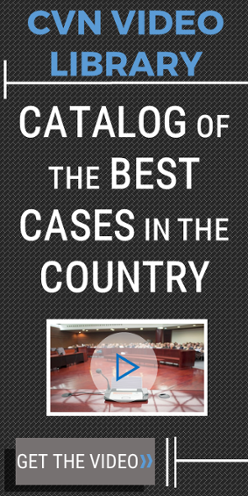 Eglet lost his bid in 2014 to hit Takeda with a multi-billion dollar verdict at a previous Actos trial in Las Vegas, but a federal jury that same year slammed the company with a staggering $9 billion verdict over the drug. U.S. District Judge Rebecca Doherty ultimately cut the award to $36 million, but also excoriated Takeda for intentionally destroying Actos-related evidence, a subject placed front and center in Eglet's opening statement.
He repeated jury instructions from Judge Jerry Wiese, which said jurors should presume that missing Actos-related information on hard drives destroyed by Takeda contained information adverse to the company's position.
"The Court has determined that the defendants willfully and intentionally destroyed certain documents and information, and that such destruction occurred for the purposes of prejudicing individuals who could ultimately use such documents and information against defendants for litigation purposes," Judge Wiese's jury instructions state.
Takeda has argued that Iorio, who died in 2013 and Decou developed bladder cancer from smoking, and that their illnesses can't be clearly linked to taking Actos.
Company spokeswoman Sandy Rodriguez told CVN that Takeda has extensive clinical data showing that there isn't a provable link between taking Actos and developing bladder cancer, including a 10-year study performed by the University of Pennsylvania and Kaiser Permanente.
"Takeda continues to believe that the claims made in the litigation are without merit and stands firmly behind the substantial data confirming a positive benefit/risk profile for Actos," Rodriguez said. "As a company, we believe Takeda acted responsibly with regard to Actos, and we will vigorously defend Takeda in this case."
Takeda's opening statements are scheduled to begin Friday morning.
Actos generated $4.5 billion in sales in 2011 and made up 27 percent of Takeda's revenue that year, according to Bloomberg News, and Eglet argued to jurors that Takeda withheld information about the drug's supposed cancer risks to protect those huge profits. He said Takeda didn't disclose Actos' potential dangers until a few months before the company's patent on the drug expired in 2012, despite allegedly knowing of them as far back as 1993 when Actos was still being developed and tested on rats.
"Takeda was purposely untruthful to its consumers," Eglet told the jury, suggesting that Takeda wanted to maximize Actos sales while it enjoyed an exclusive patent on pioglitazone, the generic name for Actos.
Actos was launched in 1999 and jointly marketed with Eli Lilly & Co., and it quickly become one of Takeda's top-selling drugs. Regulators in France and Germany yanked Actos from the market in 2011, the same year that the U.S. Food & Drug Administration issued a warning that the drug could cause an increased risk of bladder cancer while still allowing it to be sold in the United States.
Nine Actos cases have gone to trial since an initial bellwether case in California state court in 2013, including three trials recorded gavel-to-gavel by CVN. Juries ruled against Takeda in five of those cases, although two of those verdicts were later thrown out by judges. However in July a California appeals court reinstated the first $6.5 million plaintiffs verdict against Takeda after a lower court granted the company's request for a new trial.
Eglet has a history of landing record-setting verdicts in Nevada courtrooms. A jury in 2013 returned a $524 million verdict against United Healthcare in a case tried by Eglet, after the insurer referred a patient to an endoscopy clinic where he was exposed to hepatitis. It was the largest plaintiffs verdict in Nevada history at the time, and the $2 billion Eglet seeks in the current case would far exceed that amount.
"Without substantial punitive damages there is nothing to deter a company of this size from engaging in the same unconscionable, deadly practices again," Eglet said in a statement.
The trial before Judge Wiese is being webcast live and recorded gavel-to-gavel by CVN and is available for online viewing along with past Actos cases and other high-stakes pharmaceutical product liability trials.
The plaintiffs are represented by Robert Eglet of Eglet Prince and Kemp and by Jones & Coulthard.
Takeda is represented by Snell & Wilmer.
The case is George Decou, et al. v. Takeda Pharmaceuticals America Inc., et al., case number A-13-683446-C in Nevada's Eighth Judicial District Court in Clark County.
E-mail David Siegel at dsiegel@cvn.com.