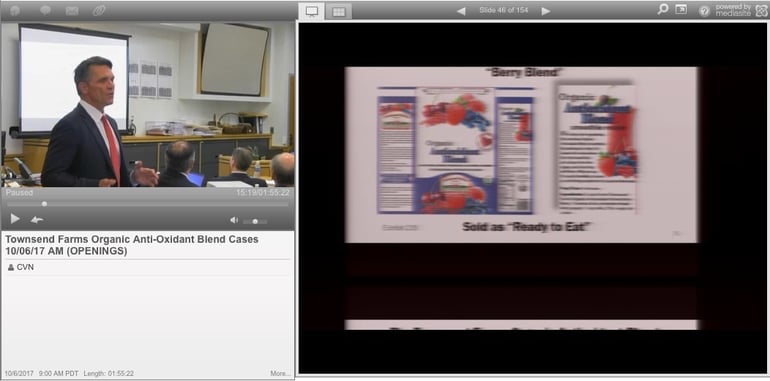 CVN screenshot of plaintiff's attorney Ron Simon delivering his opening statement
Los Angeles - The first wrongful death trial stemming from a hepatitis A outbreak that sickened hundreds began on Friday in California state court, with Costco and its suppliers facing claims that a tainted berry blend caused an elderly woman's illness.
An attorney for the six surviving children of Virginia Olson, who died of hepatitis A in 2013 at the age of 88, told jurors during his opening statement that she contracted the illness after eating Townsend Farms Organic Antioxidant Blend berry mix purchased from Costco, which the CDC later determined was contaminated by pomegranate seeds imported from Turkey.
The CDC's investigation eventually linked 165 cases of hepatitis A to the contaminated blend, including 80 in California. Costco and Townsend Farms maintain that they recalled the berry mix as soon as they became aware of the risk to the public, and that there is no clear evidence Olson's hepatitis infection was a result of eating it.
The trial in Los Angeles County Superior Court is being webcast gavel-to-gavel by Courtroom View Network.

Attorney Ron Simon, of the Texas-based Ron Simon & Associates, told jurors that Costco and Townsend Farms, along with co-defendants Purely Pomegranate Inc. and Fallon Trading Co. Inc., failed to follow proper quality control procedures and did not adequately test the imported seeds for pathogens.
Simon described Jolson to jurors as a healthy, independent senior citizen who had no major medical problems prior to contracting hepatitis A, a viral infection that attacks the liver. Jolson received weeks of aggressive treatment after falling ill, but doctors eventually determined her liver was too badly damaged to recover.
Simon didn't ask for a specific amount of damages during his opening statement, but he told jurors he would ask for an amount in the millions, including punitive damages.
Erik Kuwana, a Washington DC-based attorney with Katten Muchin Rosenman LLP, delivered the opening statement on behalf of all the defendants. He told jurors that there was not enough evidence Olson contracted hepatitis from the berry blend, which was only sold at Costco, to hold the retailer or its suppliers responsible for her death.
Kuwana told jurors that Olson was not a Costco member, and that the plaintiffs have not identified anyone who will testify they purchased the berry blend. He also claimed that she had a different type of hepatitis than the strain associated with the larger outbreak.
Simon, who is backed up by local counsel John Gomez of Gomez Trial Attorneys, has argued in court papers that Jolson's children saw a bag of the berry blend in their mother's freezer but threw it away when cleaning out her home after she died.
The trial is taking place before Judge John Shepard Wiley, and the full trial will be available for CVN subscribers.
The consolidated litigation is captioned Townsend Farms Organic Anti-Oxidant Blend Cases, case number JCCP4812.
E-mail David Siegel at dsiegel@cvn.com