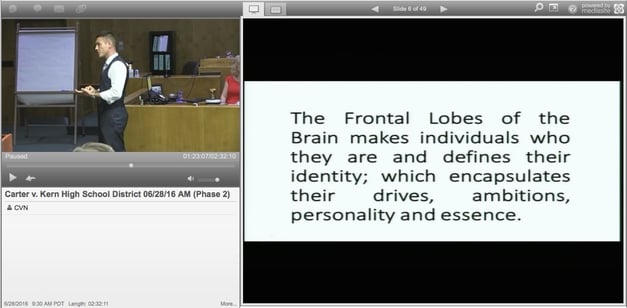 Plaintiff's attorney Nick Rowley delivers his closing argument. Click here to see video from the trial.
Bakersfield - The Kern County School District reached a $10.5 million settlement on Wednesday with a student who suffered a traumatic brain injury at a rowdy football rally during the second day of a damages trial after jurors found the school district 100 percent liable for the student's injuries.
Plaintiff Mitch Carter sued KCSD after being assaulted in 2010 by Bakersfield High School students while wearing a chicken suit meant to mock the mascot of rival Clovis West High School. Carter accused school officials of encouraging the stunt and failing to break up the brawl quickly enough.
The settlement was reached shortly after witness testimony began in the second part of a bifurcated trial after the liability phase wrapped up on Monday, according to Carter's attorney Nick Rowley of Carpenter Zuckerman & Rowley LLP. Rowley told Courtroom View Network that KCSD's insurer Everest National Insurance Company opted to settle the case for the school district's full policy limit.
Rowley had asked for $45 million in his opening statement, telling jurors that Carter has suffered with migraine headaches, psychological problems and a hormone deficiency as a result of the injury. He said the attack transformed Carter, who was student body president at the time, from a successful student to having near-failing grades in college.
"That same boy who left for school that morning never came home," Rowley said, according to a Courtroom View Network webcast of the trial.
According to Rowley KCSD made a $50,000 settlement offer before the trial began and later increased that to $1 million once the trial was underway. During jury deliberations in the liability phase Rowley said the district's insurer upped that amount to $1.5 million.
A representative for KCSD did not respond to a request for comment.
KCSD attorney Michael Keller told jurors during his opening statement in the damages phase that Carter wasn't diagnosed with a brain injury until three years after the incident and after suing the school district. He argued that during those three years Carter was treated by physicians multiple times but never displayed symptoms consistent with a head injury.
"The evidence is going to show that it was almost three years after this incident before somebody diagnosed Mr. Carter with a traumatic brain injury, which is well after this case had been initiated," Keller said. "The evidence will show there had been communication between attorneys for Mr. Carter and some therapists here in Bakersfield."
The opening statements were less visually striking than the closing arguments in the liability phase, when Rowley donned the chicken suit that Carter wore during the attack. He began changing into the suit about 20 minutes into his closing argument, over defense objections, and wore it for a few moments.
Rowley told CVN the settlement will help Carter pay for growth hormone therapy for the rest of his life, since the attack damaged his pituitary gland. He also said Carter will need special education classes and ongoing counseling.
"This outcome does have a broader impact," Rowley said. "Safety first! And that safety of students is just as important as things that are glorified like champion football teams."
The trial before Judge David Lampe was recorded gavel-to-gavel by CVN.
The case is Mitchell Carter v. Kern County School District, case number S1500CV275395 in Kern County Superior Court.
E-mail David Siegel at dsiegel@cvn.com.