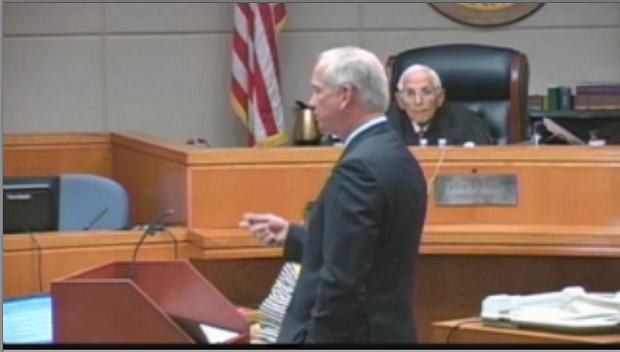 Mark Avera delivers his opening statement at trial against R.J. Reynolds, accused of responsibility for the cancer death of Louis Lawrence.
---
Ocala, FL—Attorneys argued over the role R.J. Reynolds may have played in the fatal cancer that struck a Florida farm owner who smoked for more than half his life, as trial opened against the tobacco company Thursday. Lawrence v. R.J. Reynolds, 2009-CA-000178.
"[Louis] Lawrence was a good customer for R.J. Reynolds. You'll hear that he did exactly what they wanted him to do," Avera and Smith's Mark Avera told jurors Thursday. "And you'll hear that he became one of the hundreds of thousands that died of a smoking-related disease caused by his addiction to nicotine in the cigarettes he smoked."
Louis Lawrence, 71, a retail manager in Miami before moving to a farm in North Florida, died in 2013 of a recurrence of head and neck cancer that first took his voice box in 1995. Lawrence had quit cigarettes about 1992, after smoking more than a pack a day for 40 years.
Lawrence's wife, Joy, represented by Avera, claims Reynolds' participation in a widespread scheme to hide the health risks of smoking hooked her husband on cigarettes and ultimately caused his fatal cancer.
During openings Thursday, Avera outlined Reynolds' involvement in a 20th century tobacco industry scheme to cast doubt on the link between smoking and its health risks while manipulating addictive nicotine in their cigarettes and marketing to youngsters. Avera said Lawrence, who tried his first cigarette when he was about 13, was a prime target for the tobacco company. "During the time that [Louis] Lawrence was a boy, he could open the funny papers and see cigarette ads in those papers. He could see ads where Santa Claus was [selling] cigarettes, in the 1950s and the 1960s," Avera said. "That was their plan, to make money. You'll hear that by replacing people who died from a smoking-related disease, they did so by addicting young people, like … Lawrence, to nicotine."
Avera said Lawrence, who stopped smoking with the help of nicotine gum, remained skeptical of the evidence concerning smoking's risks until his cancer diagnosis. "Mr. Lawrence was largely shocked by that diagnosis because he was one who had some doubts about that link between smoking and health," Avera said. "But by the time he knew the truth, it was too late to do anything about it."
The case is one of thousands of Florida's Engle progeny lawsuits against the nation's tobacco companies. They stem from a 2006 Florida Supreme Court decision decertifying Engle v. Liggett Group Inc., a class-action tobacco suit originally filed in 1994. Although the state's supreme court ruled that Engle-progeny cases must be tried individually, it found plaintiffs could rely on certain jury findings in the original case, including the determination that tobacco companies had placed a dangerous, addictive product on the market and had conspired to hide the dangers of smoking through much of the 20th century.
In order to be entitled to those findings, however, each Engle progeny plaintiff must prove the smoker at the heart of their case suffered from nicotine addiction that led to a specific smoking-related disease.
However, Reynolds argues Lawrence knew the dangers of cigarettes and simply was not interested in quitting in time to avoid his cancer. During Thursday's opening statements, Jones Day's Kevin Boyce, representing Reynolds, told jurors that Lawrence quit smoking in his first serious attempt. "He smoked 35 to 40 years, every single day, and never once expressed an interest in stopping, never made an effort to stop, or never talked to anybody about quitting," Boyce said. "The first time he made up his mind to stop, he quit smoking."
Boyce said Lawrence received "an avalanche of information" from the news and other outlets about the risks of smoking, beginning when he was a young teenager. "He became a regular smoker during a time period when there was an unprecedented amount of information about the health risks of smoking being published in the media," Boyce said. "Mr. Lawrence, when we took his deposition, admitted that he personally believed nicotine was addictive way back in the 1950s or 1960s."
Moreover, Boyce told jurors Lawrence admitted his smoking decisions would not have changed, regardless of tobacco warnings about smoking's dangers. "We're going to spend days in here listening to evidence about things tobacco companies did, and that tobacco companies did not do. And they may relate to a different case, somebody who was actually aware of this debate [over smoking's health risks]," Boyce said. "But, it's not Mr. Lawrence."
Trial is expected to last through next week.
Email Arlin Crisco at acrisco@cvn.com.
Related Information
Joy Lawrence is represented by Avera and Smith's Mark Avera.
R.J. Reynolds is represented by Jones Day's Kevin Boyce.
Watch the trial live and on demand.
Not a subscriber?
Learn how you can see the best attorneys in action, in Florida and across the country.