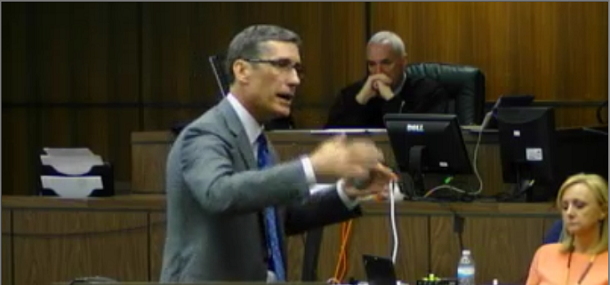 Cory Hohnbaum tells jurors Mary Howles smoked despite knowing the dangers of cigarettes. Howles is suing Philip Morris and Hohnbaum's client, R.J. Reynolds, claiming the tobacco companies are responsible for her cancer and respiratory disease.
---
Fort Lauderdale, FL—Attorneys debated what drove a Florida nurse to smoke up to three packs of cigarettes a day for more than 30 years, before she developed lung cancer and respiratory disease, as trial opened this week in her suit against the nation's two largest tobacco companies. Howles v. Philip Morris, et al., CACE07-34919.
Mary Howles, 73, a nurse for more than two decades, began smoking in the 1950s and continued the habit until 1991, four years before doctors diagnosed her with lung cancer and chronic obstructive pulmonary disease, or COPD. She claims tobacco marketing and a conspiracy involving R.J. Reynolds and Philip Morris to hide the dangers of cigarettes enticed her to start smoking and fueled a nicotine addiction that caused her cancer and COPD.

During Monday's opening statements, Howles' attorney, The Alvarez Law Firm's Alex Alvarez, outlined a 40-plus year tpobacco industry campaign he says was intended to discredit scientific evidence of smoking's addictiveness and health effects. "They denied the health effects of smoking and (undermined) the scientific evidence to the contrary," Alvarez said. "Any time a scientist or doctor would come out, or a public health official would come out and say smoking's bad for you, they would bombard him, and either attack scientists or come out with contrary information."
Alvarez said the tobacco industry campaign included marketing filtered cigarettes as safer than unfiltered brands, a claim Alvarez said Reynolds and Philip Morris, which made the filtered cigarettes Howles smoked, knew was false. Alvarez noted internal tobacco industry documents described how a filtered cigarette smoker would inhale more deeply and smoke more cigarettes to get the same amount of nicotine. "Actually filtered cigarettes are more dangerous than non-filtered cigarettes," Alvarez said.
Alvarez said evidence would prove Howles was so addicted to the nicotine in cigarettes that she smoked up to three packs a day, including smoking while pregnant and failing in multiple attempts to quit before succeeding with the help of nicotine patches. Before that "when she was trying to quit, when she was off cigarettes, she would become irritable, cranky, frustrated, grumpy. She had that white-knuckle feeling," Alvarez said. "Those are all signs (and) symptoms of addiction."
However, the defense claims Howles' choice to continue smoking, not nicotine addiction or tobacco marketing, caused her COPD and cancer. During Monday's openings Shook Hardy's Walter Cofer told jurors Howles successfully quit smoking the first time she was truly motivated and sought the help of a doctor. "An addiction to nicotine did not cause (Howles) to start smoking. No one ever starts smoking because they're addicted. And it didn't prevent her from quitting in time to avoid developing COPD and lung cancer," Cofer said. "Addicted or not, Mrs. Howles always had the ability to quit smoking."
Cofer also contended Howles was not deceived by tobacco marketing but knew the risks of cigarettes for decades. Cofer noted evidence that Howles was surprised by her initial cancer diagnosis in 1995 because she did not have the tell-tale symptoms of cancer, but "when the doctors told her that it was caused by smoking, she wasn't surprised by that. Because she admits that she knew that smoking could cause bad things."
King & Spalding's Cory Hohnbaum, representing Reynolds, agreed, telling jurors in openings Howles was aware of the dangers of smoking throughout her life but ignored warnings from her husband as far back as the 1960s. "The evidence will be that she did not say 'Well, I don't think smoking's bad for you. I'm confused. I have doubts. I'm not sure," Hohnbaum said. "The evidence will be (that) instead of saying those things, what she said (in response to her husband's warnings) was, 'It's my life.'"
Howles' suit is one of thousands of similar Florida cases against the nation's tobacco companies. Those cases stem from Engle v. Liggett Group, a 1994 class action claim involving Florida smokers. A jury in that case found tobacco companies knowingly produced dangerous, addictive cigarettes and hid those dangers from the public. The Florida Supreme Court subsequently decertified the class on appeal, but its holding allows individual plaintiffs to rely on the jury's conclusions in the original trial if they can prove the smokers at the center of their cases suffered a smoking-related disease caused by an addiction to cigarettes.
Trial in the case is expected to last through next week.
Neither the parties' attorneys nor tobacco company representatives could immediately be reached for comment.
---
Related Information
Mary Howles is represented by The Alvarez Law Firm's Alex Alvarez and Phillip Holden.
Philip Morris is represented by Shook Hardy's Walter Cofer and Kaye Scholer's Rhonda Trotter.
R.J. Reynolds is represented by King & Spalding's Cory Hohnbaum and Mayer Brown's Scott Chesin.
Watch gavel-to-gavel coverage of the trial live and on demand.
Not a subscriber?
Learn more about CVN's unrivaled tobacco litigation library.