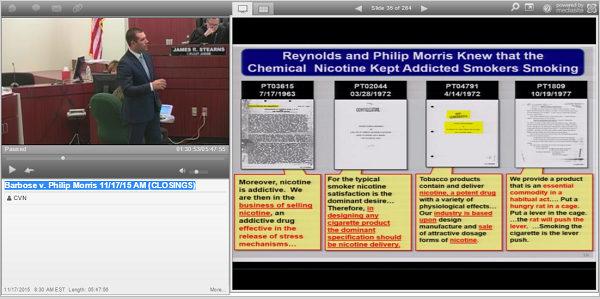 Brent Bigger delivers closing arguments for his client, Phyllis Barbose. Jurors awarded Barbose $10 million plus potential punitives in her suit against R.J. Reynolds and Philip Morris.
---
Update 11/18/2015: Jurors imposed a $1 million punitive verdict against Philip Morris and R.J. Reynolds Wednesday afternoon, splitting the penalty equally between the two tobacco companies. The jury reached its decision following about an hour of deliberations and closing arguments in which Phyllis Barbose's attorney, Knopf Bigger's Brent Bigger, requested $20 million in punitives.
The decision on punitives brings the case's total damage award to $11 million.
Clearwater, FL—Jurors this afternoon awarded $10 million, plus potential punitive damages, to the widow of a pizzeria owner who claimed the country's two largest cigarette manufacturers are responsible for her husband's 47-year nicotine addiction and his fatal lung cancer. Barbose v. Philip Morris, 2014CA003532.
The verdict, reached after less than three hours of deliberations, found John Barbose's cancer stemmed from a decades-long conspiracy by Philip Morris and R.J. Reynolds, makers of cigarettes Barbose smoked, to hide the dangers of their product.
Born in 1934, Barbose had his first cigarette when he was about 15, and continued smoking at least a pack a day for most of the next half century. The owner of a family-run pizzeria in Pennsylvania before he moved to Florida in 1984, he quit smoking in April 1996, three months before he died of lung cancer.
Tuesday's award to Barbose's widow, Phyllis Barbose, exceeded the $9.2 million her attorneys requested in closing arguments Tuesday.
The jury found Reynolds and Philip Morris were each 42.5% responsible for John Barbose's cancer, while allocating 15% of responsibility to Barbose himself. However, because the jury found the tobacco companies liable for potential punitives on Phyllis Barbose's conspiracy claim, the compensatory award will not be reduced.
The Barbose case is one of thousands of similar Florida lawsuits filed against the nation's cigarette manufacturers. They stem from Engle v. Liggett Group, a 1994 class action suit in which a jury found tobacco companies knowingly produced dangerous addictive cigarettes and subsequently hid those dangers from the public. The Florida Supreme Court subsequently decertified the class on appeal, but its holding allows individual plaintiffs to rely on the jury's conclusions in the original trial if they can prove the smokers at the center of their cases suffered a smoking-related disease caused by an addiction to cigarettes.
The trial's first phase focused largely on the reason underlying John Barbose's smoking and its link to his cancer. The defense argued Barbose smoked for enjoyment rather than because of addiction. During closing arguments Tuesday, Jones Day's Steven Geise, representing Reynolds, argued testimony from plaintiff's addiction expert, Dr. David Drobes, was inconsistent as to Barbose's nicotine addiction.
Geise also noted Barbose quit smoking for about seven months in 1993 or 1994 but ultimately resumed the habit. "When he made the choice to start smoking all over again, addiction wasn't the cause," Geise said. "Ask yourself: if Mr. Barbose was not addicted, would he smoke? That (resumption of smoking) tells you the answer is yes."
However, Phyllis Barbose's attorneys claimed Barbose's smoking was driven by a nicotine addiction too strong to overcome until the damage caused by cigarettes was too late. During his closing, Knopf Bigger's Brent Bigger described evidence of Barbose's multiple quit attempts and said Barbose needed to smoke so badly he would hide in the bathroom to smoke when he wasn't allowed to smoke in the house.
Bigger estimated Barbose had more than half a million cigarettes throughout his life and about 300 doses of nicotine every day he smoked, and claimed addiction would be assumed with any other drug taken in similar amounts. "Three hundred (syringe) shots, would there be any question (he was addicted)? Three hundred bumps of cocaine, would there be any question if someone was addicted? Of course not," Bigger said.
"And that's exactly what Reynolds and Philip Morris wanted (Barbose) to do. It's what they designed their cigarettes to do."
Punitives will be determined in the trial's second phase, beginning 9 a.m. Wednesday.
Email Arlin Crisco at acrisco@cvn.com.
---
Related Information
Phyllis Barbose is represented by Knopf | Bigger's Brent Bigger and Abrahamson & Uieterwyk's William Clark. R.J. Reynolds is represented by Jones Day's Steven Geise. Philip Morris is represented by Kaye Scholer's Pam Yates.
Watch Barbose v. Philip Morris live and on demand.
Not a subscriber?
Learn more about CVN's unrivaled tobacco litigation library.