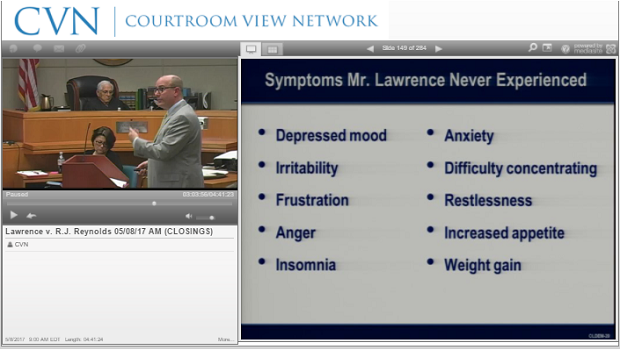 Kevin Boyce delivers his closing argument on behalf of R.J. Reynolds, accused of responsibility for the throat cancer that killed Louis Lawrence. Jurors Monday awarded Lawrence's widow more than $800,000 in compensatory damages and found punitives potentially warranted.
---
Update: Parties reached a settlement before the punitive phase of trial was scheduled to begin Wednesday.
Ocala, FL—A Florida state court jury awarded a smoker's widow more than $800,000 and found punitive damages potentially warranted against R.J. Reynolds for the role the company played in her husband's fatal throat cancer. Lawrence v. R.J. Reynolds, 2009-CA-000178.
The Florida Fifth Circuit Court jury in Marion County deliberated for nearly nine hours before handing down its decision, which found Reynolds responsible for the smoking-related laryngeal cancer that ultimately killed Louis Lawrence, 71, in 2013.
Lawrence, a smoker for about 40 years, lost his voice box in a 1995 bout with cancer. His wife, Joy, claims Reynolds' involvement in a vast scheme to hide the dangers of smoking hooked her husband on cigarettes and ultimately killed him.
However, jurors apportioned only 35% of responsibility to the cigarette maker, allocatingthe remaining share to Lawrence himself.
Tuesday's award includes more than $360,000 for medical expenses and $250,000 to Joy Lawrence for her husband's death.
Joy Lawrence's attorney, Avera & Smith's Mark Avera, requested about $6.6 million in compensatories, plus a finding that punitives were warranted, during closing arguments Monday.
The case is one of thousands of Florida's Engle progeny lawsuits against the nation's tobacco companies. They stem from a 2006 Florida Supreme Court decision decertifying Engle v. Liggett Group Inc., a class-action tobacco suit originally filed in 1994. Although the state's supreme court ruled that Engle-progeny cases must be tried individually, it found plaintiffs could rely on certain jury findings in the original case, including the determination that tobacco companies had placed a dangerous, addictive product on the market and had conspired to hide the dangers of smoking through much of the 20th century.
In order to be entitled to those findings, however, each Engle progeny plaintiff must prove the smoker at the heart of their case suffered from nicotine addiction that led to a specific smoking-related disease.
The nine-day-long first phase of trial focused largely on whether Lawrence was addicted to cigarettes and Reynolds' role in his smoking. During Monday's closing arguments, Avera & Smith's Rod Smith, representing Lawrence's widow, said Lawrence was one of millions of youngsters targeted by the tobacco industry as "replacement smokers" to fill the gap left by older smokers who died from tobacco-related disease. "When R.J. Reynolds got a 15-year-old regular smoker like Louis Lawrence, it was like hitting a small jackpot. They could count on that smoker," Smith said, "And they could keep him smoking for decades."
But the defense, spearheaded by Jones Day's Kevin Boyce, argued Lawrence smoked by choice, not out of addiction. Boyce told jurors Lawrence smoked for decades without even expressing a desire to quit. Boyce added Lawrence ultimately stopped smoking in his first serious quit attempt and did not bear many of the hallmarks of an addicted smoker. "When there's not even an effort to stop and you're just smoking because you want to, that's not evidence that addiction is a legal cause of a behavior," Boyce said. "In those facts, which is what we see with Mr. Lawrence, the only legal cause of what happened is the smoker."
Related Information
Joy Lawrence is represented by Avera and Smith's Mark Avera and Rod Smith.
R.J. Reynolds is represented by Jones Day's Kevin Boyce.
Watch the trial live and on demand.
Not a subscriber?
Learn how you can see the best attorneys in action, in Florida and across the country.