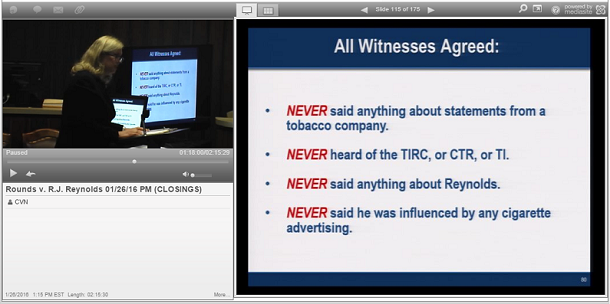 Stephanie Parker delivers closing arguments for R.J. Reynolds in Janice Rounds' suit claiming the company's concealment of smoking's dangers led to her husband's nicotine addiction and cancer. Jurors Tuesday found in favor of R.J. Reynolds.
---
Daytona Beach, FL—Jurors Tuesday found tobacco giant R.J. Reynolds not liable for the lung cancer that killed a Florida hospital worker who smoked for more than 35 years. Rounds v. R.J. Reynolds, 2013-32607-CICI.
Jurors needed less than three hours to conclude nicotine addiction was not a legal cause of Terry Rounds' lung cancer.

Rounds, who worked at a Daytona Beach-area hospital, became a full-time smoker by 17 and allegedly smoked up to two packs of cigarettes a day, continuing the habit even after he was diagnosed with the beginnings of respiratory disease. He ultimately quit smoking less than six years before being diagnosed with lung cancer. He died from the disease in 1996, at age 58.
His widow, Janice, claims Reynolds, makers of the cigarettes Rounds smoked, caused Rounds' death by participating in a tobacco industry conspiracy to hide the dangers and addictiveness of cigarettes throughout most of the latter half of the 20th century.
Janice Rounds' attorney, William Wichmann, of the Law Offices of William Wichmann, requested up to $14.2 million in compensatory damages plus unspecified punitives during Tuesday's closing arguments.
Tuesday's verdict removed Rounds from the so-called Engle class of plaintiffs potentially entitled to recover damages against the nation's tobacco companies. The Rounds suit, and thousands of similar claims stem from Engle v. Liggett Group, a 1994 class action suit involving Florida smokers. A jury in that case found tobacco companies knowingly produced dangerous, addictive cigarettes and hid those dangers from the public. The Florida Supreme Court decertified the class on appeal, but its ruling allows individual plaintiffs to rely on the jury's conclusions in the original trial if they can prove the smokers at the center of their cases suffered a smoking-related disease caused by an addiction to cigarettes.
Whether Rounds was addicted to cigarettes and its link, if any, to Rounds' cancer served as central issues in the case. During Tuesday's closings, Wichmann argued Terry Rounds was so addicted to nicotine in cigarettes that he chain smoked, was reprimanded by his employer for taking too many smoking breaks, and failed in quit attempts using nicotine gum and hypnosis. "He was so addicted he couldn't quit without the doctor's help and without the nicotine replacement therapy, the nicotine patch," Wichmann said.
Wichmann argued medical evidence was uncontroverted that Rounds was a nicotine addicted. Wichmann reminded jurors a hospital discharge document in the early 1990s described Rounds as suffering from "tobacco abuse" while nicotine dependence expert Dr. Richard Hurt testified Rounds was a nicotine addict. "There's been no evidence, zero, none, to the contrary on (the issue of) addiction," Wichmann said. "There's been no evidence, zero, none to the contrary on addiction causing lung cancer and causing (Rounds') death."
But the defense sought to punch holes in plaintiff's medical evidence on addiction. During her closing argument, Jones Day's Stephanie Parker portrayed Hurt as a plaintiff's expert for hire and noted the medical document describing Rounds as suffering from nicotine abuse was completed years after Rounds stopped smoking.
Instead, the defense argued Rounds smoked by choice, not because of addiction, and he successfully quit as soon as he was sufficiently committed. Parker reminded jurors Rounds never tried to quit smoking before 1985. "That is 30 years, 30 years where there is no evidence that he even tried to quit," Parker said.
Parker argued Janice Rounds could only definitively remember her husband trying to quit twice—once for 24 hours and once for 48 hours—before he successfully stopped smoking about 1991. "That is three days of not smoking over a 40-plus-year period," Parker said. "Is that somebody who's seriously been trying to quit?"
Parker said Rounds' behavior belied a claim of addiction. "The person they are trying to describe to you is somebody who desperately wanted to quit, somebody who hated smoking, somebody who had no choice but just to keep smoking. That's how they're trying to portray (Rounds) at this trial," Parker said.
"But we know from the facts of his life that that just doesn't fit."
Neither the parties' attorneys nor Reynolds representatives could be reached for comment.
---
Related Information
William Wichmann, of the Law Offices of William Wichmann, represents Janice Rounds.
Stephanie Parker, Bradley Harrison, and Timothy Fiorta of Jones Day represent R.J. Reynolds.
Watch gavel-to-gavel coverage of Rounds v. R.J. Reynolds on demand.
Not a subscriber?
Learn more about CVN's unrivaled tobacco litigation library.