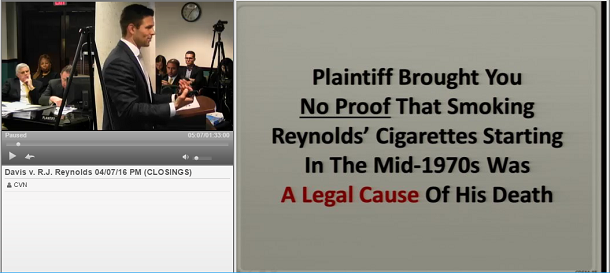 Frank Bayuk delivers closings on behalf of R.J. Reynolds, accused of responsibility for the lung cancer death of Booker Davis. The cigarette maker ultimately prevailed at trial, in which Davis' family sought up to $37.5 million in compensatory damages.
---
Miami—R.J. Reynolds prevailed at trial over the cancer death of a 56-year-old smoker, after jurors Thursday rejected the claimed link between the company's cigarettes and his disease. Davis v. R.J. Reynolds, 2010-045478-CA-01.
Jurors took less than three hours to conclude that, although nicotine addiction caused Booker Davis' fatal lung cancer, R.J. Reynolds cigarettes were not the culprit.
During Thursday's closings, the Alvarez Law Firm's Alex Alvarez, representing Davis' daughter Patsy, requested up to $37.5 million in compensatory damages, or $7.5 million for each of Davis' five children, plus a finding of punitive liability.
Davis, a long-time smoker of Reynolds' Winston-brand cigarettes, died in 1997, about two years after his cancer diagnosis. Davis' children claim Reynolds caused his death by concealing the dangers and addictiveness of cigarettes for decades.
Thursday's verdict capped a seven-day trial that ultimately turned on whether smoking Reynolds cigarettes, rather than other companies' brands, caused Davis' cancer.
During Thursday's closing arguments, Alvarez argued evidence proved a clear link between Reynolds' Winston cigarettes and Davis' cancer. "Is it their brand that he smoked, which caused his lung cancer?" Alvarez asked. "There's no dispute about that. All the factual evidence in this case supports the fact that he… was a long-time Winston smoker. The evidence to that is very, very clear."
Alvarez reminded jurors Dr. Luis Villa, a Miami pathologist and oncologist, testified he believed Davis' smoking caused his lung cancer based on the cell-type description listed in available medical documents. Alvarez acknowledged several medical records were missing and unavailable for Villa to review in reaching his conclusion. "But do you know who had all that stuff?" Alvarez asked. "The doctors that were treating [Davis]. And the doctor who signed the death certificate," Alvarez said, noting the death certificate listed lung cancer as Davis' cause of death. "The guy who signed the death certificate and was treating him had every single [missing medical record the defense noted], and that's what [he] concluded," Alvarez said. "There's no disputing that."
However, the defense countered that the lack of solid information on Davis' early smoking history rendered it impossible to connect Reynolds' Winstons to Davis' cancer. "No one came and told you what he was smoking for the first 15-20 years of his [smoking] life," King & Spalding's Frank Bayuk said in Thursday's closings. "The plaintiff doesn't have that evidence."
Bayuk also told jurors Villa admitted Davis would likely have gotten lung cancer even if he had quit cigarettes after his first 15 years of smoking. "Even if [Davis] had never smoked an R.J. Reynolds cigarette," Bayuk said, pointing to the lack of evidence that Davis smoked Winstons until the 1970s, "we'd be in the same place we are today. He would have gotten the cancer, according to plaintiff's expert, [Villa]."
During deliberations, jurors signaled their focus in the case by asking whether the first 20 years of Davis' smoking history, from 1954 to 1974, were relevant to the question on the causal link between Reynolds cigarettes and his cancer.
After discussion with the attorneys, Judge William Thomas told jurors they had all the facts and law available and directed them to rely on that.
The jury delivered its verdict less than an hour later.
The case is one of thousands of similar Florida lawsuits against the nation's tobacco companies. They stem from Engle v. Liggett Group, a 1994 class action claim involving Florida smokers. A jury in that case found tobacco companies knowingly produced dangerous, addictive cigarettes and hid those dangers from the public. The Florida Supreme Court decertified the class on appeal, but its decision allows individual plaintiffs to rely on the jury's conclusions in the original trial if they can prove the smokers at the center of their cases suffered from nicotine addiction that caused a smoking-related disease, such as lung cancer, before November 21, 1996.
Thursday's verdict amounted to a finding Davis was a member of the Engle class, but Reynolds was not the party at fault.
Email Arlin Crisco at acrisco@cvn.com.
---
Related information
Alex Alvarez and Philip Holden, of the Alvarez Law Firm, and Philip Freidin and Gabriel Mazzitelli, of Freidin, Dobrinsky, Brown & Rosenblum, represent Patsy Davis.
Frank Bayuk, Randall Bassett, and Philip Green, of King & Spalding, represent R.J. Reynolds.
Not a subscriber?
Learn more about CVN's unrivaled tobacco litigation library.