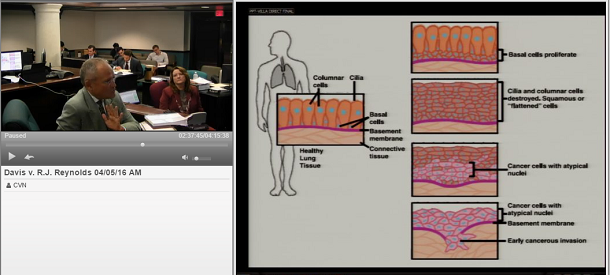 Jose Villa testifies at trial over Booker Davis' 1997 cancer death. Davis' family claim R.J. Reynolds is responsible for Davis' years of smoking that they say led to his cancer.
---
Miami—Cigarettes likely caused the lung cancer that killed a 56-year-old smoker, a cancer specialist told jurors Tuesday, despite questions about the records underlying the original diagnosis, as trial continued against R.J. Reynolds. Davis v. R.J. Reynolds, et al., 2010-045478-CA-01.
Dr. Luis Villa, a Miami oncologist and pathologist, said he was confident Booker Davis' lung cancer was caused by smoking because 95-98% of squamous cell cancers, the type doctors diagnosed in Davis, are linked to cigarettes. "There is the rare case of squamous cell carcinoma that is not associated with smoking, but those occur in non-smokers," Villa said.

Davis died in February 1997, about two years after doctors diagnosed him with lung cancer. His family claims R.J. Reynolds caused his cancer by hiding the dangers and addictiveness of smoking for much of the 20th century.
However, the defense claims evidence is insufficient to link Davis' cancer to smoking because of missing medical records, conflicting information in the records that still exist, and questions surrounding the cancer's origin in his body.
Villa, who has testified in about 50 similar tobacco cases, acknowledged at least one medical document indicated Davis smoked a pack a day for only 10 years before his 1994 cancer diagnosis. However, he said Davis likely underestimated his smoking history. "It's very common for patients to try to downplay [their smoking history]," Villa said. "It's human nature."
Villa told jurors the 10-year smoking history Davis reported didn't align with a diagnosis of squamous cell lung cancer. "Ten years at one pack a day is really not particularly impressive. It will increase your risk of cancer of the lung, but it's not what you usually see in someone who is 54 years old, which is relatively young, and who has a squamous cell carcinoma, which is highly associated with smoking," Villa said. "My initial impression is 10 years, one pack a day. That's not true. (It's) got to be a heavier smoking history."
Villa contended reports from Davis' family members indicating he smoked for decades before his cancer diagnosis were more accurate. The reports he said, confirmed his belief that Davis "certainly smoked more than [he reported to physicians] and for a longer period of time."
However, on cross exam, Villa acknowledged radiology results, CT films, and other records were lost and not available for him to review in determining the cancer's cell type or origin. "Of the [tobacco cases in which] I've given an opinion," Villa said, "this is the one with the least amount of information."
Villa noted that, although he reviewed the pathology report, the underlying tissue specimen was not available to review, requiring him to rely on the original pathologist's conclusions. The lack of a tissue sample is important, Villa acknowledged, because he has disagreed with the conclusions of other pathologists in the past.
The case is one of thousands of similar Florida lawsuits against the nation's tobacco companies. They stem from Engle v. Liggett Group, a 1994 class action claim involving Florida smokers. A jury in that case found tobacco companies knowingly produced dangerous, addictive cigarettes and hid those dangers from the public. The Florida Supreme Court decertified the class on appeal, but its decision allows individual plaintiffs to rely on the jury's conclusions in the original trial if they can prove the smokers at the center of their cases suffered from nicotine addiction that caused a smoking-related disease, such as lung cancer, before November 21, 1996.
Closings are expected to begin Thursday morning.

Neither the parties' attorneys nor tobacco company representatives could immediately be reached for comment.
Editor's note: An earlier version of this story incorrrectly listed Philip Morris as a party at trial. R.J. Reynolds was the only defendant as of the trial's opening.
---
Related information
Alex Alvarez and Philip Holden, of the Alvarez Law Firm, and Philip Freidin and Gabriel Mazzitelli, of Freidin, Dobrinsky, Brown & Rosenblum, represent Patsy Davis.
Frank Bayuk, Randall Bassett, and Philip Green, of King & Spalding, represent R.J. Reynolds.
Watch the trial live and on demand.
Not a subscriber?
Learn more about CVN's unrivaled tobacco litigation library.