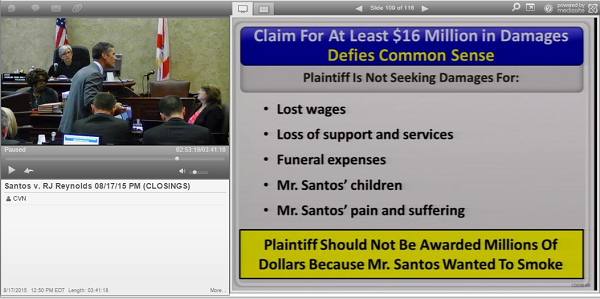 Cory Hohnbaum delivers the closing argument for R.J. Reynolds in a trial against the company over the respiratory disease that caused Renato Santos' death. Jurors found Santos' widow failed to establish Engle class membership required in her $16 million suit against the company.
---
Miami—R.J. Reynolds prevailed this week in a suit brought by the widow of a Cuban immigrant who died from respiratory disease after decades of smoking the tobacco company's unfiltered cigarettes. Santos v. R.J. Reynolds, 2008-CA-000849.
Jurors took less than three hours to find Renato Santos was not a member of the Engle class of smokers suing the nation's tobacco companies for diseases caused by nicotine addiction. Santos, who immigrated to the U.S. in 1962, smoked Reynolds-brand Pall Mall cigarettes for more than two decades over a half-century of smoking. He quit smoking in 1990 after being diagnosed with chronic obstructive pulmonary disease and emphysema, and was 80 when he died from the diseases in 2007. His wife, Rebecca, sought more than $16 million from Reynolds, claiming the company's deceptive marketing led to her husband's nicotine addiction and death.
The trial turned on whether Renato Santos was addicted to nicotine and whether it ultimately caused his respiratory disease, two elements required to establish Engle class membership. During closings Monday, Koch, Parafinczuk & Wolf's Justin Parafinczuk told jurors that Santos' nicotine addiction was so strong he could only quit smoking after his diagnosis of respiratory disease. "At that moment (of diagnosis), without any availability to any cigarettes whatsoever, he quit because he wanted to be with his family," Parafunczuk said. "He wanted to stay and live the rest of his golden years with his family and his grandchildren."
However, Reynolds attorneys argued that Santos smoked by choice rather than because of addiction. During Tuesday's closings, King & Spalding's Randall Bassett reminded jurors of evidence that Santos succeeded in his first quit attempt. "You've heard argument about, somehow, tobacco companies got a hook on Mr. Santos and kept him smoking for 50 years," Bassett said. "How can they have a hook on him and keep him smoking when the only time he tried (to quit) was one time in 1990, and he quit permanently?"
Bassett also reminded of evidence that, prior to 1990, Santos reportedly said "You have to die of something," in response to repeated warnings about smoking. "Those (words) told you the attitude of Renatos Santos, who he was," Bassett said.
However, Parafinczuk argued that Santos' words were taken out of context. "Are we to (infer) from that (statement) that he wanted to smoke cigarettes for 50 years and cause his own death?" Parafinczuk asked. "I don't think so. I think Renato was just speaking as a strong man, and I think maybe he was being just a bit sarcastic."
The Santos case is among thousands of similar Florida lawsuits against U.S. tobacco companies. The cases arise from a 2006 Florida Supreme Court decision decertifying Engle v. Liggett Group Inc., a class-action tobacco case originally filed in 1994. Although the state's high court ruled Engle cases must be tried individually, it found plaintiffs could rely on certain jury findings in the original verdict, including the determination that tobacco companies had placed a dangerous, addictive product on the market and had hidden the dangers of smoking. However, individual plaintiffs must establish class membership by proving both nicotine addiction and a causal link to a smoking-related disease.
Neither the parties' attorneys nor Reynolds representatives could be reached for comment.
Email Arlin Crisco at acrisco@cvn.com.
---
Related information
Rebecca Santos is represented by Austin Carr and Koch, Parafinczuk, and Wolf's Justin Parafinczuk. R.J. Reynolds is represented by King & Spalding's Randall Bassett and Cory Hohnbaum.
Watch live and on-demand coverage of the trial.
Not a subscriber?

Click here to learn more about our unrivaled tobacco litigation library.