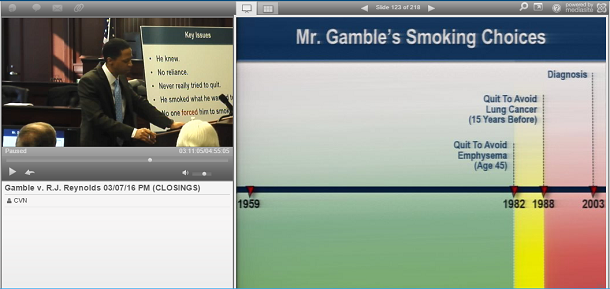 John Walker delivers closing arguments for the defense in Jessie Gamble's suit against R.J. Reynolds for the lung cancer death of her husband, Donald Gamble.
---
Jacksonville, FL—Jurors Tuesday absolved R.J. Reynolds of liability for the cancer death of a Florida heavy equipment operator who smoked unfiltered cigarettes for decades. Gamble v. R.J. Reynolds, 2014-CA-003848.
Jurors needed less than an hour to conclude Donald Gamble's 2003 death from lung cancer was not caused by an addiction to the Pall Mall cigarettes he smoked for more than 40 years.
Gamble, a heavy equipment operator in Jacksonville, was allegedly a pack-a-day smoker by 1959, when he was 22; continued smoking after his emphysema diagnosis in the 1990s; and quit only after he was hospitalized with terminal cancer in 2003. His widow, Jessie Gamble, claims R.J. Reynolds' participation in an industry-wide conspiracy to hide the dangers of smoking for nearly 50 years caused her husband's nicotine addiction and, ultimately, his fatal cancer.
During Monday's closing arguments, Gamble's attorney, Doffermyre Shields' Robert Shields requested $10 million in compensatory damages plus unspecified punitives for Gamble's death.
The Gamble case is one of thousands of similar Florida lawsuits against the nation's tobacco companies. They stem from Engle v. Liggett Group, a 1994 class action claim involving Florida smokers. A jury in that case found tobacco companies knowingly produced dangerous, addictive cigarettes and hid those dangers from the public. The Florida Supreme Court decertified the class on appeal, but its decision allows individual plaintiffs to rely on the jury's conclusions in the original trial if they can prove the smokers at the center of their cases suffered from nicotine addiction that caused a smoking-related disease before November 21, 1996.
Because Donald Gamble's cancer developed after the cut-off period for Engle class membership, the suit's class-determination question was tied to a link between Gamble's emphysema and nicotine addiction. Although jurors found a causal link between addiction and Gamble's emphysema, they declined to find such a link to the cancer underlying plaintiff's damage claim.
The verdict capped a two-week trial and turned on Donald Gamble's alleged nicotine addiction and its potential connection to his cancer. During Monday's closings, Shields argued Gamble bore all the hallmarks of an addicted smoker, including chain smoking throughout the day and being unable to sit through church services without needing to leave for a cigarette.
Shields reminded jurors of evidence Gamble tried to quit smoking after being diagnosed with emphysema in the 1990s. "Unfortunately, like the vast, vast majority of smokers, he relapsed and went back to smoking," Shields said. "He tried time and again to quit smoking, rarely lasting more than a few days (during that period), and always relapsing."
Shields noted Gamble ultimately quit only when his hospitalization rendered him physically unable to smoke. "That pattern of behavior demonstrates compulsive seeking of the next dose of nicotine," Shields said. "It is the basis for saying he's addicted.
However, the defense contended addiction could not be the cause of Gamble's cancer because Gamble neither wanted to quit nor tried to quit for much of his smoking life. During Monday's closings, Jones Day's John Walker reminded jurors of expert testimony from Dr. David Burns that lung cancer risk from smoking is almost completely erased 15 years after a person has quit smoking. "Mr. Gamble's diagnosis was in 2003," Walker said. "If he had quit smoking 15 years earlier, sometime before 1988, he would not have gotten cancer."
Walker argued that Gamble never voiced a desire to quit smoking until the 1980s, and even then did not make a concerted effort to stop. "The true legal cause of his continued smoking can't be addiction because addiction doesn't stop you from quitting if you're not trying to quit," Walker said. "And for the 25 years leading up to Mr. Gamble's 45th birthday, he wasn't even trying to quit smoking."
Although R.J. Reynolds did not manufacture Pall Mall cigarettes while Gamble smoked the brand, it was sued as the successor-in-interest to American Tobacco Co. and Brown & Williamson, which had made the cigarettes.
Neither the parties' attorneys' nor Reynolds representatives could be reached for comment.
Email Arlin Crisco at acrisco@cvn.com.
Related Information
Jessie Gamble is represented by Robert Shields, of Doffermyre, Shields, Canfield, & Knowles, and John Kalil of the Law Offices of John Kalil, of The Law Offices of John Kalil.
R.J. Reynolds is represented by Jones Day's John Walker, Jordon Patterson, and Kevin Riddles.
Watch Gamble v. R.J. Reynolds on demand.
Not a subscriber?
Learn more about CVN's unrivaled tobacco litigation library.