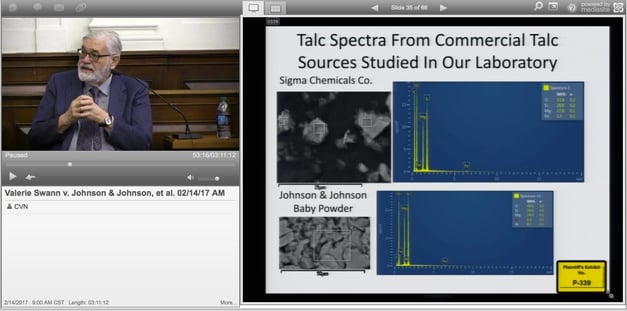 Courtroom View Network screenshot of Harvard pathologist Dr. John Godleski testifying on behalf of the plaintiff at the ongoing talc trial in Missouri. Click here to see video of the trial.
St. Louis - Expert witnesses retained by attorneys for a woman accusing Johnson & Johnson of withholding the cancer risks of talc powder-based hygiene products from the public recently underwent intense questioning by the company's high-powered legal team, as they seek to prevent a potential fourth consecutive blockbuster verdict in Missouri state court.
Utilizing attorneys from three different mega-firms, J&J laid into a trio of scientists hired by plaintiff Nora Daniel's lawyers, all of whom argued strongly to jurors that a clear link exists between the use of talc powder on the genitals and ovarian cancer.
The full proceedings, including all witness testimony, are being webcast live and recorded gavel-to-gavel by Courtroom View Network. CVN also recorded two of the previous three talc powder trials in St. Louis. With another talc trial set for April in St. Louis, and the first trial in California looming later this year, this high-stakes testimony is being closely followed.
Here is a rundown of some of the defense arguments used against these expert witnesses so far, as the trial in St. Louis Circuit Court heads into its third week.
RELATED: Click here for exclusive expert analysis of talc trial testimony from Innovative Science Solutions

Dr. John Godleski, Harvard pathologist
Daniels' team called Dr. John Godleski to testify that Daniels reproductive organs were permeated with talc particles. Godleski told jurors he reached that conclusion after examining tissue samples taken from Daniels following a hysterectomy performed in 2013 to treat her ovarian cancer.

Godleski is a co-author of a 2007 journal article titled "Presence of Talc in Pelvic Lymph Nodes of a Woman with Ovarian Cancer and Long-Term Genital Exposure To Cosmetic Talc."
Godleski explained that he found two individual talc particles in a batch of slides taken from three blocks of tissue using a polarized light microscope. Godleski said that the presence of those particles in that sample size "suggests there's going to be much more."
However J&J's attorneys confronted Godleski with his own handwritten notes from the time of the scan that they claim showed Godleski was less convinced at the time. The notes dealt with the "birefringence" of suspected talc particles, a term used to describe the presence of characteristics that polarized light microscopes are designed to detect.
"Only birefringent particle in tissue is in slide 1A — not very convincing," the note read.
J&J also questioned Godleski about his decision to classify the second suspect particle as talc, suggesting that it didn't display the proper chemical characteristics. The company's lawyers also suggested false positives for talc particles are more likely using a polarized light microscope than with a scanning electron microscope.
***
Dr. Graham Colditz, Washington University epidemiologist
During a direct examination frequently halted by numerous defense objections, Dr. Graham Colditz testified about a large body of scientific evidence that he argued showed clear evidence of talc's cancer risks.

When asked by plaintiff attorney Allen Smith (seemingly recovered after requiring medical attention during his opening statement earlier in the trial) about what the prevailing scientific literature showed, Colditz replied, "At the bottom line, that talc causes ovarian cancer, based on the review of all the evidence."
Colditz's testimony in St. Louis is especially significant after a New Jersey state court judge refused to allow it in what would have been the first talc trial in that state, a decision resulting in the scuttling of a pending trial date and making St. Louis the principal venue for a steadily growing number of talc cases.
J&J's attorneys laid into Colditz, aggressively suggesting that the studies he cited have since been supplanted by newer and better science. They presented him with printouts from the current websites of the National Cancer Institute and National Toxicology Program, neither of which list talc as a potential cancer-causing substance.
J&J's team compared talc to substances like coffee, which the International Agency for Research on Cancer previously listed as possible a carcinogen but had since delisted. Even items known to have some association with cancer don't require warning labels.
"There's no cancer warning for alcohol that you might buy at the store, right?" a" J&J attorney asked Colditz. "You've never seen a warning on red meat — cancer warning on red meat at the store, have you?"
Colditz conceded he had not, but suggested warnings might be found on medical websites. He admitted that the American Cancer Society website does list alcohol as a possible carcinogen, but does not currently list talc.
***
Dr. Daniel Cramer, Harvard epidemiologist
In 1982 Dr. Cramer became the first scientist to suggest a causal relationship between ovarian cancer and perineal talc use. This study and his subsequent findings were heavily referenced during the plaintiffs opening statement.

Under cross-examination, J&J's team focused on a type of genetic test that they said could identify the specific cause of Daniel's ovarian cancer, but that she has yet to undergo.
J&J referenced two specific genes suspected to cause between 8 and 20 percent of ovarian cancers, known as BRCA1 and BRCA2. J&J lawyer Bart Williams asked Cramer if Daniels had a mutation in either of those genes, and Cramer responded that Daniels' family history suggests she does not.
"To know whether or not Ms. Daniels had a BRCA1 or BRCA2 mutation that could have caused her ovarian cancer, she would need to get tested for that, right?" Williams asked.
"To make that assertion, yes," Cramer affirmed.
Cramer suggested that the test's $2500 price tag could have prevented Daniels from seeking it out, but Williams quickly asked why the plaintiffs couldn't cover the expense if they could afford to pay Cramer's fees, a question that drew an immediate objection sustained by Judge Rex Burlison.
Williams also subjected Cramer to questions similar to those faced by Colditz over the lack of warnings on other consumer products with some links to cancer, like alcohol and coffee.
Cramer's testimony had previously been rejected by the same New Jersey state court judge who refused to let Colditz testify, a decision that plaintiffs are appealing on the grounds that a jury should have the chance to determine the credibility of the testimony in question during a trial.
***
The current trial in St. Louis is expected to run through mid-March, and CVN will continue to provide gavel-to-gavel video coverage of the proceedings.
Daniels is represented by Ted Meadows and David Dearing of Beasley Allen and Allen Smith of Talc Litigation Group and The Smith Law Firm PLLC.
J&J is represented by Bart Williams and Manuel Cachán of Proskauer Rose LLP, Kimberly Dunne of Sidley Austin LLP and Thomas Magee of HelperBroom.
Imerys, J&J's talc supplier, is represented by Ann Field and Michael Klatt of Gordon & Rees LLP.
The case is Swann v. Johnson & Johnson, case number 1422-CC09326-01, in the 22nd Judicial Circuit of Missouri.
E-mail David Siegel at dsiegel@cvn.com