This week's attorney:
First appeared before CVN courtroom cameras in 2011.
Tried 4 of his 5 CVN Engle cases in the 11th Judicial Circuit.
Successfully tried the first Engle claim involving coronary disease.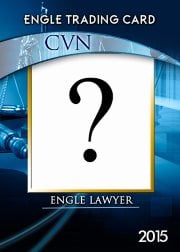 Who is this on this Week's Engle Card? Click to find out.
Our Engle trading cards honor the attorneys who have had a lasting impact on Florida's landmark tobacco litigation. Our images and statistics are taken from our unequaled coverage of Engle progeny proceedings for more than six years.
Not a subscriber?
Click here to learn more about our expansive tobacco litigation library.