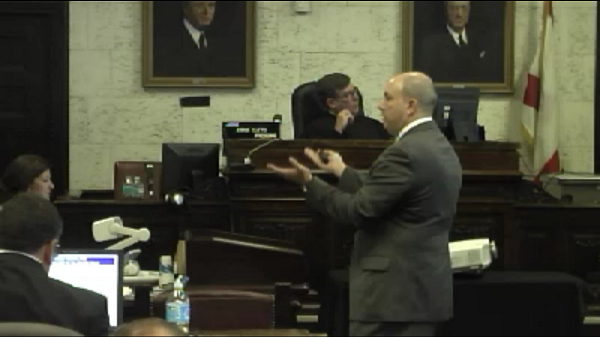 Randy Rosenblum argues smoking, not HPV, caused Carmenza Merino's mouth cancer. Jurors awarded Merino $14.5 million Thursday in her suit against tobacco maker Philip Morris.
---
Miami—A former smoker was awarded $14.5 million Thursday for the role she claimed Philip Morris played in causing the oral cancer that consumed part of her jaw. Merino v. Philip Morris, 08-CA-001287.
Carmenza Merino, who smoked more than a pack of cigarettes a day for 32 years, sued Philip Morris, claiming she was misled by the tobacco giant's tactics to conceal the dangers of smoking, which led to her nicotine addiction and 1996 mouth cancer. Merino claimed she was so addicted to cigarettes that she was unable to quit smoking until the night before her cancer surgery. Doctors removed parts of her jaw, tongue, and lymph nodes because of the disease.
The jury's award includes $8 million in compensatory damages handed down Thursday morning and $6.5 million in a punitive verdict rendered late Thursday afternoon. Jurors took only four hours to reach their verdict on compensatories, which apportioned 70% of responsibility to Philip Morris and 30% to Merino.
The first phase of the 11-day trial turned on the cause of Merino's mouth cancer. Philip Morris argued that the human papillomavirus, rather than cigarettes, caused the disease. During closing arguments Wednesday, Shook, Hardy & Bacon's Kenneth Reilly reminded jurors of evidence that the microscopic "fingerprint," or building blocks of HPV, were found adjacent to Merino's tumor. Reilly also argued that the cancer's development, when Merino was about 45, reduced the likelihood that smoking was the disease's cause. While Reilly noted evidence that smoking-related mouth cancer generally develops around age 65, he said Merino was "exactly the average age at which people develop oral cavity cancer from the human papillomavirus."
However, Merino's attorneys argued that there was no conclusive evidence that Merino had HPV. In Wednesday's closings, Freidin, Dobrinsky, Brown & Rosenblum's Randy Rosenblum told jurors that Merino had never been tested for HPV, and descibed the HPV argument as a "non-starter."
Instead, Rosenblum argued expert testimony showed that 95% or more of cancers like Merino's are caused by smoking. "Is it more likely that cigarettes caused (Merino's) cancer, when we know that (in) 95-99% of (similar cancers) it does?" Rosenblum asked.
After jurors handed down the compensatory verdict, phase II of the trial ran less than half the day Thursday and centered on whether Philip Morris' recent conduct mitigated against a large punitive award. Richard Jupe, who works with a Philip Morris affiliated company, Altria Client Services, testified that Philip Morris is subject to federal regulation and strict limits on its marketing. Jupe also told jurors that Philip Morris had paid the state of Florida alone more than $4 billion as part of the 1998 Tobacco Master Settlement Agreement, a pact the industry reached with 46 states for tobacco companies' alleged role in smoking-related disease.
In phase II closings, Reilly argued Jupe's testimony showed that the Philip Morris of today was a different company than the one accused of conspiring for decades to hide the dangers of its cigarettes. When imposing punitive damages, "you're not punishing people in 1990, or people in 1980," Reilly said. "You're punishing the people that run the company today."
The Alvarez Law Firm's Alex Alvarez, representing Merino, countered that the company's current personnel didn't insulate it from punitive liability. "(The defense asks) you, 'What would it say to the people of Philip Morris if you award punitive damages?'" Alvarez said. "Well, those people decided to join a company that had a history of lying, deceiving, and killing people. So, they made a choice." Alvarez said.
The jury took 30 minutes to deliver its punitive award, which is a quarter of the $24 million Merino's attorneys requested in closings of phase II.
The Merino case is one of thousands of similar lawsuits filed in Florida against the nation's tobacco companies. The cases arise from a 2006 Florida Supreme Court decision decertifying Engle v. Liggett Group Inc., a class-action tobacco case originally filed in 1994. Although the state's high court ruled Engle cases must be tried individually, it found plaintiffs could rely on certain jury findings in the original verdict, including the determination that tobacco companies had placed a dangerous, addictive product on the market and had hidden the dangers of smoking. To rely on those findings, individual Engle progeny plaintiffs such as Merino must prove the smoker's addiction to cigarettes and a causal link between the addiction and a smoking-related disease.
Neither the parties' attorneys nor Philip Morris representatives could be reached for comment.
Arlin Crisco can be reached at acrisco@cvn.com.
Editorial Note: This story has been corrected to reflect that Randy Rosenblum is an attorney-partner at Freidin, Dobrinsky, Brown & Rosenblum.
---
Related information

Freidin, Dobrinsky, Brown & Rosenblum's Randy Rosenblum and The Alvarez Law Firm's Alex Alvarez represent Carmenza Merino. Shook, Hardy & Bacon's Kenneth Reilly represents Philip Morris.
Watch gavel-to-gavel coverage of Merino v. Philip Morris.
Not a subscriber?
Click here to learn more about our unequaled tobacco litigation coverage.