Edward Murawski testifies that he did not take his cell phone with him on a 2007 ATV ride in which his companion, Brittany Falkner, was injured. Judge Elizabeth Krier granted a motion to strike defense pleadings when cell phone records showed calls had been made and received on Murawski's phone around the time of the accident.
---
Fort Myers, FL—Two days after evidence of perjury led to a decision striking defense pleadings as to liability, jurors awarded less than $300,000 Thursday to a woman who claimed she suffered lifelong brain and spinal damage because her ATV riding companion failed to properly help her following a crash. Falkner v. Murawski, 09CA004033.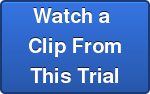 Jurors deliberated for about five hours Wednesday afternoon and Thursday before awarding Brittany Falkner $299,778 for future medical expenses in the 2007 incident. The six-member jury refused to award damages for pain and suffering or loss of earnings. Falkner, who claims the incident rendered her cognitively impaired and unable to walk without assistance, sought $100 million in her suit against Edward Murawski.
The suit stems from a July 2007 accident in which Falkner struck a tree head-first while riding on the back of an ATV driven by Murawski in a secluded, area in Naples, Florida. Murawski and two companions, Brandon and David Markovich, towed the bloody, unconscious Falkner on an ATV across more than a mile of uneven terrain before placing her in Murawski's pickup truck and carrying her to Naples Community Hospital, more than 10 miles from the crash site.
The jury's decision Thursday follows Judge Elizabeth Krier's decision early this week striking defense pleadings based on evidence that Murawski lied about whether he had a cell phone at the time of the accident.
Because Falkner contends that her injuries are largely due to Murawski's failure to take appropriate action following the accident, whether Murawski could have called 911 after the crash was a key issue at trial. While on the witness stand last Friday, Murawski testified that he left his cellphone at home on the night of the accident and could not have called for emergency help.
However, according to a motion for sanctions filed by Falkner's lawyers, Murawski's cell phone records, which Falker's legal team received late last Friday, showed several calls were made to and from Murawski's phone around the time of the accident.
Based on the phone records, Judge Krier Tuesday struck the defense pleadings, instructing the jury that Murawski was to be considered negligent and that jurors were only to consider the amount of damages to be awarded. However, jurors did not hear evidence regarding the phone records.
With the amount of damages the only issue in dispute, attorneys focused on the extent of Falkner's injuries in closing arguments Wednesday. The Martinez-Odom Law Group's Gene Odom, representing Falkner, requested up to $79 million for Falkner's lifelong pain and suffering. Noting mortality tables estimated Falkner would live another 57 years, Odom said the $79 million figure "sounds like a big number. It's a real big number, but 57 years of life is a big number."
Odom told jurors that Falkner would carry permanent scars, physical disabilities, and ever-worsening cognitive impairments that would increasingly impact her day-to-day activities. "What is the appraisal for pain-free life?" Odom asked. "(What is the value of) pain-free life, uninhibited ability to enjoy life, what everybody works so hard for?"
Odom also reminded jurors of evidence that Falkner's future medical expenses could run more than $20 million, based on what Odom argued was an uncontroverted life care plan developed by Dr. John Merritt. "There was no testimony to contradict really anything that Dr. Merritt said about what was going to be required for care in the future," Odom said. "The only testimony or evidence of that was Dr. Merritt's assessment."
However, Murawski's attorney, John Wilke, argued that Merritt never spoke directly to Falkner's treating physicians when developing his life care plan. Merritt's "information came from Mr. Odom, who is a fine lawyer and an advocate for his client, but at least not that I'm aware of, a medical doctor," Wilke said. "It runs contrary to some of the doctors' testimony from the treating physicians about what could be done, what should be done, in their various fields of specialty in this case."
Wilke also questioned the effect of Falkner's injuries, noting that Falkner had a child, which she cares for with the help of her family, since filing the suit. "The reality of the life that's being lived, which they're entitled to live, outside this courtroom is inconsistent with the legal arguments regarding the nature and extent of the injuries from a day-to-day activity standpoint that are being made inside this courtroom," Wilke said. "It is something to be considered when you're weighing the true impact this accident has had, this pickup truck ride has had, on Brittany Falkner."
Immediately after the verdict, the parties' attorneys met with Judge Krier in sidebar for about an hour before the jury was released. Falkner's attorneys are expected to file a motion for a new trial.
Falkner's attorney, the Romano Law Group's John Romano, said he was dissatisfied with the result and would press on with the case. "To say that I am disappointed would be the understatement of the decade," Romano said. "This is a tremendous young lady we have in Brittany, and this is a temporary setback because we will continue to fight and she will continue to persevere."
Murawski's attorney, John Wilke, did not respond to a call for comment.
Arlin Crisco can be reached at acrisco@cvn.com.
---
Related information
Brittany Falkner is represented by the Romano Law Group's John Romano and Corey Friedman, and by the Martinez-Odom Law Group's Gene Odom. Edward Murawski is represented by John Wilke, of the Law Office of John J. Wilke.
Watch gavel-to-gavel coverage of the trial, on demand.

Not a subscriber?
Learn how you can watch CVN Florida's unparalleled coverage of the state's key trials.