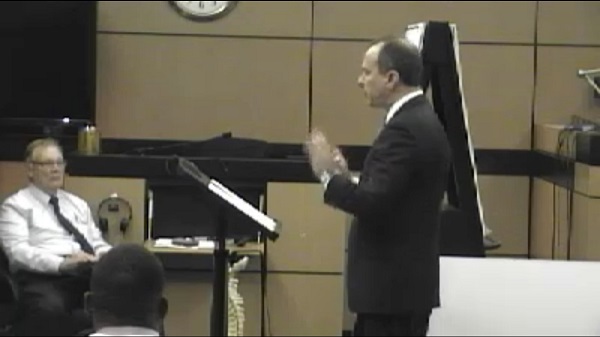 Spencer Kuvin describes the accident that he says permanently injured his client, James Allen's back. Allen is asking jurors for more than $600,000 in past and future medical expenses in his suit against Dale Buckner.
---
West Palm Beach, Florida—Nearly four years after the late-night I-95 collision that James Allen says permanently injured him, attorneys sparred over the believability and origin of those injuries in openings of Allen's trial against Dale Buckner. Allen v. Buckner, 2012CA021693.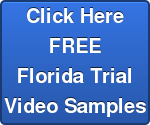 According to Allen's attorney Spencer Kuvin, Buckner's pickup truck clipped Allen's vehicle as the two were going about 55 miles per hour along I-95, spinning both vehicles out of control. Allen claims the force of the spin permanently injured his spine, requiring 38 pain injections so far and regular pain injections for the rest of his life.
Kuvin, who claims Allen suffered a disc herniation in the accident and asked jurors for more than $600,000 in past and future medical expenses, told jurors that Allen's long-term pain has changed his life. "James was an active young man before this crash. He would work out regularly, play with his family and kids." Now, without regular pain injections, Kuvin said, "He is in pain, he's become more depressed, solemn, and quiet."
Buckner acknowledges that he was at fault in the collision, but questions Allen's injuries. During openings Tuesday, Buckner's attorney, Nicholas Maniotis, challenged Allen's credibility and his claim that he didn't experience pain for days after the collision. "If there would have been an event where those discs would have herniated and pushed on those nerves, there would have been profound symptoms. The doctors will tell you those symptoms would be profound and unmistakable. There's no way in the world anyone would have zero pain in the event," Maniotis said. "Now… did Mr. Allen have pain after the accident? That's for you to decide."
Maniotis also argued that any back injury Allen complained of was actually sustained in an accident Allen was involved in years earlier. However, Kuvin countered that medical records would show that the injuries Allen suffered in the earlier collision differed significantly from those he sustained in the crash with Buckner.
Kuvin told jurors they would see that, prior to the collision with Buckner, Allen had never complained of low back pain. "You certainly will never see any records in this case showing any injections for any pain in his lower back before this crash," Kuvin said. "This crash caused Mr. Allen's pain that he is now getting these injections for."
Trial is expected to run throughout the week. The parties' attorneys were not immediately available for comment.
Arlin Crisco can be reached at acrisco@cvn.com
---
Additional information
Attorneys in the case include Spencer Kuvin, representing, James Allen, and Nicholas Maniotis, representing Dale Buckner.
Not a subscriber?
Learn how you can watch CVN Florida's unparalleled coverage of the state's key trials.