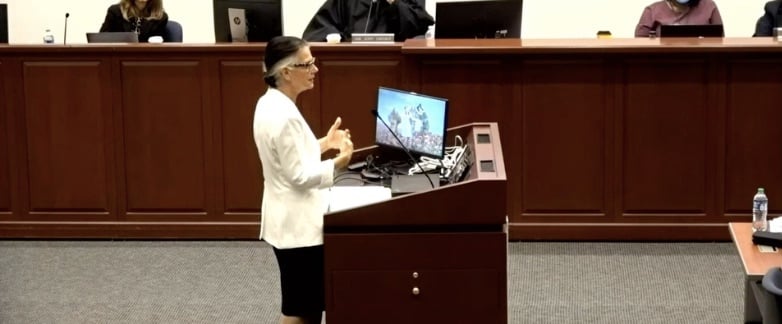 CVN screenshot of plaintiff attorney Jayne Conroy delivering her opening statement
Central Islip, NY - Opening statements concluded last week in the first state court jury trial seeking to hold pharmaceutical companies and distributors liable for the opioid crisis, and the historic proceedings are available to watch on-demand via Courtroom View Network.
The sprawling trial, which includes seven defendants, is taking place in a local law school's auditorium and is expected to take months to complete. New York Attorney General Letitia James, along with attorneys representing Nassau and Suffolk Counties, accuse the defendants of recklessly marketing and distributing powerful opioid painkillers despite knowing that addiction posed a grave and costly public health risk.
The defendants, which include Teva Pharmaceutical Industries, Endo International, Abbvie Inc. and others dispute the allegations, arguing that the drugs in question all had full FDA approval and were prescribed by licensed medical doctors, and that opioid-based painkillers help millions of people every year without turning them into addicts.
The New York trial is the fourth to date seeking to hold drug companies responsible for the opioid crisis. The first trial in Oklahoma state court took place in 2019 and was recorded gavel-to-gavel by Courtroom View Network.
A virtual trial in California state court has been underway for months, and is also being webcast and recorded gavel-to-gavel by CVN.
Another trial is underway in West Virginia federal court, where news media cameras are not permitted. News media video coverage of the New York trial is limited to opening and closing statements, due to a prohibition on the state of filming any witness testimony in a trial.
Watch the below sample clips from the trial's opening statements, which spanned two days. Become a subscriber to CVN's online trial video library and get unlimited on-demand access to the full openings, along with hundreds of other civil trials in jurisdictions throughout the United States. It is the only online video collection of civil trials available anywhere.
Plaintiff's attorney Hunter Shkolnik of Napoli Shkolnik delivers his opening statement
Defense attorney Nancy Patterson of Morgan Lewis delivers her opening statement for Teva
E-mail David Siegel at dsiegel@cvn.com