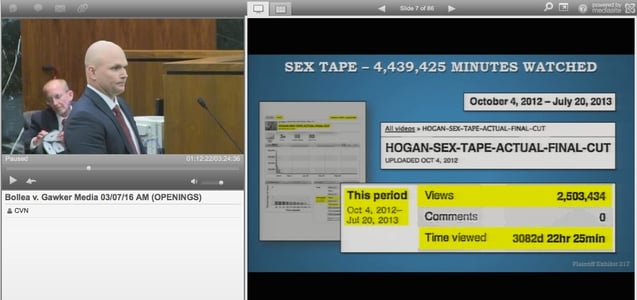 Hogan's attorney Shane Vogt delivers his opening statement. Click here to see video from the trial.
St. Petersburg, FL — Opening statements began Monday in Hulk Hogan's long-awaited $100 million invasion of privacy lawsuit against Gawker Media LLC over its publishing portions of a sex tape featuring the iconic professional wrestler, in a case that could have major implications for online press freedoms and the future of the popular New York-based gossip website.
High-powered attorneys from both coasts have descended on a St. Petersburg, Florida courtroom to spar over whether Gawker served a legitimate public interest when it in 2012 published excerpts from a leaked tape of Hogan having sex with Heather Clem, the wife of Hogan's good friend and popular radio DJ "Bubba the Love Sponge," who filmed the encounter in 2006.
Hogan, whose legal name is Terry Bollea, claims that Gawker violated his right to privacy by publishing excerpts from a video that was never meant for public consumption. Gawker, which maintains it received an anonymous DVD copy of the tape, has argued that Hogan is a public figure who has bragged about his sexual prowess in high-profile forums like Howard Stern's radio program, and that publishing portions of the tape served a legitimate news interest.
Hogan's attorney Shane Vogt of Bajo Cuva Cohen & Turkel PA told jurors during his opening statement that his client didn't know he was being recorded at the time, and that even a public figure should expect privacy while engaged in such an intimate act in the supposedly safe confines of his friend's home.
"[Hogan] will also tell you there is still a private side of his life, and that the private side of his life is even more important to him because there are so few places he can feel safe," Vogt said, according to a Courtroom View Network webcast of the trial. "One of those places is his home and the other is his best friend's house."
Vogt portrayed Gawker and its founder Nick Denton as being obsessed with driving web traffic at any cost, noting how the website had published nude pictures of Jennifer Lawrence and other celebrities. He reiterated instructions to the jury from Judge Pamela Campbell that Hogan needed to prove Gawker's actions amounted to "morbid and sensational prying into private lives."
"They knew it was wrong, they knew it was an invasion of privacy, they told other people and they did it anyway," Vogt said. "We will prove they crossed the line."
In an opening statement substantially shorter than Vogt's, Gawker attorney Michael Berry of Levine Sullivan Koch & Schultz LLP told jurors the tape of Bollea and Clem had already received widespread attention before Gawker published it, and that other outlets like TMZ and The National Enquirer had reported on it, with TMZ even publishing screenshots.
"It already was big news," Berry said.
He also said that Gawker has a history of reporting on celebrities and politicians whose public personas conflict with their private lives, mentioning the site's coverage of former Toronto mayor Rob Ford's drug use and suggesting that Hogan had portrayed himself for years as a role model.
"These stories influenced the public discussion," Berry said. "They cut through the PR spin and offer unvarnished truth about public figures."
If the jury sides with Hogan, other media outlets that come into the possession of similar materials in the future could be far more hesitant to publish them. A $100 million award would also be a staggering blow to Gawker, which claimed its total revenue in 2014 was $44.3 million.
In January Gawker sold a minority stake, a first for the company, to Columbus Nova Technology Partners in a move that Denton said was largely motivated by the expense of defending against Hogan's suit and in preparation for a potential adverse verdict.
Hogan himself is slated as the first witness in the trial, and CVN is webcasting and recording the proceedings gavel-to-gavel.
The case is Bollea v. Gawker, case number 2012CA01244. in the Sixth Judicial Circuit of Florida.
Hogan is represented by Kenneth G. Turkel, Shane B. Vogt of Bajo Cuva Cohen & Turkel, and Charles J. Harder, Douglas E. Mirell and Sarah Luppen of Harder Mirell & Abrams.
Gawker is represented by Gregg D. Thomas and Rachel E. Fugate of Thomas & Locicero PL, and Seth D. Berlin, Michael D. Sullivan, Michael Berry, Alia L. Smith and Paul J. Safier of Levine Sullivan Koch & Schulz LLP.
E-mail David Siegel at dsiegel@cvn.com.
Not a subscriber?
Learn how you can watch gavel-to-gavel coverage of Bollea v. Gawker Media, et al., and other blockbuster trials, throughout Florida and across the nation.