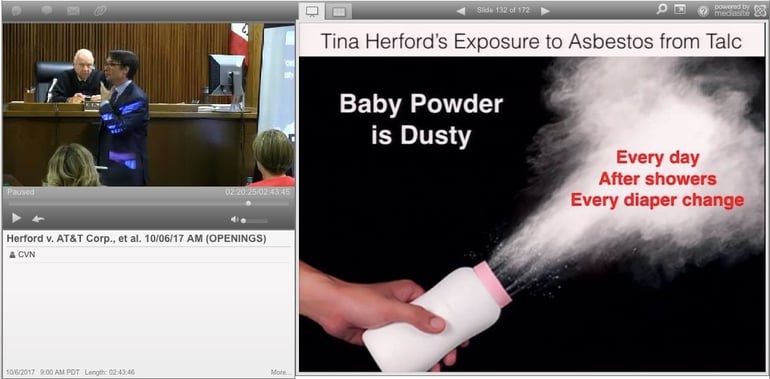 CVN screenshot of plaintiff's attorney Chris Panatier delivering his opening statement.
UPDATE 10/10: Judge Simpson granted a mistrial after witness testimony on Friday referenced ovarian cancer, which had been prohibited by a pre-trial ruling. Selection of a new jury is expected to commence on Wednesday, with opening statements tentatively slated for early next week.
Pasadena - A California state court jury began hearing opening statements on Friday in the first lawsuit to go to trial over claims that Johnson & Johnson's popular talc-based hygiene products can cause mesothelioma, a deadly cancer generally linked to asbestos exposure.
The closely-watched trial, which is being webcast live by Courtroom View Network, has the potential to open up an entirely new front for J&J in the now sprawling litigation over the alleged cancer risks associated with cosmetic talc products. In recent months J&J has been sacked with numerous high-profile, multi-million verdicts in lawsuits claiming that talc-based products like Johnson's Baby Powder and Shower to Shower cause cancer, including a $417 million verdict reached in August. However all of those cases dealt with ovarian cancer allegedly caused by using talcum powder on the genital area.
The plaintiff in the current case, Tina Herford, claims she developed mesothelioma from breathing in talc powder contaminated with asbestos while using Johnson's Baby Powder and Shower to Shower from 1956 to 1993. Her suit claims J&J and their talc supplier Imerys Talc America knew about the possible cancer risks associated with talc products, but withheld them from the public to protect the sales of popular brands.
J&J and Imerys maintain that their talc powder products do not contain asbestos, and they argue that Herford's mesothelioma is the result of radiation treatments she received for breast cancer a number of years ago.
The alleged dangers from J&J's talc products exploded into the headlines in 2016, when a St. Louis jury ordered J&J to pay $72 million to a woman claiming she developed ovarian cancer from using talc products. Similar plaintiff verdicts followed, all in St. Louis, and thousands of other women soon began filing similar claims in courts across the country.
Another trial is set to begin in St. Louis October 16 and will also be webcast live by CVN.
A plaintiff's verdict in this current trial, taking place in the country's most populous state, could spawn a similar wave of lawsuits and allow for claims from plaintiffs who never used talc powder products on their genitals or developed ovarian cancer, but supposedly inhaled it.
Mesothelioma is a type of cancer found in the tissue lining around the lungs. It it almost always fatal, and it can take decades for the cancer to develop after exposure to asbestos takes place.
Only one of the previous J&J talc trials dealt with the issue of alleged presence of asbestos in products sold to consumers, so the Herford trial is likely to introduce a plethora of new details about the supply chain for J&J and Imerys talc products into the public record.
Although this is the first talc/mesothelioma trial involving J&J and Imerys, a number of other cases involving both cosmetic and industrial talc cases have gone to trial, resulting in a mix of plaintiff and defense verdicts. The plaintiff verdicts, ranging between roughly $2 million and $18 million have generally been smaller than the average verdicts in J&J's ovarian talc trials.
One of those previous talc/mesothelioma verdicts was secured by the attorney representing Herford in this current case, Texas-based Chris Panatier of Simon Greenstone Panatier Bartlett PC. Panatier obtained a $12.4 million verdict in 2015 against Colgate-Palmolive in a case similar to Herford's.
J&J and Imerys are represented by a cadre of attorneys from Dentons US LLP and Alston & Bird LLP.
The trial is taking place before Judge C. Edward Simpson, and is expected to run through most of October. CVN will be recording and webcasting the full trial gavel-to-gavel. Numerous talc trials are also available for on-demand viewing as part of CVN's one-of-a-kind online trial archive.
The case is Tina Herford and Douglas Herford v. AT&T Corp., et al., case number BC646315 in Los Angeles County Superior Court.
E-mail David Siegel at dsiegel@cvn.com