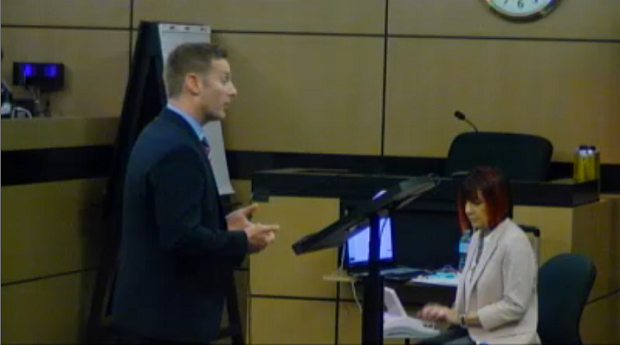 Scott Fischer delivers his opening statement in Harrison v. West Boca Medical Center.
---
A Florida hospital staff's negligence caused a once-independent senior to suffer a fall that has left her restricted to a walker for the rest of her life, an attorney for the woman's family said as trial opened Tuesday against the hospital. Harrison v. West Boca Medical Center, 2016-CA-009017.
"Dolores Moore lived an absolutely independent life until a year-and-a-half ago," Gordon & Doner's Scott Fischer told jurors Tuesday. "She went into the hospital on September 16, 2015 with a short-term correctable problem, and she left the hospital disabled for life."
While staying at Boca Raton's West Boca Medical Center for a sodium deficiency, Moore, 82, fractured her hip in a late-night fall from her hospital bed. The break required orthopedic surgery and a 48-day nursing home stay. However, Fischer told jurors the break, along the neck of her femur, never healed properly, and will require Moore to use a walker and rely on home health care for the rest of her life.
Fischer said Moore fell because hospital staff failed to use more than two hospital bed guardrails, leaving Moore to tumble from the bed when she awakened late at night and searched for the nurse-call button in a darkened room while she was disoriented.
However, the defense argues hospital staff followed appropriate procedures in minimizing the chances that Moore would fall. During Tuesday's openings, Falk Waas' Rosemarie Antonacci-Pollock told jurors staff regularly checked Moore's mental state to ensure she understood she was not to try to leave her bed without assistance.
Antonacci-Pollock noted raising four rails on Moore's bed would have been considered a "restraint" requiring physician authorization and evidence of non-compliance, disorientation, or similar circumstances that Moore did not show, while raising three reails was up to a nurse's discretion. "Certainly there was no four-rail need, and you'll hear from the nurse, it's their nursing discretion whether to use two or three rails," Antonacci-Pollock said, adding the nurse on duty when Moore fell would testify she generally only used three rails if a patient was noncompliant or there was a special circumstance warranting the additional rail.
Antonacci-Pollock told jurors the fall stemmed from an aiicdent rather than negligence and that age and rheumatoid arthritis, contribute to her inability to walk on her own. "Yes, she uses a walker much more frequently than she did before, which is not uncommon in an 82-year-old woman who has fractured her hip, and who has rheumatoid arthritis," Antonacci-Pollock said. "But that, again, doesn't translate into negligence."
Trial in the case is expected to last through the week.
Email Arlin Crisco at acrisco@cvn.com.
Related Information
Lauren Harrison is represented by Gordon & Doner's Scott Fischer and Robert Gordon.
West Boca Medical Center Inc. is represented by Robert S. Covitz and Rosemarie Antonacci-Pollock, of Falk, Waas, Hernandez, Cortina, Solomon & Bonner.
Watch the trial live and on demand.
Not a subscriber?
Learn how you can see the best attorneys in action, in Florida and across the country.