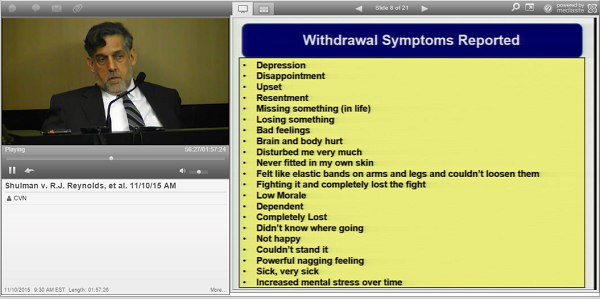 Daniel Seidman tells jurors Robert Shulman was so dependent on nicotine that he suffered withdrawal symptoms similar to clinical depression when he tried to quit smoking. Shulman, 94, claims his nicotine addiction caused his bladder cancer and heart and pulmonary disease.
---
West Palm Beach, FL—As trial continued its third week in a 94-year-old ex-smoker's suit claiming the nation's three largest cigarette makers are responsible for his cancer, heart and pulmonary disease, the link between potential nicotine addiction and ilness took center stage. Robert Shulman v. R.J. Reynolds, et al., 502007CA023832.
Daniel Seidman, director of smoking cessation services at Columbia University, told jurors Richard Shulman, who smoked R.J. Reynolds, Liggett, and Philip Morris-brand cigarettes for more than 40 years, was so dependent on nicotine he suffered symptoms akin to clinical depression through multiple failed quit attempts.
Seidman noted Shulman described feeling brain and body aches, resentment, and profound emotional loss in several failed quit attempts before he was successful. "That's the higher hurdle for extreme addicts. They don't feel right. They don't feel comfortable in their own skin," Seidman said.
"These are his symptoms when he tried to (quit) smoking (and) the trap that it set for him."
Shulman, who owned and operated businesses ranging from cleaning companies to a charter airline over the course of decades, contracted bladder cancer in 1995 and heart disease in the early 2000s. He claims tobacco companies hid the dangers of cigarettes from him and other smokers throughout most of the 20th century, leading to his nicotine addiction and eventual illnesses.
However, the defense argues Shulman smoked by choice rather than because of addiction who quit the first time he made a concerted effort to stop smoking.
During Furr's cross-examination Tuesday, Seidman acknowledged Shulman's failed quit attempts typically did not last more than 24 hours and Shulman's wife, Ethel Shulman, never noticed her husband suffering from withdrawal symptoms.
However, on direct examination earlier, Seidman said he believed Shulman's inability to go more than 24 hours without a cigarette showed the power of Shulman's addiction rather than a lack of interest in quitting. "Motivation is the ultimate determinant if you try (to stop smoking), but it's not the ultimate determinant if you succeed," Seidman told jurors. "The ultimate determinant of succeeding is how addicted you are, and the science is clear on that."
The Shulman case is one of thousands of similar Florida suits filed against the nation's tobacco companies. They stem from Engle v. Liggett Group, a 1994 class action suit in which a jury found tobacco companies knowingly produced dangerous addictive cigarettes and subsequently hid those dangers from the public. The Florida Supreme Court subsequently decertified the class on appeal, but its holding allows individual plaintiffs to rely on the jury's conclusions in the original trial if they can prove, among other elements, that the smokers at the center of their cases suffered a smoking-related disease caused by an addiction to cigarettes.
Closings in the case are expected next week.
Email Arlin Crisco at acrisco@cvn.com.
---
Related information
Scott Schlesinger, Jonathan Gdanski, and Steven Hammer, of Sheldon Schlesinger P.A., represent Robert Shulman.
Jeffrey King and Nathan Guest of King & Spalding, represent R.J. Reynolds Tobacco Co.
Andrew Brenner, of Boies Schiller, represents Philip Morris Tobacco Co.
Maria Ruiz, of Kasowitz, Benson, Torres, represents Liggett Group LLC.
Watch gavel-to-gavel coverage, live and on demand.
Not a subscriber?
Learn more about CVN's unrivaled tobacco litigation library.