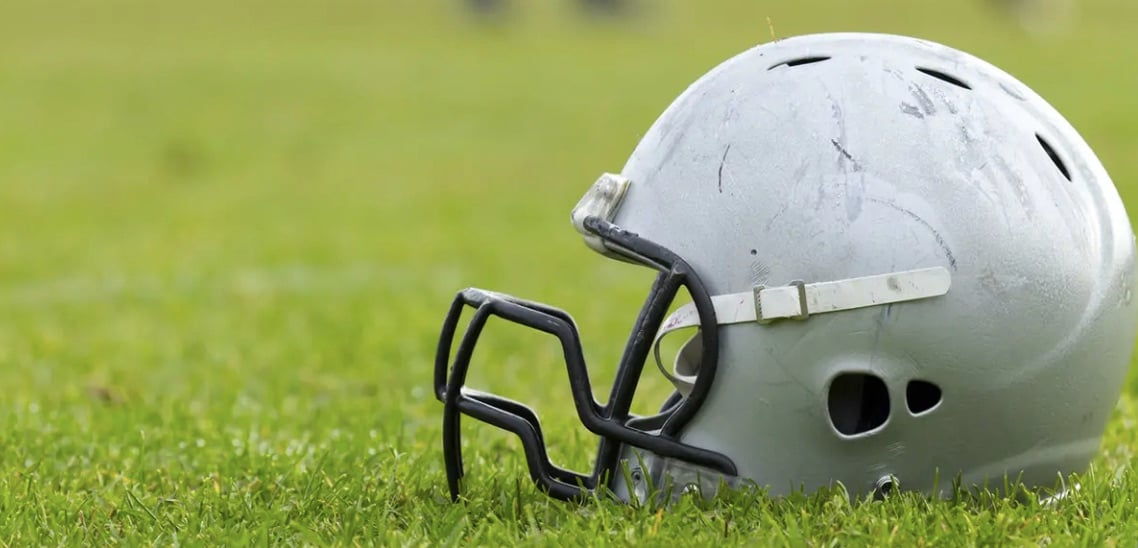 stock image of a football helmet
Los Angeles, CA - A lawsuit claiming the NCAA is responsible for the death of a former USC linebacker due to repeated head injuries goes to trial Monday in California state court, and the proceedings will be webcast gavel-to-gavel by Courtroom View Network.
Plaintiff Alana Gee accuses the NCAA of failing to adequately protect her deceased husband, Matthew Gee, while he played football at USC from 1988 - 1992. She claims Gee sustained numerous concussions during that time, and that following his death in 2018 doctors determined he suffered from Chronic Traumatic Encephalopathy, or CTE, a progressive neurological condition caused by repeated impacts to the head.
"During the time Matthew Gee played college football, there were no adequate concussion management protocols or policies in place to address and treat concussions (to say nothing of repetitive sub-concussive impacts) sustained by student-athletes during practice and in games," her lawsuit states. (Click here to read a copy of the complaint)
In court filings the NCAA denies the allegations, arguing that student athletes like Gee knowingly choose participate in a full-contact sport that they knew involves risk of injury, and that the organization has policies in place to both inform players of the risks and to protect them through use of helmets and other equipment.
The full trial will be webcast gavel-to-gavel from the start of opening statements forward by CVN.
Gee's case is among the first of thousands of CTE-related lawsuits pending nationwide to go before a jury, and the proceedings will be closely monitored by attorneys across the country. Any eventual jury verdict could play a large role in a potential future settlement of CTE cases, especially those consolidated in multi- district litigation pending in federal court in Illinois.
The first CTE trial involving the NCAA took place in 2018 in Texas state court, and those proceedings were also recorded gavel-to-gavel by CVN. The case settled on the third day of trial in a lawsuit filed by the widow of Greg Ploetz, who played football at the University of Texas in the early 1970's.
Like in the Texas case, Gee's attorneys are expected to argue that the NCAA knew as far back as the 1930's that concussions posed a risk for neurological injury but failed to adopt safety guidelines to adequately protect players.
CTE, which often doesn't present until years after an injury and can eventually progress to dementia, has come to prominence after numerous high-profile NFL players were posthumously diagnosed with the disease, like former New England Patriots player Aaron Hernandez, who committed suicide in prison.
Gee's lawsuit explains that her husband led a "relatively normal" life for nearly 20 years after playing football until he began suffering a rapid neurological decline in 2013.
Given the potential significance of a jury verdict in the case for both sides, the parties are represented by elite teams of trial attorneys from throughout the country.
Gee is represented by the Texas-based firm Shrader & Associates LLP, which also represented the plaintiff in the Ploetz trial in 2018. Gee is also represented by local California attorneys from the firms Edelson PC, DeBlase Brown Eyerly LLP and Horton Law Firm.
The NCAA is represented by a team of attorneys from Orrick Herrington & Sutcliffe, headed up by Washington, D.C.-based partner Will State who leads the firm's sport's practice.
Judge Terry Green will preside over the trial.
The case is captioned Alana Gee, individually and as Executor of the Estate of Matthew Gee, deceased v. National Collegiate Athletic Association, case number 20STCV43627 in the Superior Court of California for the County of Los Angeles.
E-mail David Siegel at dsiegel@cvn.com