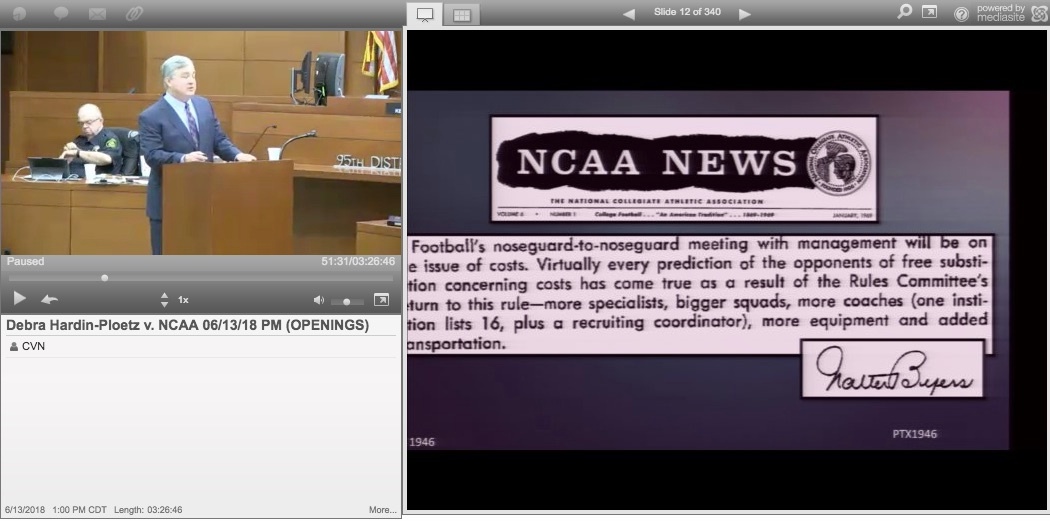 CVN screenshot of plaintiff attorney Eugene Egdorf delivering his opening statement
Dallas - The first trial in the country over the NCAA's supposed responsibility for a football player's brain injuries is underway in Texas state court, and Courtroom View Network will webcast the proceedings gavel-to-gavel.
The landmark trial marks the first time a jury will hear arguments related to chronic traumatic encephalopathy, or CTE, a degenerative brain disease caused by repeated blows to the head.
Plaintiff Debra Hardin-Ploetz claims the NCAA is responsible for the death of her husband Greg Ploetz. Greg played for the University of Texas from 1968-1971, and his widow's attorneys argue his brain showed classic signs of CTE after his death in 2016 following years of neurological problems.
Hardin-Ploetz's case is an important bellwether, with similar class-action claims pending in federal court, and the potential for additional lawsuits against professional sports franchises.
CTE, which often doesn't present until years after an injury and can eventually progress to dementia, has come to prominence after numerous high-profile NFL players were posthumously diagnosed with the disease, like former New England Patriots player Aaron Hernandez, who committed suicide in prison.
Hardin-Ploetz's attorneys claim the NCAA knew as far back as the 1930's that concussions posed a risk for neurological injury but failed to adopt safety guidelines to adequately protect players.
The NCAA argues Greg Ploetz chose to play a full-contact sport that by definition involves physical risk.
"Ploetz voluntarily participated in the activity of playing football and accordingly assumed the risk of injury," states the NCAA in a court filing.
The trial is taking place before Judge Ken Molberg in Dallas County's 95th Civil District Court, and is expected to take three weeks to complete. CVN's webcast will begin from the start of opening statements forward.
Hardin-Ploetz is represented by Shrader & Associates LLP, Baron and Blue, and Goldberg Persky & White PC.
The NCAA is represented by Reed Smith LLP, Bryan Cave LLP and Levinger PC.
The case is captioned Debra M. Hardin-Ploetz, individually and on behalf of the Estate of Gregory Ploetz, deceased v. National Collegiate Athletic Association, docket number DC-17-00676.
E-mail David Siegel at dsiegel@cvn.com