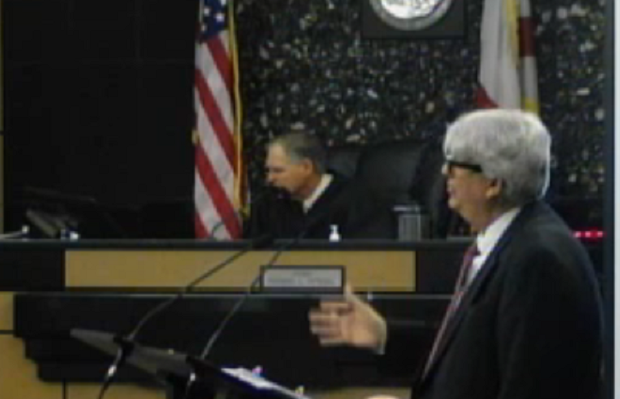 Michael Mittelmark delivers his closing argument at trial against Tenet St. Mary's, accused of negligence that left Kwai Ling Chan-Leung following surgery for a stroke.
---
West Palm Beach, FL—A $39 million medical malpractice claim against a South Florida hospital ended in mistrial Friday after jurors declared themselves deadlocked over whether operating room negligence or a catastrophic stroke left a patient in a persistent vegetative state. Chan v. Tenet St. Mary's Medical Center, 2015CA008359.
Judge Richard Oftedal, of Florida's 15th Circuit, declared the mistrial after jurors failed to reach a consensus on whether West Palm Beach's St. Mary's Medical Center was negligent in its treatment of Kwai Ling Chan-Leung, who underwent surgery at the hospital for a brain hemorrhage in 2013.
Leung, who fled China in 1971 before coming to the U.S. and becoming an American citizen, suffered global brain damage from the hemorrhage and never regained full conciousness.
Friday's mistrial declaration caps a two-and-a-half-week trial in which attorneys for Leung's guardian, Pui Leung Chan, claimed the hospital failed to provide proper surgical equipment for Leung's surgery, leading to her massive brain damage
During Thursday's closings, Gold & Gold's Philip Gold argued St. Mary's failed to live up to its standards as a stroke treatment center. He noted Leung's operating room lacked enough appropriate equipment, including Raney surgical clip applicators meant to stanch the blood flow from surgical incisions, while mechanical failures on surgical drills cost precious time tduring Leung's surgery. "This is the hospital that raises their hand and says 'We want your stroke patients. We are accredited and organized with the right tools to treat these stroke patients," Gold said. "And now their defense is you only get one critical piece of equipment and if you drop it… you've just got to play it by ear, you just have to pretend like you're operating in a tent in Afghanistan? That's not how it works."
During Thursday's closings, Gold outlined a range of damage options, including up to $13 million in medical expenses and up to twice that for pain and suffering.
But attorneys for the hospital argued the stroke's severity, rather than equipment issues left Leung unable to recover. Michaud, Mittlemark, Marrowitz & Asrani's Michael Mittelmark told jurors Thursday that expert testimony showed the hospital's treatment did not deviate from the standard of care. By contrast, Mittelmark said, evidence proved the hospital staff, including the surgeon, Dr. Neil Patel, achieved their goal of saving Leung's life. "[Leung] had suffered a massive, sever intracerebral hemorrhage, [and] no one, even Dr. Patel could have prevented her from her current condition."
Jurors deliberated for about 10 hours Thursday and Friday before declaring themselves at an impasse Friday afternoon,and prompting the mistrial declaration.
Email Arlin Crisco at acrisco@cvn.com.
Related Information
Pui Leung Chan is represented by Gold & Gold's Philip Gold and Keith Pierro.
Tenet St. Mary's Medical Center is represented by Michaud, Mittelmark, Marowitz & Asrani's Michael Mittelmark and Jennifer Perrone.
Not a subscriber?
Learn how you can see the best attorneys in action, in Florida and across the country.