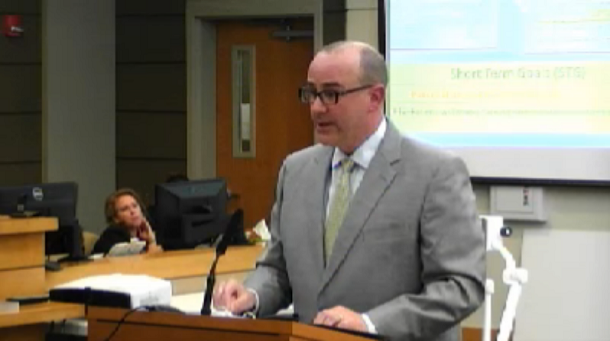 Kevin Boyce delivers the opening statement for R.J. Reynolds at trial over the COPD death of Totsie Fleming, a smoker for 60 years. Judge John Kest decalred a mistrial in the case Tuesday because Boyce suffered unexpected health problems.
---
Sebring, FL—Health problems scuttled the trial this week against R.J. Reynolds over the allegedly smoking-related death of a retired administrative assistant to a Florida police chief. Durrance v. R.J. Reynolds, 11-26-GCS.
Judge John Kest declared a mistrial Tuesday when Jones Day's Kevin Boyce declared unforeseen medical issues would render him unable to continue with trial in the case, which opened on Friday.
"It would create some major difficulties for the defendant not to have . . . counsel of its choice in this matter," Judge Kest said in granting a defense motion for mistrial. "Defendant, just like plaintiff, has a role to choose their counsel, and they have indicated, by counsel, their choice in this matter."
Totsie Fleming, 77, who worked for years as the secretary to the Avon Park, Florida Chief of Police, died in 2009 of chronic obstructive pulmonary disease, after smoking at least a pack of cigarettes a day for 60 years. Her family claims R.J. Reynolds, makers of the Winston cigarettes Fleming smoked, caused her death by hiding the dangers and addictiveness of cigarettes.
Tuesday's decision comes after only one day of trial in the case. During Friday's opening statements Searcy Denney's James Gustafson, representing Fleming's daughter, Sue Durrance, told jurors "Totsie's life is really a story of wonder because through intelligence, hard work, and love, she overcame every obstacle that was presented before her in her life, except nicotine addiction, and that she couldn't overcome, and it took her before her time."
But the defense argues Fleming smoked by choice rather than because of addiction. During Friday's openings, Boyce told jurors Fleming did not try to stop smoking until 1992 when she successfully quit for at least a month before returning to cigarettes. "She went for 30 days without smoking, which means all the nicotine is out of her body," Boyce said. "If you can go for a month, you can go for two months. If you can go for two months you can go for six. If you can go for six, you can go forever."
The case is one of thousands of similar Florida lawsuits against the nation's tobacco companies. They stem from Engle v. Liggett Group, a 1994 class action claim involving Florida smokers. A jury in that case found tobacco companies knowingly produced dangerous, addictive cigarettes and hid those dangers from the public. The Florida Supreme Court decertified the class on appeal, but its decision allows individual plaintiffs to rely on the jury's conclusions in the original trial if they can prove the smokers at the center of their cases suffered from nicotine addiction that caused a smoking-related disease.
A new trial in the case is expected within the next six to eight months.
Related information
Searcy Denney's James Gustafson represents Sue Durrance
Jones Day's Kevin Boyce represents R.J. Reynolds.
Not a subscriber?
Learn more about CVN's unrivaled tobacco litigation library.