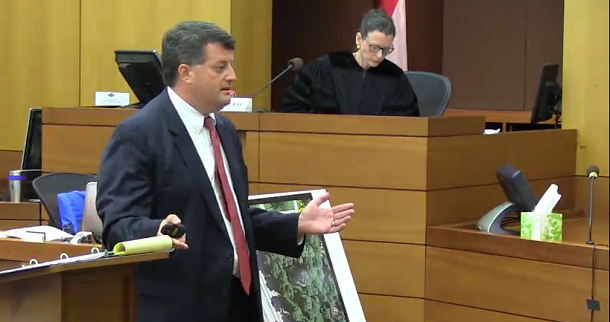 James Scarbrough delivers his closing argument on behalf of MARTA at trial over the death of Jeffrey Usher, who died after his motorcycle struck a MARTA paratransit vehicle.
---
Atlanta—A Fulton County Superior Court jury Wednesday cleared the Metropolitan Atlanta Rapid Transit Authority of fault in the death of a motorcyclist who collided with a MARTA paratransit vehicle. Lynn v. MARTA, 2015CV259595.
Jurors needed less than six hours to find MARTA driver Munir Foster did not cause a May 2013 collision with Jeffrey Usher, 49. Usher died after his motorcycle struck Foster's MARTA paratransit van as the van made a left-hand turn on Panola Road in DeKalb County.
Fried Rogers Goldberg's Michael Goldberg, representing Usher's family, requested more than $13.8 million in total damages during the trial's closing arguments Wednesday.
The two-day trial turned on who caused the deadly crash. Goldberg contends Foster pulled into traffic to make a left-hand turn despite the clearly apparent approach of Usher and another motorcyclist, Gerald Wade.
During Wednesday's closing arguments, Goldberg told jurors evidence ranging from eyewitness accounts to accident statistics and MARTA's internal documents proved Foster erred in failing to yield to the two motorcycles. "Everyone says the motorcycles were visible except Mr. Foster," Goldberg said. "[MARTA] had an internal investigation done, and even they found that the problem was operator error."
But the defense contends the motorcycles were speeding and Foster could not see them until after he began his turn. When Foster allegedly stopped to avoid a crash with Wade's motorcycle, the defense claims Usher could have avoided the collision if he had properly applied his brakes.
During Wednesday's closings, Mabry & McClelland's James Scarbrough said physical evidence, including more than 170 feet of motorcycle skid marks, showed Usher was at fault. "The physical evidence and the math calculations lead to the inescapable conclusion that the speed of the motorcycles caused this accident," said Scarbrough, who argued the motorcycles weren't visible as Foster began his turn. "You can't yield to things you can't see."
After the verdict, Goldberg noted the defense was committed to taking the case to a jury. "I give all the credit to my opposing counsel, Jimmy Scarbrough. It was a no-offer case, and he stuck to his guns and tried the case and got the defense verdict," Goldberg said. "It takes a lot of you-know-what to make no offer on a death case and take it through trial. I tip my hat to him."
Goldberg added "We knew it was a difficult case, but we still thought it was winnable. We had an amazingly intelligent and conservative jury with 10 of the 12 jurors having college degrees or better. I just don't think they were buying what we were selling."
Scarbrough told CVN "MARTA is saddened by the passing of Mr. Usher. We have always maintained that MARTA and Mr. Foster were not responsible for this accident. It is apparent that the jury viewed the evidence as we did. We thank the jurors for their careful consideration of the evidence and their service."
CVN recorded the trial in its entirety and will offer video on demand as soon as it is available.
Email Arlin Crisco at acrisco@cvn.com.
---
Related Information
Danielle Lynn and Quinterrus Childs are represented by Fried Rogers Goldberg's Michael Goldberg.
Munir Foster and MARTA are represented by Mabry & McClelland's James Scarbrough.
Not a Subscriber?
Learn more about CVN's unparalleled coverage of top Georgia trials.