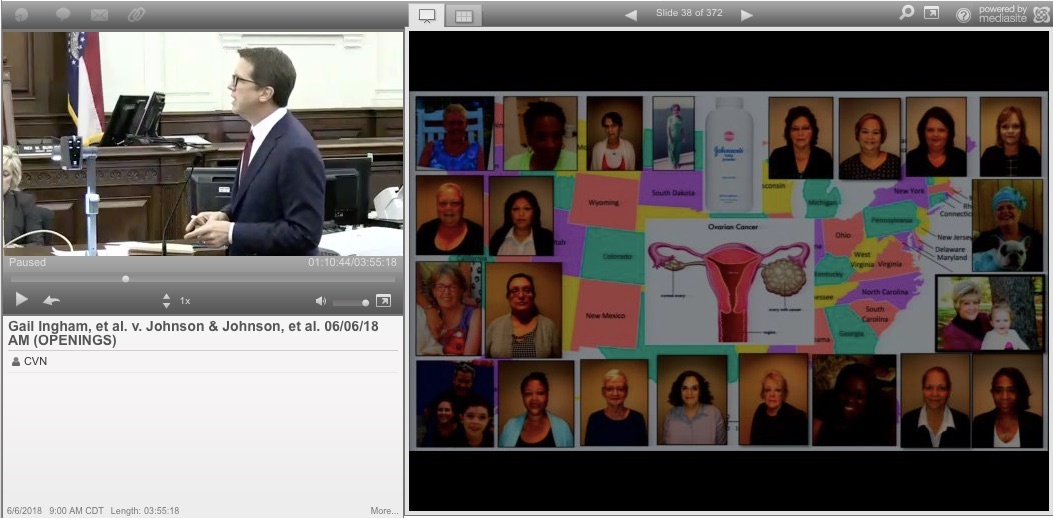 CVN screenshot of Mark Lanier delivering his opening statement
St. Louis - A Missouri state court jury heard opening statements on Wednesday in a high-profile lawsuit filed against Johnson & Johnson by 22 women alleging that years of using talc-based products like Baby Powder caused their ovarian cancer.
Attorney W. Mark Lanier of The Lanier Law Firm, who represents the 22 women, called J&J's talc products the company's "sacred cow" and claimed they chose to protect sales of profitable brands rather than warn women about asbestos supposedly present in products like Baby Powder and Shower to Shower.
The case is being closely watched, due to the legal high-wire act of taking the claims of 22 individual plaintiffs to trial simultaneously. Unlike a class action, where an individual plaintiff's lawsuit is representative of a larger group, jurors will hear testimony from all 22 plaintiffs or their surviving family members.
Previous ovarian cancer trials with individual plaintiffs involving J&J's talc powder ended in verdicts ranging from $55 million to $417 million (though some have been thrown out on appeal), so the current trial in St. Louis, which is being webcast gavel-to-gavel by Courtroom View Network, could potentially expose J&J to their largest verdict in a talc trial to date. J&J faces over 9000 talc-related lawsuits nationwide, according to securities filings.
The trial is also drawing significant attention from the legal community due to Lanier's involvement. Widely regarded as one of the top civil trial attorneys in the United States, the affable Lanier, who moonlights as a Sunday school teacher in Texas, is responsible for some of the largest plaintiff verdicts in mass tort cases in the last two decades.
Wednesday's openings marked the first time Lanier brought a J&J talc case before a jury. While most previous ovarian cancer talc trials hinged on arguments that talc itself is carcinogenic, Lanier maintained his clients' cancer was caused by asbestos particles mixed in with the talc.
J&J argues they subjected their talc to rigorous testing to confirm it does not contain asbestos, and in previous ovarian cancer trials they argued that scientific studies finding talc to be carcinogenic are based on flawed methodology.
Given the stakes of the case, the company deployed a small army of attorneys to Judge Rex Burlison's courtroom. Peter Bicks of Orrick Herrington & Sutcliffe, who delivered J&J's opening statement, heads up a three-person team from the firm's New York office. They are backed up by attorneys from HeplerBroom's Illinois and Missouri offices, and the Missouri-based defense powerhouse Shook Hardy & Bacon.
Bicks vigorously defended J&J's testing methods, telling jurors that a microscopist whose credentials include performing tests on the famed Shroud of Turin (believed by some to be a burial cloth worn by Jesus Christ) conclusively determined that J&J's talc never contained asbestos.
J&J faces a potentially busy summer of trials involving its talc products, though most will involve plaintiffs claiming they developed mesothelioma after inhaling talc powder.
One such trial is currently in progress in Los Angeles, with two more trials potentially starting by mid-summer.
Colgate, which also faces numerous mesothelioma-related claims involving its cosmetic talc products, is currently in trial in San Francisco with another trial possibly set to begin later this month in Los Angeles.
In addition to webcasting the current and previous talc trials in St. Louis, CVN recorded cosmetic talc trials in South Carolina, New Jersey and California.
Become a CVN subscriber and get unlimited access to gavel-to-gavel video of all those trials, plus numerous other asbestos, mass tort and product liability trials throughout the country.
The current trial is captioned Ingham v. Johnson & Johnson, No. 1522-CC10417-01 in the Circuit Court of the City of St. Louis, Missouri. It is expected to run through mid-July, and CVN will be present for the duration of the proceedings.
Email David Siegel at dsiegel@cvn.com