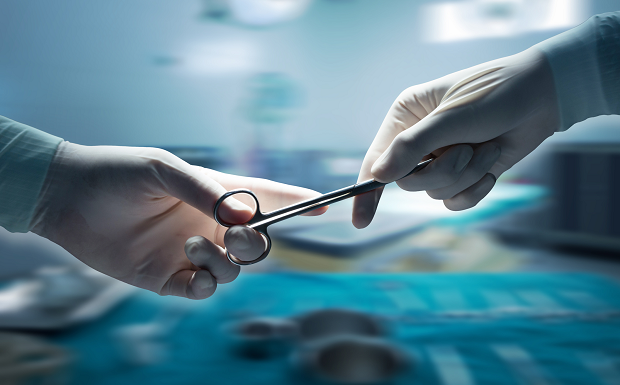 Stock image.
---
West Palm Beach, FL—A Florida woman was left in a permanent vegetative state because a hospital's operating room lacked the necessary equipment to treat her brain bleed, an attorney for the woman's guardian told jurors as trial opened Wednesday against the hospital. Chan v. Tenet St. Mary's Medical Center, 2015CA008359.
"This is a case about a hospital's responsibility, a hospital's responsibility to its patients and to its doctors. A hospital is responsible to maintain its operating room in a reasonably safe condition," Gold & Gold's Philip Gold told jurors in openings. "[St. Mary's Medical Center] was advised of [Kwai Ling Chan-] Leung's condition, accepted her knowing her condition, set her up for the procedure that they knew could resolve her condition, should resolve her condition. But when it got to the operating room, everything went terribly wrong."
Leung never recovered full consciousness from a March 2013 surgery to treat her brain hemorrhage at West Palm Beach's St. Mary's Medical Center. Leung, who fled China with Pui Leung Chan in 1971 before the couple came to the U.S. and became American citizens, suffered global brain damage from the bleed and remains in a vegetative state.
Gold told jurors the St. Mary's operating room lacked standard equipment, including Raney surgical clip applicators, to help avoid Leung's catastrophic damage. Gold said the hospital's neurosurgeon, Dr. Neil Patel, would testify that the lack of equipment rendered him unable to stop bleeding from the incision, complicating the surgery. "He was unable to stop [surgical scalp] bleeding because he did not have his Raney clips," Gold said.
Gold added that the inability to promptly apply the clips was aggravated by the fact that two surgical drill towers failed during the operation. According to Gold, one of the towers suffered from widespread corrosion. "For two years, this drill tower went without any preventative maintenance," Gold said, claiming the failure to maintain or inspect the equipment violated policy established by the hospital's parent corporation.
Gold told jurors the lack of properly functioning equipment left Leung's brain without oxygen for at least half an hour. "It only takes four minutes for brain cells to begin dying without enough oxygen," Gold said. "She went 30 minutes, maybe 45, or 60 minutes."
However, the defense contends Leung's catastrophic brain bleed, rather than deficiencies in surgical equipment, left her in a vegetative state. "When Ms. Leung arrived at St. Mary's medical center, she had suffered a massive, severe intra-cerebral hemorrhage," Michaud, Mittlemark, Marrowitz & Asrani's Michael Mittelmark told jurors Wednesday. "No one, including Dr. Patel, could have prevented her from being in her current condition."
Mittelmark walked jurors through the timeline of Leung's collapse, noting Leung had initially been seen by a different hospital, which concluded her brain bleed was too severe and her condition too critical for it to treat, before it transferred her to St. Mary's.
Mittelmark also noted Patel had advised Leung's family before her surgery about the long odds against her recovery, including his belief that there was an 80 percent chance she would linger in a vegetative state after the operation. "And when he finished this procedure, he noted that Ms. Leung's prognosis was still poor."
Mittelmark claimed evidence would show Leung's treatment did not fall below the standard of care under the circumstances. "The intra-cerebral hemorrhage Ms. Leung suffered was devastating from the moment it occurred," Mittelmark said. "At the first presentation of the hemorrhage, when Ms. Leung had the worst headache of her life, Ms. Leung was going to end up in a permanent vegetative state, or with the inability to sustain life on her own."
Trial in the case is expected to last about three weeks.
Attorneys for the case did not respond to requests for comment. A St. Mary's spokesperson said the hospital does not comment on pending litigation.
Email Arlin Crisco at acrisco@cvn.com.
Related Information
Pui Leung Chan is represented by Gold & Gold's Philip Gold and Keith Pierro.
Tenet St. Mary's Medical Center is represented by Michaud, Mittelmark, Marowitz & Asrani's Michael Mittelmark and Jennifer Perrone.
Watch the trial live and on demand.
Not a subscriber?
Learn how you can see the best attorneys in action, in Florida and across the country.